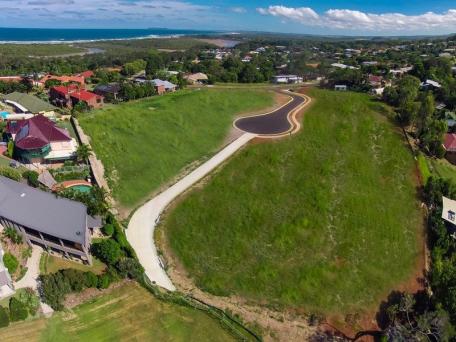 Blocks of land at the landmark 'Roundhouse' site in Ocean Shores are to be sold off.
Byron Shire Council announced the sale of the blocks, most with sweeping 360-degree ocean and mountain views, yesterday. They are expected to make several millions of dollars for council.
A council spokesperson said a determination from the NSW Department of Planning on the recent planning proposal has seen the land gazetted as operational land.
'The recent publicly exhibited planning proposal has resulted in the land being discharged from potential trusts, other than easements for services and carriageways,' the spokesperson said.
'The land will now be placed on the market, sold and the proceeds from the sales invested back into infrastructure.'
Byron shire mayor Simon Richardson said it had 'not been an easy decision or process and council has heard from many who either want to have the land as community land, or sell'.
'It's been on the council table for many years to sell and put the proceeds back into key infrastructure works,' Cr Richardson said.
'The land asset has been part of Council's Financial Sustainability Plan for the past three years.
'Developed to restore council's long term financial sustainability, the plan has reviewed how assets can be better utilised to either release funds into new infrastructure projects or retire debt and save the interest.
'Council shares the concerns of residents that for many years, the north of the shire has needed upgraded infrastructure.
'Subdividing and reinvesting the "Roundhouse" proceeds means council will be able to commence works on the Kolora Way Bridge and its approaches, and commence revitalising Waterlily Park.
'The sale will allow council to deliver much needed infrastructure works upgrades,' he said.
Mayor Richardson said indications from property experts were that the market for land sales had improved over the past year.
'It's now time to sell. Council is aiming to get a solid return from the block sales so we can get on with delivering assets such as roads, drainage and recreation,' he said.
For the past 18 years the former 'Roundhouse' site land has been zoned residential.
Byron Shire Council has owned the land since 1990, rezoned it to residential in 1996 and has now reclassified the land to operational.
Funds raised from the Ocean Shores subdivision will be reinvested back into community assets primarily in the north of the shire.
The blocks of land will be marketed through The Professionals in Brunswick Heads, Ocean Shores and Mullumbimby.