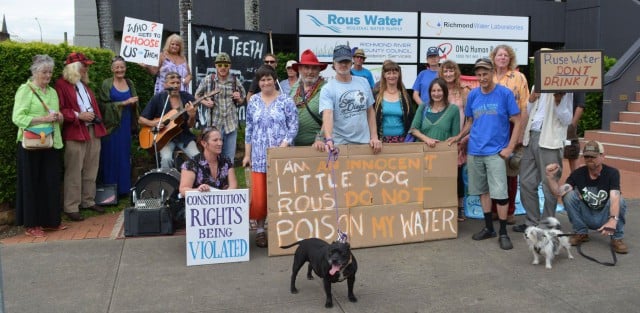 By Darren Coyne
A formal complaint has been lodged against Rous Water's general manager after he declared a councillor's notice of motion 'unlawful'.
Lismore's Rous Water delegate Cr Vanessa Ekins was planning to move a motion calling for the suspension of fluoride until the National Health and Medical Research Council had completed a review of fluoride concentration levels.
At the moment Rous is putting one milligram per litre, which was the 1970s standard, while world best practise standard now is 0.7 milligrams per litre.
But with a noisy protest taking place outside, general manager Kyme Lavelle declared that he had legal advice saying the motion was unlawful because it 'hindered a direction from the NSW Department of Health'.
Cr Ekins told Echonetdaily that the legal advice was 'simplistic'.
'Suspending fluoride is a normal procedure and all it requires is writing to the Department of Health requesting a suspension,' she said.
Cr Ekins said Richmond Valley Council had written to the Department twelve times in the last two years asking for a suspension because of mistakes with the fluoridation levels of Casino's water supply.
'I'll be putting in a formal complaint with the Department of Local Government against the GM and putting the same motion forward at next month's meeting,' she told Echonetdaily.
Meanwhile, Cr Robert Mustow from Richmond Valley Council, was elected the chair of Rous Water yesterday after former chair Sue Meehan, from Ballina council, failed to declare herself a candidate for the position.
Cr Meehan riled anti-fluoride activists recently when she inadvertently copied Cr Ekins into a message intended for Rous general manager Kyme Lavelle.
The email was in response to Cr Ekin's intention to move a motion at the next meeting of Rous Council calling for the suspension of fluoridation.
'Kyme this is just bluff and bluster from the lips of our sworn enemy of fluoride…Do not spend any money complying with Vanessa's BS!!!!
I am SO over her and the whole bunch of them!!! Sue,' the email said.
Cr Meehan did not respond to a call from Echonetdaily.
Cr Ekins said she would not be lodging a complaint against Cr Meehan but would be using a transcript of the email exchange in her complaint against the GM.
'For a general manager to rule that a councillor cannot fulfill their duty is wrong. I had to ask for the legal advice at the meeting which I wasn't impressed about,' she said.
The Echonetdaily reported last week that fluoride dosing plants around the region had now been switched on.
Cr Ekins said general manager Kyme Lavalle had told Rous Water delegates that problems were already being experienced at the Clunes dosing plant because of the low levels of water use.
'The GM told us today that Clunes was problematic because demand for water there was so slow and as a result it's really difficult to get the concentrations right,' she said.
'That sort of thing doesn't give you much faith in the system.'