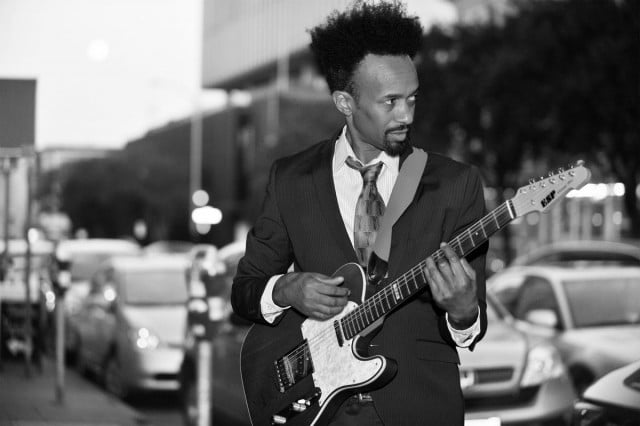 Mandy Nolan
Having blown up at SXSW, impressing industry and fans alike, Fantastic Negrito is an exciting and poignant artist not only creating quality, stirring R&B and blues music, but living and standing for the heart of the blues: the desperate, urgent, struggle crafted into raw, honest music.
As the largely unnoticed middle child in a very large family, no-one was more surprised by his talent and subsequent success than Xavier Dphrepaulezz (Fantastic Negrito) himself!
'I was the eighth of 14 kids who grew up in one house,' laughs Xavier, 'I didn't think I got enough attention! I was an exhibitionist and I didn't know I had talent. I did a talent show when I was 17. I didn't know if I had musical talent, but I embarked on a musical path!'
Turns out he did have musical talent. And certainly a lot more than his fair share.
'I realised I had an aptitude for instruments, and I was singing and playing and then, four years after I started, I got signed up to a multimillion-dollar record deal!'
Pretty impressive for someone who didn't pick up an instrument until 17! Xavier, aka Fantastic Negrito, attributes his songwriting talent to the intuitive way he came to music in the first place.
'I could write songs really easily – that was my saving grace. I was not a technically great player, but I could write. Now I don't want to learn how to do it ('technically right'); I just love just doing it.
It was something that was given to me by whatever is out there. I 100 per cent believe for me that it works for me…'
Connection to the universe is key for Negrito.
'For me it's all inspiration. When I was writing this latest album that I have released, Last Days of Oakland, I was travelling around the country supporting my EP and I would look at the cities in the US, then I felt things and they inspired me – to me it felt like the last days of Oakland. When you are inspired it's better than any drug!'
So what is the creative process for Xavier?
'I don't really try and push anything. It's organic, I want it to happen, I want to ride it, I never want to try. When I try it's terrible, every aspect. It's about balance and learning. Everyone can be flawed. It's about using your flaws and trying to make it right.'
Dphrepaulezz got caught up in the streets and the dark side of the music industry, affected by early failings to reach stardom, and three (yes, three!) near-death experiences including a car accident that put him in a coma and severely damaged his body. After lengthy rehabilitation and self-reflection, the cynicism that comes from struggle made room for the hope that comes from cheating death. And Fantastic Negrito was born.
'I don't think that was three near-deaths, it was three rebirths, three different awakenings that helped to fixate and shape my life philosophically and spiritually.
'What I came to was that it's all an illusion, what you have every day, that is a gift and the power you have every day is the power of yourself, and that realisation can move mountains. What I learned was that this is a gift, so make the right choices, and gratitude is everything! Wanting everything is a life of misery; be happy, man! You are here!
'We all have choices. The beauty, the most difficult thing in the world is being a human being,' says Xavier. 'Human beings really, really have the power of the story; I always say I am just as screwed up as anyone else, I just do something with it!'
So what should people be expecting for a show with Fantastic Negrito?
'I like to tell people it's church without the religion! That's my job and in this society it's part of this culture and this world that I am geared to tell people how it is. I am not saying I have the solution; this is how it is. I am just as fucked up as you are – and in the end we are all in this together!'
Compelled by a spiritual force, driven by song. Fantastic Negrito plays Bluesfest, Thursday at Mojo, and Saturday, Sunday and Monday at the Delta stage.
See the special edition Bluesfest 2016 liftout here.
---