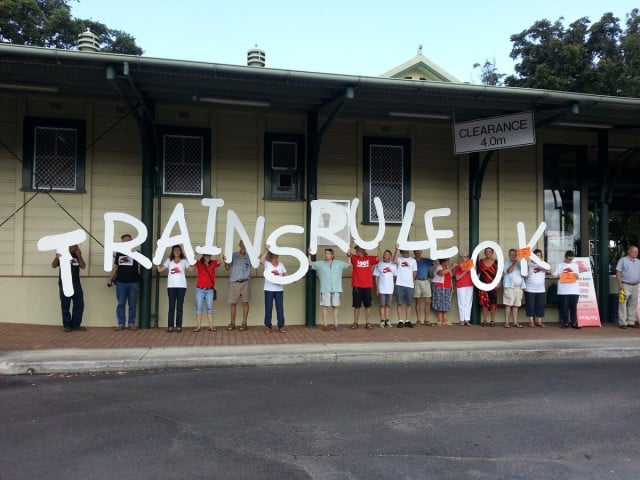 A spokesperson at protest held on Friday (April 1) to return rail to the northern rivers has accused the state government of having too close a relationship with the major road building companies.
Instead they have called on the federal government to step in and fund the return of commuter rail to the region.
A study undertaken by Arup and commissioned by Infrastructure NSW into the Casino to Murwillumbah rail line in 2011 said it was in poor condition and would take $953 million dollars to repair.
Angie Burgler from Trains On Our Tracks (TOOT) said that in 2004 the Arup group was also behind a study for the Ewingsdale to Tintenbar Pacific Highway upgrade, which was later awarded to Baulderstone Lendlease.
The combined TOOT and Northern Rivers Railway Action Group (NRRAG) protest was called to object to the proposed bike path on a section of the track at Murwillumbah and to propose the federal government fund a rail connection between the NSW north coast and south-east Queensland.
Beth Shelley from NRRAG said, 'People in both states would benefit from a commuter train to access health, employment, tourism and education facilities across the border.
Political donations
However companies such as Linfox trucking, oil and car companies have donated to the major political parties for years. During this time successive NSW governments have increased funding for roads instead of rail.'
'The Nationals in this area said for years they would reinstate the Casino to Murwillumbah railway line at little cost,' Ms Shelley said.
Ms Burgler said TOOT's own railway experts estimated that repair of the Casino to Murwillumbah line 'would be easily less than half the $953m quoted in the Arup study.'
'Given the Alice Springs to Darwin railway was constructed through some very remote country including a number of substantial bridges for under $1million per km, we could have 160 km of railway track for that price from Casino to the Gold Coast,' which is roughly what it cost to build 17km of freeway from Tintenbar to Ewingsdale,' Ms Shelley said.
'Since Nick Greiner was premier, it appears that successive NSW governments have been deliberately running down, neglecting and dismantling our railway service.
'It's up to the federal government to do what's right for this country instead of being in the pocket of big business.'
'People power is an effective means of making politicians take notice as shown by the CSG movement.
'If the community got behind this proposal to reinstate our train services and extend the line to Coolangatta we could have great public transport,' Ms Shelley said.
She suggested that members of the public who wanted to help, check out the NRRAG Facebook page, write letters to the papers or contact your local candidates for the federal election.'
An earlier version of this story stated that: ' former NSW premier Nick Greiner, who was chairman of NSW Infrastructure at the time the railway study was done, is now chairman of Baulderstone/Lendlease.'
According to a spokesperson for the company,'Nick Greiner is not the chairman of Lendlease, and has never served as a director of Lendlease. He was chairman of Bilfinger Berger Australia which was the parent of Baulderstone Hornibrook.  In March 2011, the sale of Bilfinger Berger Australia (then re-named as Valemus) to Lendlease was completed.  He was then appointed as chair of Infrastructure NSW in May 2011.'