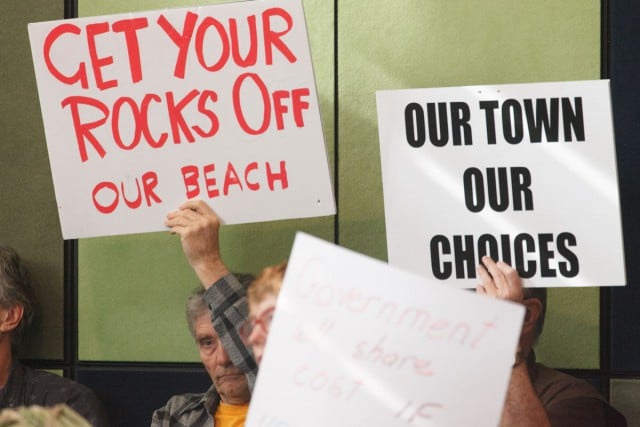 Chris Dobney
Byron Shire councillors have pushed the pause button on council's rushed draft Coastal Zone Management Plan (CZMP) albeit possibly only for a week.
Although the plan was passed by the majority pro-development councillors at Byron's extraordinary general meeting yesterday, a rescission motion, which requires only the support of three councillors, means it will now be considered again at next week's full council meeting.
The rush has been due in part to a state government requirement that councils with CZMPs that are 'almost ready' should have them submitted by June 30.
But according to the state's own assessment, Byron's plan is far from ready.
And even if it was passed in its current form, the Office of Environment and Heritage (OEH) has indicated the state would reject it.
According to a review of the plan prepared by OEH's Ben Fitzgibbon on April 27, 'the furnished draft CZMP is still somewhat preliminary and requires more work before it goes out for public exhibition…'
'In any case, based on the information provided OEH considers that the draft CZMP does not currently meet a standard which would be considered necessary to meet the requirements for certification under the provisions of the Coastal Protection Act 1979,' Mr Fitzgibbon wrote.
Cost benefit analysis inadequate
Not for the first time, OEH took issue with the cost benefit analysis (CBA) prepared by council's consultants and designed to prove that building rock walls are more 'cost effective' than 'planned retreat' (essentially doing nothing).
To add insult to injury, council refused an offer of assistance by the OEH in preparing the CBA and, at the behest of Cr Sol Ibrahim, instead paid its private consultants to come up with the result that the office now finds inadequate.
Mr Fitzgibbon wrote that the CZMP 'provides summary results of the CBA, but does not provide underpinning details necessary to undertake an assessment of the analysis'.
He added that a detailed analysis of the previous CBA by OEH in late 2015 also 'identified significant issues in the analysis.'
'Addressing these issues, using council data available at that time, indicated that the sea wall option would not be the preferred option,' he continued.
'Answering these questions would require significantly more information than has been made available in the CZMP. As a result it is not possible, at this time, to provide an assessment on the nature and quality of economic analysis in the CZMP,' Mr Fitzgibbon concluded.
No surprise
Dailan Pugh, who is the community representative on the CZMP's Project Reference Group, says the OEH feedback has come as no surprise.
'Byron Shire Council's reckless haste to prepare a Coastal Zone Management Plan for Belongil Beach has resulted in a shoddy and legally inadequate plan. The Office of Environment  and Heritage's description of its being "somewhat preliminary" and "requiring more work" is being too kind, Mr Pugh said.
He added that the draft plan 'does not even satisfy the most basic requirements of Section 55C of the Coastal Protection Act:  to protect and preserve beach environments and beach amenity, maintain undiminished access to beaches, and manage increased erosion of the beach in front of the wall and to the north.'
'It is already obvious that the existing ad-hoc seawalls are causing erosion of Belongil Beach in front of the walls, the sand spit to the north, endangered littoral rainforest, the Belongil shorebird roosting site and Elements resort,' Mr Pugh said.
'Council's intent to build new seawalls and then to wait 15 years before considering how to mitigate the impacts is totally outrageous as it is obvious that erosion of the beaches will dramatically increase with council's proposed walls.
Scamming the community
'Any council that intends to get rid of a priceless public beach, generating 20 million dollars per annum in tourism revenue, must have rocks in its head.
'Council is scamming the community by pretending that the rock walls are all they will need, so that they can avoid admitting the full costs.
'It is disgusting that they are using a pretence of "adaptive management" to avoid having to admit that it will cost tens of millions of dollars for sand nourishment to mitigate the impacts of their walls and potentially many more millions as compensation to Elements for increasing erosion of their property.
'My involvement on the Project Reference Group has been a sham, with four short meetings and little chance to discuss issues. Most of my comments have been ignored,' he said.
'Unfortunately council's indecent haste to finalise their plan means that public exhibition has been shortened and public submissions will get scant attention.
'The whole thing is a done deal, the community are just window dressing,' Mr Pugh said.
Vested interest
Suffolk Park Progress Association president Donald Maughan echoed those sentiments during public access in a swingeing attack on the National Party-aligned councillors who passed the plan.
He told them they were elected 'to represent your community not to be the lackeys of the vested interest lobby.'
'This CZMP you are proposing to submit to public display is unprofessional, ill informed and not representative of the Byron shire's [community].
'And it is not fit to go on public display,' he said.
'Stand up show some fortitude, crawl off the laps of your vested interest mates and protect the shire.
'You are accountable. You are on show. But unfortunately you are not representing the community of the shire if you pass this CZMP,' Mr Maughan said.
Council responds
Council's director of sustainable environment and economy Shannon Burt, told Echonetdaily the timeframe for preparing the draft Coastal Zone Management Plan for the Byron Bay Embayment (draft CZMP BBE) 'has been tight'.
Ms Burt noted that Mr Fitzgibbon's comments were made on the 'incomplete draft'.
She said the incomplete nature of the draft plan 'was made clear to the reviewers in the project reference group', and was 'clearly documented' in the accompanying April 7 council report.
'As part of the consultation, council will meet with the OEH and discuss any outstanding concerns.'
She said the draft CZMP BBE has been put together 'in accordance with legislative requirements.'
'To date, the draft document has been informed with expert assistance via many studies and reviews. Plus it has had input from key stakeholders via our project reference group and state government agencies,' Ms Burt said.
'Like many key local government plans, the community and stakeholders will have varying feedback on its content.
'Council welcomes feedback and when the draft CZMP BBE goes on public exhibition, it will offer an opportunity for the broader community to make their own submissions on the draft CZMP,' Ms Burt said.