The Nanna's are taking over the Asylum (seekers)
Eve Jeffery
The Northern Rivers Loop of the Knitting Nannas Against Gas – KNAG, (painlessly) executed The Great Nannarrest yesterday, at Kevin Hogan MP's office. The event was part of national simultaneous action around the country at 1pm (AEDT).
The Nannas, cross that the current Parliament is willfully neglecting human rights, marked United Nations Day with citizens' arrests of their MPs.
Nanna 'Dropstitch' Dot performed the arrest (see charges below) with about 20 KNAGs as witness.
The warrant read: 'Under Section 3.7Z of the Crimes Act 1914, I, Dorothy Joan Moller, as a Citizen of Australia, arrest you Kevin Hogan as a member of the 45th Parliament of Australia, for Human Rights Abuse, Misfeasance in Office and Willful neglect of Duty of Care.'
Members of Parliament across the nation were charged in person or by proxy, and according to procedure Nannas were to place them in the charge of the local police with a charge sheet detailing sections of the UN's Universal Declaration of Human Rights alleged to have been breached.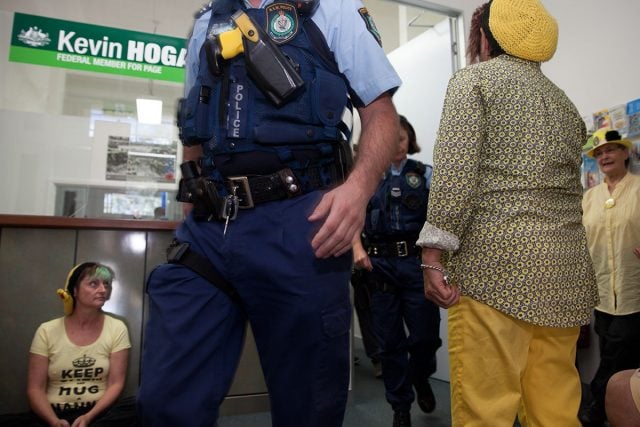 After a call from the Nannas alerting Lismore law enforcers of the arrest, about eight members of the local constabulary entered the office and had words with Hogan's staff before leaving a few minutes later – Nannaless.
Nannas continued to wait for nice manners and adorned the premises until they were forthcoming.
Spokesnanna Clare said that the lights and air con were turned off at 5pm. 'The office manager asked us to leave', she said. 'We didn't. He threatened to call the police. He called the police, he then asked us to leave in front of the police.
'The police then asked us nicely to leave and we did. We were out at 5.35pm.'

Nannas from loops in QLD, NSW, ACT, TAS, NT and WA participated with Nannas in the UK and USA knitting in support.
The charges
The charge sheet read:

'Whereas this parliament and government has facilitated or failed to prevent Human Rights Abuse, in breach of the United Nations' Universal Declaration of Human Rights (see below), of which Australia is a signatory, specifically Articles 5, 8, 9, 12, 14, 17 and 25.
Misfeasance in Office – the defendant is accused of:
Instituting legislation and corporate governance processes that are in direct conflict with citizens' constitutional rights, wellbeing and sovereignty.
Willingly and knowingly working against public interests.
Instituting legislation that that denies constitutional rights of constituents.
Transfer of public wealth from the taxpayer to the corporations.
Invasion of privacy through the collection, insecure storage and privitisation of personal information.
2. Willful neglect of Duty of Care  – the defendant is accused of:
Failure to conduct base line studies into human health, and air and water quality associated with mining activities.
Ignoring scientific and legal evidence of the harmful effects on humans and the environment.
Failure to uphold the United Nations Humans Rights Convention and associated treaties.
3. The defendant is in breach through willfully and knowingly denying citizens basic rights including:
The right to healthy occupational and environmental conditions.
The right to clean air, water and uncontaminated food.
The right to access to health information.
Australia has voluntarily accepted international obligations under a number of international human rights treaties. These include the:
International Covenant on Civil and Political Rights (ICCPR);
International Covenant on Economic, Social and Cultural Rights (ICESCR);
Convention against Torture and Other Cruel, Inhuman or Degrading Treatment or Punishment (CAT);
Convention on the Rights of the Child (CRC); and
Universal Declaration of Human Rights (UDHR).
Under Section 7.4 Australia's obligations under international human rights law as contained in these treaties are threefold:
to respect – requiring government not to interfere with or limit human rights;
to protect – requiring government to take measures to prevent others (for example individuals or corporations) from interfering with human rights; and
to fulfil – requiring government to take positive measures to fully realise human rights.