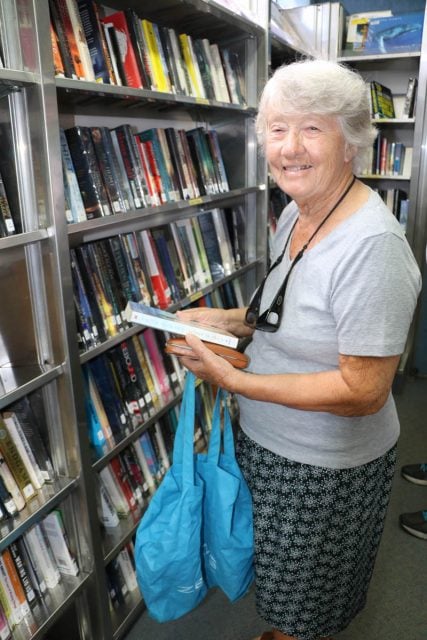 A temporary site for Tweed Heads Library users will operate from today (Monday) at the Tweed Shire Council administration building as the library in Brett Street undergoes a major expansion.
The library is being expanded, and almost doubling in size, with improved design to create a bigger, more user-friendly community facility.
A council spokesperson said the project will increase the library's floor space from 619 square metres to 1,054 square metres, with the improved layout allowing for greater flexibility in how the building is used.
'The improvements will help ensure Tweed Heads Library continues to meet the needs of a growing community and to become even more of a community hub as a valuable public resource and a social space,' the spokesperson said.
Last Monday, the Richmond-Tweed Regional Mobile Library made its first fortnightly stop in Tweed Heads, one of many such visits while the construction, which will see the library almost double in size, continues.
The spokesperson said the mobile library proved popular, with around 450 people popping into its air-conditioned interior to borrow from the library collection, return items, use the internet or print, scan or copy material.
The Mobile Library service has been extended so it is available in Wharf Street, beside the Tweed Heads Civic and Cultural Centre, every second Monday from 10am to 3.30pm. The next visit to Tweed Heads will be Monday, 23 January.
From today (16 January), a temporary library site will be available at the Tweed Heads Civic and Cultural Centre, next to the auditorium, for pick-ups of reservations, returns and to browse part of the Tweed Heads Library collection.
The reservations service will continue to be available, including online and phone bookings.
The spokesperson said that the library will also operate in council's Tweed Heads Administration Office in Brett Street to continue access to computers and newspapers, and to provide a casual reading area.
Free wi-fi services will be available in and around the pop-up library and temporary collection site.
Children's activities will be held at the Council's Community Centre (next to Tweed Heads South Aquatic Centre) at Tweed South, with Baby Bounce set to resume from Friday 10 February and the first Storytime for 2017 to be held on Monday 6 February. Children's library materials will be provided from Council's Community Centre during scheduled Storytime and Baby Bounce sessions.
For further information, visit www.tweed.nsw.gov.au/Library and the Richmond Tweed Regional Library website, www.rtrl.nsw.gov.au.