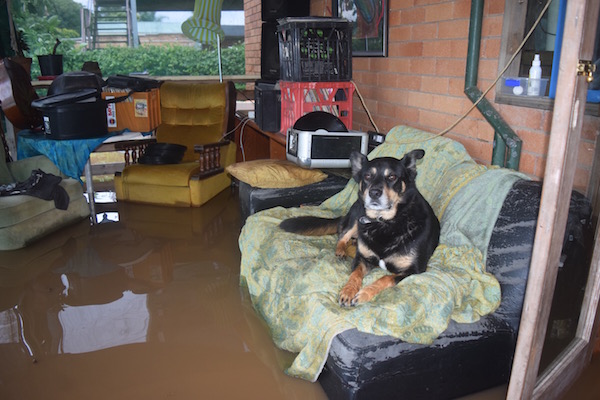 The northern rivers is awash with unprecedented flooding in most areas and around 20,000 people ordered to evacuate from Lismore and townships in the Tweed.
Highways are closed, properties inundated, thousands stranded, power cut, livestock drowned and rescues still in progress as river height levels continue to worry emergency services stretched to the limit as a result of the torrential aftermath of Cyclone Debbie.
In Lismore, the CBD is under water after the levee was topped by rising waters for the first time in 12 years when it was raised.
Most parts of north and south Lismore are under a metre of water and residents have been ordered to evacuate.
An evacuation centre has been set up at Southern Cross University in Goonellabah.
State Emergency Service (SES) chiefs fear lives may have perished as they attend to more than 100 emergency calls for help in the region.
Four rescue helicopters are now in action responding to many of those calls as fierce winds which started earlier this morning ease off after ex-tropical Cycle Debbie petered out to sea.
More than half a metre of rain fell in many parts of the region overnight, bursting river banks and creating widespread havoc, with record levels of rainfall recorded in many places from Grafton to the border.
The SES also ordered the evacuation of Murwillumbah, South Murwillumbah, Condong, Tumbulgum, Chinderah, Kingscliff, Bilambil and Tweed Heads South, but many have ignored the call much to the disappointment of authorities whose lives are put at risk during rescues.
Many photos of the flooding sent to media show people playing in flooded streets and fields, with Lismore mayor Isaac Smith saying many 'flood tourists' are also endangering themselves and rescuers.
Motorists have been urged to not travel between Sydney and Brisbane on the Pacific Highway due to localised flooding which has now blocked the highway at Chinderah near Tweed Valley Way.
Those who wish to travel over the Queensland border should travel via the New England Highway.
The Summerland Way is blocked in both directions due to flooding between Collins Creek Road and Runnymede Road and the Bruxner Highway also remains blocked between Casino and Goonellabah.
Many local roads are also closed and or impacted in flood affected areas in Northern NSW.
Essential Energy says flood waters have cut off access to the network in many areas with winds continuing to batter parts of the coast.This has limited safe access for cres to repair the lines.
Power was restored to more than 3,800 homes and businesses in Tweed Heads, Terranora and Bilambil Heights just after 6am.
Essential Energy is providing updates on Facebook and Twitter or customers can call them on 13 20 80 for further information.
For flood emergencies or information, call the SES on 132 500 or visit www.ses.nsw.gov.au For current road conditions go to  www.myroadinfo.com.au  or livetraffic.rta.nsw.gov.au
Flood photos by Jeff Dawson, Darren Coyne, Simon Haslam and Aslan Shand.