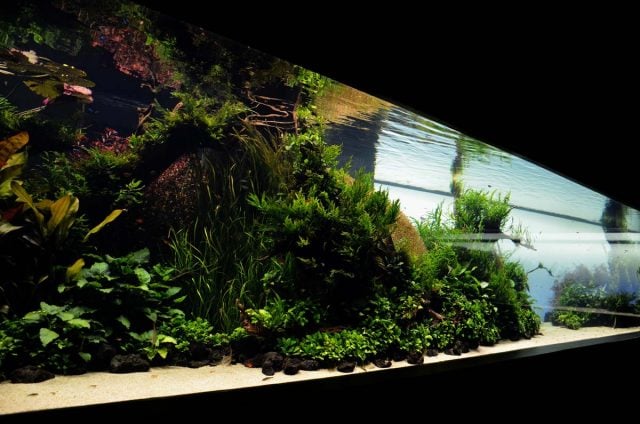 By Mary Gardner
As I review photographs from my recent travels, a sadness is upon me. This exquisite 40-metre freshwater aquarium at Lisbon's Oceanario (pictured) is the work of renowned Japanese artist Takashi Amano. His motivation was part 'penance' and part 'protest' against how 'my beloved nature in my hometown has drastically changed'.
Back in Byron Bay, sizing up the relentless push for mega-development, I re-read his words: 'truly beautiful landscape only lives in a beautiful ecosystem.'
A wet ecosystem is a unique beauty. To truly appreciate a wetland, its waterlogged forests, a waterway, a beach or reef requires both long experience and careful instruction. Such knowledge finds expression in Aboriginal Law as 'caring for country'. In Australian law, the Greens political party seeks 'to cultivate a global ecological consciousness'. They want to 'protect our precious places now and for future generations.'
What does all this mean to us in Byron Shire? On the face of it, political upsets. In 2008, student researcher Adam Smith analysed the unexpected successes of the Byron Greens Party in the 2004 local election. He found that significant influences attracting support for the Greens included concerns about the natural environment and development.
The 2016 elections created more upset: community concern about mega-development at West Byron ushered in the re-election of a second Greens mayor along with a Greens dominated council. Also voted in was a Greens member for NSW Parliament, upsetting the long-standing National Party role in the region.
What does this mean to wet ecosystems in Byron Bay? Political decisions have geographical impacts. Along Tallow Beach and in the Bay itself, marine animals such as sharks have yet to reckon with the Greens' approval last month of installing SMART drum lines. Birds roosting at the former South Byron sewage treatment works shift uneasily as council approves calls for Expressions of Interest from developers.
Wildlife and plants of the protected wetlands are unaware that the Greens' plan their destruction for the sake of the Butler St Bypass and commercialisation. Their opinions about an artificial wetland or offsets are unknown.
The oversize shopping mall in the town centre has now finally dug its first ceremonial spade of dirt and felled some old paperbark trees. The ground underneath, to become two levels of more paid parking, is already sold off. What size of a town is required to make this complex, its nine screen cinema plus a bowling alley profitable? And for whom? Koalas do not foresee any affordable housing here.
The collapsed section of the central sewer mains of the aged system is now repaired. Numerous potholes might slow a little of the run-off from the roads. Still, sewer line upgrades and improved stormwater management would be a much better action plan.
But planning is going towards enlarging the capacity of Byron Bay's existing sewage treatment plant. One idea is to run the increased volume of effluent through the drains of the Arts and Industry Estate, through West Byron and then into the Belongil and the Cape Byron Marine Park.
In the West Byron floodplain (mostly below sea- level), developers have forced their application to be considered by Council ahead of the required Development Control Plan. Before any building can start, trucks must drive down Ewingsdale Road bringing fill to the volume of 7,264 Olympic swimming pools. Options for wallum frogs and coastal fish are closing out.
What farming can happen in the rest of West Byron and Ewingsdale has to wrestle with the projected riches of more housing estate proposals. Although flood protection evaluations of wetlands and floodplains on the West Coast USA are calculated to be at least $125,000 (US) per hectare, Byron's ones count for nothing. No such figures are found in the hundreds of pages of reports of either the developers or the Greens' Council.
Amano said that human harmony and prosperity in nature relies on how we develop our minds and then direct our actions. We make the crisis. What of our other wet ecosystems throughout the Shire and beyond? Let's upskill ourselves as citizens, developers and council before we disturb another metre of these beautiful landscapes and wet ecosystems.