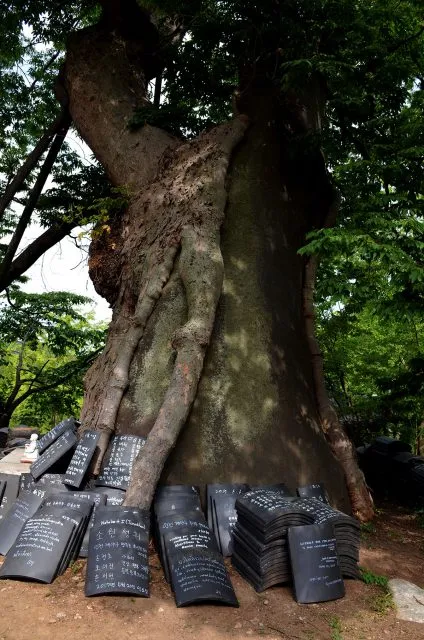 Story & photo Mary Gardner
Neutinamu is Korean for elm tree. I saw this elder Zelkova in Seoul last month. It's 1,300 years old, part of the Yonggungsa Temple founded in 650 AD.
Around its base are roofing tiles with prayers and pleas written by devout Buddhists. Perhaps the chalk dust of these intentions mingle with the tree's own perceptions. After all, trees sense through their leaves and roots.
Into its second millennium, familiar with exhaust fumes and drought, does this isolated neutinamu despair? Does it, as do so many people, worry that the world around is becoming uninhabitable?
Angst
The latest angst read is The Uninhabitable Earth by Wallace-Wells in the July 9 issue of the New York magazine. The author is summarising the 'best understanding of where the planet is heading absent aggressive action'. 'Those scenarios… are our schedule.' In his annotations, he admits these lines were his 'setup' for 'a tour of worst-case scenarios.'
Wallace-Wells is interpreting some future trends in a world where we do not heed our own chalk prayers and pleas as set in the Paris Agreements. Without radically curbing CO2 emissions, global warming will bust out beyond 2°C. The doomsday details are presented as logical, a word defined as 'reasonable consequences'.
But I wonder what seems logical might not be quite ecological. Ecology is 'the understanding of the relationships of living things to their environment.' Understanding let alone predicting future relationships of free-living beings is often surprising. The thinking is very different from drawing a line or extrapolating a trend into the future.
Look at section eight: 'Poisoned Oceans.' Wallace-Wells first presents two often-cited scenarios: flooding owing to sea-level rise and acidic waters owing to absorption of carbon dioxide. He then describes a third. He links the expansion of marine dead zones, the death of fish and the release of poisonous hydrogen sulphide gas.
Dead zones
Coastal marine dead zones do exist in parts of the Gulf of Mexico, southeastern Australia and about 400 coastal sites around the world. Here, oxygen levels are so low that fish suffocate. Fast swimmers such as swordfish, marlin and tuna avoid swimming in these lethal areas.
These zones exist in uneasy relationship with agribusiness, urban centres and roads plus sewage treatment works. The pollutants from these human activities include fertiliser run-off, soil erosion, stormwater run-off and variously treated effluents. All these run down the waterways into the sea, increasing levels of nitrogen and phosphorus. These trigger first vast algal blooms and then microbial activity which uses up oxygen.
These relationships can change. Farmers altering their methods. Cities building water-sensitive designs and stormwater treatment ponds. Sewage treatment plants rescuing phosphorus and nitrogen from sludge and using micro-algae to remove it from effluent.
Other relationships are involved. Small forage fish can eat enough algae to prevent blooms.  But these fish themselves are often over-harvested for aquaculture and fish oil. What if aquaculture switched to raising herbivorous rather than carnivorous fish? What if consumers bought algal oil instead?
Such supply is the work of clever 3D fisher farmers: growing various seaweed and shellfish in vertical aquatic gardens. This marine life combo also draws nitrogen from seawater, improves water quality and restores coastal habitats.
Solutions
The scope is great and the impact can be astonishing. According to editor Paul Hawken in Drawdown, with determination, we people can hold off and even reverse the build-up of atmospheric carbon within the next thirty years.
He cites '100 global solutions' already underway, which could be expanded.
Third and fourth in this list is 'reduced food waste' and adoption of a 'plant-rich diet'. Imagine using that one-third of food now wasted. Benefits in backing off from deforestation for more crops. Halting over-fishing. Allowing the recovery of large schools of fish. As they swim, they create turbulence, mixing layers of water that differ in temperature and oxygen levels.
Sixth and seventh on the global list is 'educating girls' and 'family planning'. This puts new value on teaching children about food and ensuring women's rights. 
Finally, the top ten companies responsible for 70 per cent of emissions are fossil-fuel corporations.
This means collective political action is also a vital part of human ecology.
Ecological thinking is wiggly and divergent. Different scenarios presented by Wallace-Wells and Hawken are not choices between 'sticks or carrots'. They are nightmares and daydreams.
We chalk them up on tablets in stacks under our neutinamu and wallum trees. Listen to the whisper in the leaves and take heart. Join in to make our ocean as well as Earth rehabitable.