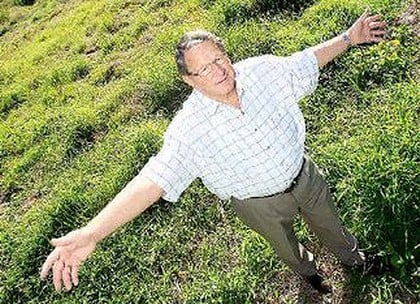 By Luis Feliu
Selection for the site of the northern rivers' biggest ever infrastructure project, the half-billion-dollar-plus Tweed Valley Hospital, is nearing, but it's feared some of the richest agricultural soil in the shire is at risk if a land parcel on the Tweed Coast is chosen.
Twenty sites around the Tweed are being considered for the NSW government's $534 million hospital project, with a decision on the preferred site due early in 2018.
But the shire's former longest-serving mayor has raised concerns that the rich red volcanic soils on the Cudgen plateau behind Kingscliff, long sought after by developers, could come under threat from the decision.
Max Boyd, who led Tweed council in a long campaign against the rezoning of the Cudgen agricultural area, says the state significant land must be preserved for future generations and not 'covered by buildings' as similar land was in Queensland and elsewhere.
A Health Infrastructure spokesperson told Echonetdaily an announcement on the preferred site would be made following the end of the due diligence process on the sites and is expected in early 2018.
Mr Boyd, AM, who was a member of a project team that successfully recommended the land be protected by the government's classification of state significance, says it's a real possibility the Cudgen land could be selected despite the long opposition to development there.
The preferred land zone at Cudgen includes a large parcel linked to the family of former mayor Lynne Beck and her husband Don, a former MP for Murwillumbah and state government whip.
It has had many contentious proposals for rezoning to enable either schools, churches, shopping centres, a university campus and a major police headquarters there, but all have been ruled out due to flooding fears or other restrictions.
Mr Boyd said he had taken a keen personal interest in the issue and had sent a submission about his concerns in identifying the 'very important site' to the group engaged by the government to carry out the due diligence.
He said he had thoroughly researched the site's significance and its accessibility to the Pacific Motorway 'to ensure that it provided the best possible access for this Hospital to service the extended population from the Queensland/NSW border right down into Byron shire'.
'The only area that I fear may be considered is the Cudgen Plateau,' he told Echonetdaily.
'I fear this because it may appear to be the easy solution. It has a long history of opposition to development by Tweed Shire Council because it was identified by the state as being land of state significance following a protracted period of investigation, consultation and review by a project team of 10 members, of which I was a member, and which commenced its protracted inquiry and ultimate recommendation in July 2002.
'The project area included land in the Tweed, Byron, Kyogle, Lismore, Richmond Valley and Ballina local government areas.
'In my time in Tweed Shire Council, the following are four examples of attempts being made by various persons to gain approval to build on this land:
'A campus of the Southern Cross University (the university itself respected the state's zoning of this land and ruled it out); a church on a portion of this land which council opposed successfully in a court action; a proposal to build a major shopping centre on a farm within the land zoned as being of State Significance and; more recently, a plan had reached an advanced stage of preparation to build a [police] station on this land, before the authorities, when made aware of its zoning, took no further action to build on this site.
'So with this background, it is my fervent hope that the state authorities will respect their own forward planning and retain this magnificent parcel of agricultural land for future generations and do not allow it to be covered by buildings as so many of the red volcanic soils along the coast in Redland Shire to our north have been lost forever.'
Mr Boyd said the hospital 'logically must be built on a site that is above the maximum probable flood'.
'With the benefit of hindsight, it is now obvious that the site chosen for the Tweed Heads hospital was far too small and did not allow for the explosion of population that has occurred since it was opened in 1973… it is susceptible to flooding of greater than a 1 in 100 year event (it is much below the maximum probable flood level) and it has totally inadequate parking available for visitors, staff, doctors and patients.
'It is logical to expect that the site for this very expensive utility will be on a very expansive site that will be above the maximum probable flood level; provide for future expansion as Tweed Shire population continues to grow; allow for the provision for other allied facilities such as an ambulance station, police station; state emergency service; a helicopter pad and also a fire station.
'And it should not be sited within an area zoned for future urban expansion,' he said.
The new, state-of-the-art hospital to cater for the region's growing population was announced last year by NSW treasurer Dominic Perrottet, deputy premier John Barilaro, minister for health Brad Hazzard and Tweed MP Geoff Provest during a visit to the Tweed Hospital.
Mr Barilaro said the new hospital would 'greatly improve health services for the region, which is forecast to grow by more than 40 per cent to 128,000 people by 2031'.
Some facilities of the new hospital will likely include: more overnight beds and operating theatres, a larger emergency department, an integrated cancer care service and enhanced cardiac care services.
The government has been searching for property from Tweed Heads South to Pottsville, between eight to 16 hectares of land for building and situated around 10-15 kilometres inland.
A Health Infrastructure spokesperson said 'these assessments consider each site's suitability against a range of criteria including population locality, transport and access, local environment and heritage, flood and bushfire zones, connection to existing community facilities and utilities, as well as cost and value.'
One of those being looked at is the site for one of the state's biggest housing developments, Kings Forest for 4,500 homes, being developed by Gold Coast-based Leda Holdings.
Leda's acquisition manager Richard Duce told media he believed the site, inland from Casuarina and to be accessed by the Tweed Coast Road, was an 'ideal' and 'logical' location.