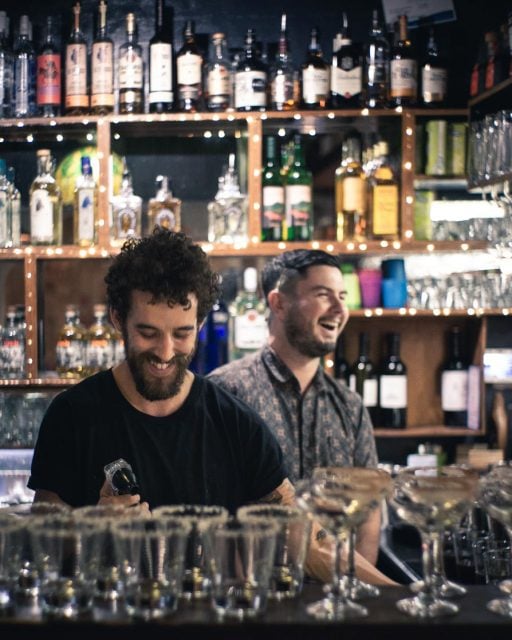 'We usually have Margaritas on Thursdays but since it's Tuesday, I'll make an exception.' Chelsea Handler
By S Davey
Miss Margarita is a colourful and upbeat Mexican bar and cantina at the beach end of Jonson Street with a buoyant, colourful vibe. There is a fantastic wall that is decorated in antique-looking Mexican oilcloth-inspired tiles made by local artist Jai Vasichek of Ahoy Trader; they have little glimpses of Frida Kahlo and Santa Muerte icons amongst the many-hued flowers. 
The entire front of the restaurant is open, which makes it breezy as well as connecting with the energy of the street.
There is a fun sign that faces diners advising that 'A Margarita Makes My Day', and the cocktail menu has a dozen styles of margarita from classics to margaritas with various flavours and infusions as well as other cocktails. There is also Mexican or local craft beer and wine. The food menu has everything that you would expect from a Mexican restaurant with plenty of vego and gluten-free options and it's fresh and tasty.
Miss Margarita has been a part of the Byron scene for six years now. It has a very successful formula of great vibes, flavoursome food, fast and friendly service, and dynamic drinks. It is frequented by visitors and locals alike, and co-owner Emma Thomson has a special 'thank you' for the locals who, she says, 'have continued to support us from day one'.  
Miss Margarita is popular and in the evenings there is often a queue to get a table, but now there is a new way to secure a table that has received a lot of positive feedback. Diners are sent an SMS when their table becomes available, so you can be free to enjoy the Byron evenings while your seating is taken care of.
The idea of Miss Margarita is about having a fun and pleasurable experience by ordering a margarita and some food, then relaxing into enjoying yourself. Emma says, 'It's a fun business to own and work on and I want it to be enjoyable for customers'. Well, I think that they are enjoying it; while I was there not one patron was on their phone, everyone was engaged in either food or conversation, there was even one person couldn't help themselves but do a little seated maraca dance!
Miss Margarita is now offering late-night parties, designed for things like post-wedding kick-ons when the reception has finished and guests want to keep going… it's open until 2.30am for these events.
Miss Margarita. 2 Jonson Street, Byron Bay.
ph 6685 6828. www.missmargarita.com.au.