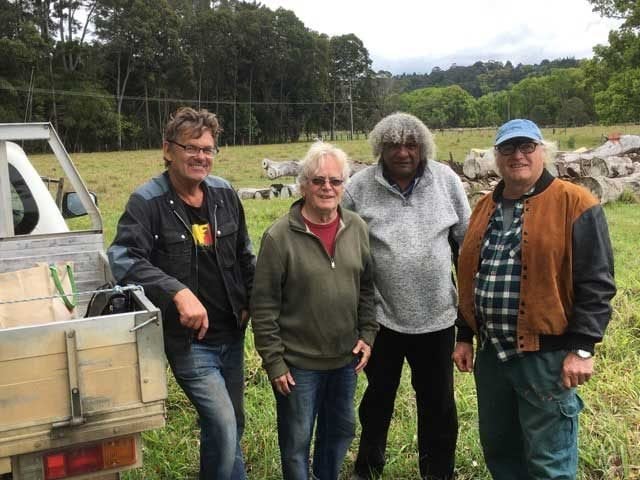 The entrance to Mullumbimby was brought to life some 30 years ago with the carving of totem poles and the erection of the rotunda to welcome people to the 'Biggest Little Town in Australia'.
Now the Mullum Gateway is finally getting the lift it has been fighting for for years – but it is not going to be quite the one it was planning. The Nature Pole and the Peace Pole were lifted from the place they have stood at the entrance for the past 30 years with the plan to repair and paint the poles, and fit steel sleeves at the base, to protect them from ground water into the future.
'Unfortunately, they were in worse condition than expected because they've received almost no upkeep in the last 30 years,' said Richard Mordaunt and Bob Grey who were the original drivers behind the creation of the Mullumbimby Gateway.
'It has been decided in the public interest it is safer not to reinstall the two sculptures in the refurbishment of the Gateway. They are beautiful carvings and a way of keeping them on site will be found, in a space where they will not present any danger to the public,' they said.
Instead the 15 metre high Uplift Totem will now become the central focus of the site redesign, with a pathway leading from the rotunda to the totem and a labyrinth circling the Totem.
Totem gift
The Totem has been donated to the Gateway Project by the founders of UPLIFT. It was carved for the UPLIFT Festival in 2013 from a Mt Jerusalem Tallowood tree by woodcarver Tonu Shane, assisted by Greg Bowering and Jason Morning. The totem incorporates local Arakwal Indigenous totems of the goanna, the sea eagle and especially the kabul (carpet snake) which represents the community coming together.
The Totem will be painted by aboriginal artist, Digby Moran while working with Oral Roberts, Delta Kay is leading a team of Arakwal artists who will be decorating the rotunda and bringing to life the Indigenous story of this area.
The site refurbishment will also include a new handicap pathway into the gazebo that then circles around the Totem, as well as the creation of new gardens and signage about the heritage of the area and the site.
Mullumbimby Gateway Project Directors, Richard Mordaunt and Bob Gray said renewing the Gateway is important to this community. The Gateway is the entrance to our town and a significant icon. The Gateway was originally created to celebrate the bicentennial in 1988, with the aim of providing a dramatic entrance to the township of Mullumbimby and showcasing the region's artistic skills, environmental awareness and cultural heritage. The new design will bring a strong visual focus to the Gateway. It will be lit at night and become a new landmark site for the whole community to enjoy, welcoming people to Mullumbimby.