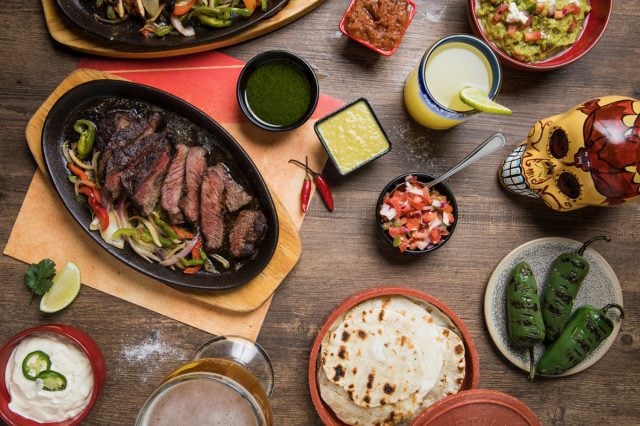 By Vivienne Pearson
Have you been wondering about the colourful lights on the front balcony of the new Mercato complex on Jonson Street? The answer is El Camino Cantina.
Part of the Rockpool group of eateries, Byron's menu is the same as the other El Caminos in Sydney (The Rocks and Manly), Melbourne, and Brisbane; the only exception being the creation of a one-page menu thoughtfully put together to allow vegans to avoid trawling the extensive menu.
We chose the Lime & Pepper Angus Steak Fajita, which was plentiful and delicious, and the Taco Special, which was a winner for taste and variety. For only $20, you choose three from seven options of soft tacos, accompanied by rice and beans. 
Both the mushroom and beer-battered barramundi soft tacos were flavoursome and artfully presented. Though I only coped with half the beef taco before my mouth begged for mercy, you can take this as a good sign that the chili rating system works.
Menus are cutely displayed on imitation vinyl records – LP size for the main menu, and single size for the kids' and dessert menus (and, rather puzzlingly, a list of flavoured tequila; don't let your kid loose on ordering themselves a Patron XO Café Incendio!).
The vibe is half Tex-Mex, half 'day of the dead goes surfing', and half fluoro-classic rock (yes, that does add up to one-and-a-half). 'The décor at El Camino Cantina is a fusion of funky Tex-Mex flair and Byron beach chic,' says Bruna Mancini, brand manager. 'Surf-art icon Ben Brown created El Camino Cantina's floor-to-ceiling mural of board-short and bikini-clad skeletons surfing The Pass.' 
Given my low tolerance for heat, it was with trepidation that I ordered a Light My Fire cocktail. I was rewarded with a delightful drink, the jalapeño syrup adding a warm glow to the rum and ginger that was perfect for a winter's evening. 
Dessert needs little choice but brings much happiness in the form of generously sized churros.
The mainly outdoor dining venue offers a mix of open booth and high table seating and is perfect for groups. 'Our party spirit has seen the restaurant play host to many celebrations, from birthdays to hens' parties and work functions,' says Bruna. 
As well as margarita-fuelled happy hours (frozen or on the rocks) there are special offers most nights of each week – including 10¢ wings on Wednesdays (with purchase of a drink), $2 tacos on Tuesdays, and half-price fajitas on Thursdays – giving you a chance to check out El Camino Cantina in whichever way delights your tastebuds best.
El Camino Cantina
108–114 Jonson Street, Byron Bay.
Opens at midday seven days/week.
Bookings encouraged: Elcaminocantina.com.au/location/Byron