Paul Bibby
When local musician André Comaru went to Fiji for a few years ago to help rebuild the country after Cyclone Winston he was struck by the incredibly musical nature of Fijian society.
But there was one group of Fijians who, inextricably, seemed to be missing out on the fun.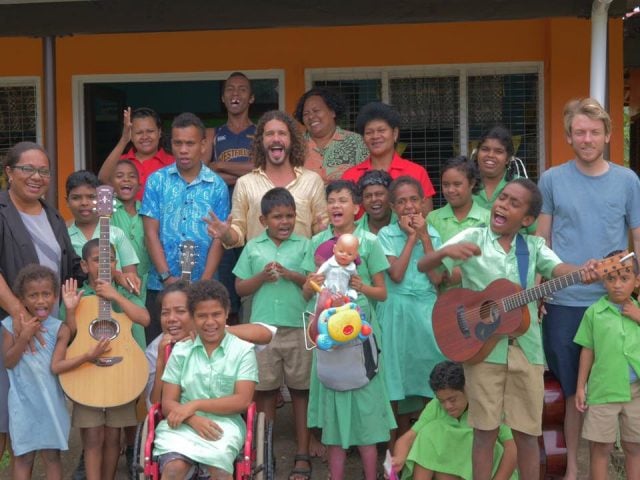 'I learned that there were 17 specialist schools for kids with disabilities but none of them had a music program,' he said.
'I just found it bizarre because Fijians are so musical.'
The Brazilian-born Byron resident quickly realised that his talents could be used to have an even greater impact on Fijian society.
'I started working in a Fijian school for the blind and it really touched my heart.'
It was from this beginning that the Happy Music Club was born – a not-for-profit organisation that brings music into the lives of Fijian kids to enrich their schooling and to help break down the very strong stigma that still surrounds having a disability.
The program was initially run on a voluntary basis, with the local Fijian musicians involved donating their time and talents, and Mr Comaru keeping it afloat using the income he obtained from teaching at the College in Byron.
But Mr Comaru realised this was not sustainable for the artists involved and began to seek funding from other sources.
In 2017 the Happy Music Club became an NGO and got support from a range of different sources, including the Australian High Commission in Fiji.
'We're now bringing music to 130 kids with a range of disabilities including Down Syndrome, Autism, visual impairment, and a range of physical disabilities.
The program is also encouraging Fijian society to break free of the silent prejudice held toward people with disabilities.
'Only 10 per cent of kids with disabilities have access to education,' he said.
'Kids with disabilities are sadly too often hidden away.'
'By encouraging kids to perform on stage we're breaking down the stigma and I've seen some amazing things happening in the past three years.'
Mr Comaru, who has just departed the Shire for another trip to Fiji, is now seeking to raise funds to extend the program into more schools and to make it a sustainable not-for-profit that will continue for years to come.
'The best thing people can do it they want to help is to go onto our Chuffed page and make a donation to the Happy Music Club.
The Australian currency is strong compared to its Fijian counterpart so every dollar donated goes a long way.