Israeli Chicks
Falls Festival  |  Byron 31 Dec–2 Jan
Already blessed with an eye-watering assembly of talent, sourced from these pure shores and all over the world, Falls Festival is set to kick things up a notch as a new influx of party-starters are buzzed-up to herald in 2020 in the utmost of style! Surf rock heroes Goons of Doom will be on hand to supercharge Falls in Byron Bay, rolling in with their mates Mini Skirt and Israeli Chicks, who will collectively bring a blast of guitar-based fun and coastal energy.
Israeli Chicks are a cold sip of brute Aussie pub-rock, a solid nod towards early New Zealand/English post punk, and a hot slap of Cramps infused horror-blues. Or alternatively; three housemates who started playing music in a sandy garage together, two years ago in Byron Bay, Australia.
The Israeli Chicks are already well known for energetic live shows that have you yelling choruses you just learnt, with someone you just met, doing dance moves you never knew you knew. Tickets are available from fallsfestival.com for this three day event, 31 Dec–2 Jan.
---
Neil Diamond – The Man, The Music
Ballina RSL  |  Saturday 30 Nov  |  7.30pm
'It's all about the story. If you take a close look at any great song, there is always a great story: both somewhere behind it, and being conveyed by the lyrics.' Singer/songwriter Craig Stewart knows what he's talking about. Known throughout the music industry as 'The Storyteller', his songs and shows bring to life the stories he has sought out and gathered over a musical career spanning 20 years. And has he got a story for you!
Neil Diamond – The Man, The Music tells the story of Neil Diamond, following his journey from humble beginnings as the son of a shopkeeper, right through to being a global superstar. The show features numerous interviews and behind-the-scenes stories of how some of Neil's most-loved songs actually came to be – all presented in Craig Stewart's distinctly intimate style.
Featuring approximately 30 of Neil's biggest hits – from Cracklin' Rosie, I Am I Said and Sweet Caroline to a special Hot August Night tribute. One show only, Ballina RSL Club, Saturday 30 November, from 7.30pm. Tickets from ballinarsl.com.au
---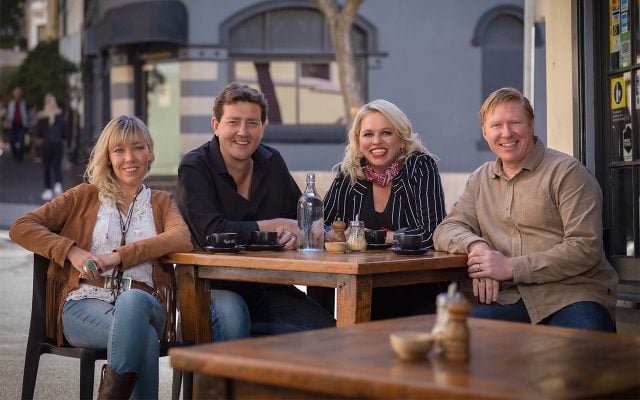 Adam Harvey, Beccy Cole, Darren Coggan and Felicity Urquhart
Ballina RSL Club  |  Saturday 23 November  |  8.30pm  |  Adults $49.00/ Child U14 $33.00
Adam Harvey, Beccy Cole, Darren Coggan and Felicity Urquhart are four of the most recognisable country music artists in the Australian entertainment world. Golden Guitars, Gold records, chart topping albums and countless number one singles between them… this merely scratches the surface of their combined achievements!
2019 marks the 20th anniversary of a tour called The Young Stars Of Country. The tour's name was the brainchild of the booking agent they shared at the time, and this was the beginning of a musical bond and friendship that was to last for two decades.
The awesome foursome attribute much of their individual success and longevity to bonds and friendships made with fellow performers along the way.
Of the upcoming 20th anniversary tour Adam Harvey said, 'We are all so excited to be reuniting. It seems like yesterday when we all started touring together, and we can't believe it was 20 years ago. We were just kids back then and now we all have kids of our own! We are going to have plenty of laughs and a whole lot of fun at these shows. It's going to be very special to share the stage again with such great mates.'
You can expect some very special moments in this show, many laughs, and even a few tears, but there is no doubting that there will be some breathtaking musical moments. When four artists come together after 20 years of love and respect for each other, the audience is in for a once-in-a-lifetime treat.
Don't miss Adam Harvey, Beccy Cole, Darren Coggan and Felicity Urquhart together again in an unforgettable reunion concert 20 years on. Saturday, 23 November, at the Ballina RSL at 8.30pm (Doors open 7.15pm). Tickets are $33-49. www.ballinarsl.com.au
---
2020 Vision
Wed 1 January 2020, 1 pm–11 pm  |  Billinudgel Hotel, 1 Wilfred St, Billinudgel |  First release tickets, $35
Start planning how you are going to kick off the next decade! 2020 Vision, New Year's Day at The Billinudgel Hotel takes dance-music lovers centuries into the future with Techno, Trance, Psychedelic, Electronica and Downbeat, with DJs and live acts. Featured on the decks are Tsuyoshi Suzuki (Japan), Nick Taylor (UK), Ray Castle (NZ), Pob, Abel El Toro, Halo, Leshe, Fatty Acid Live and Didge Daz Live. There will also be an epic installation of holograms – the first time they've been shown here!
Wednesday 1 January at the Billinudgel Hotel, from 1pm–11pm. Get your first release tickets for $35 before they disappear into space! Tickets available from 2020visionnyd.eventbrite.com.au
---
Kings of Country Rock Tour
Byron Theatre, Community Centre  |  Friday 29 Nov  |  8pm  |  $55-60
The Byron Bay Theatre at the community centre is soon to host a two-hour stage spectacular capturing the sounds and excitement of America's country rock icons.
The Kings of Country Rock Tour is much more than a concert; it's the ultimate rock experience. The cast of multi-talented and internationally respected musicians bring to life a stage show unlike any other.
So get aboard proud Mary, as we set sail down the dark desert highway of the 1970s featuring the platinum hits of The Eagles and Creedence Clearwater Revival.
Two bands – The Creedance Clearwater Revival show, and the Eagles show, as part of the Kings of Country Rock Tour ! Friday 29 November at the Byron Theatre, at 8pm. Tickets $55–60 from byroncentre.com.au