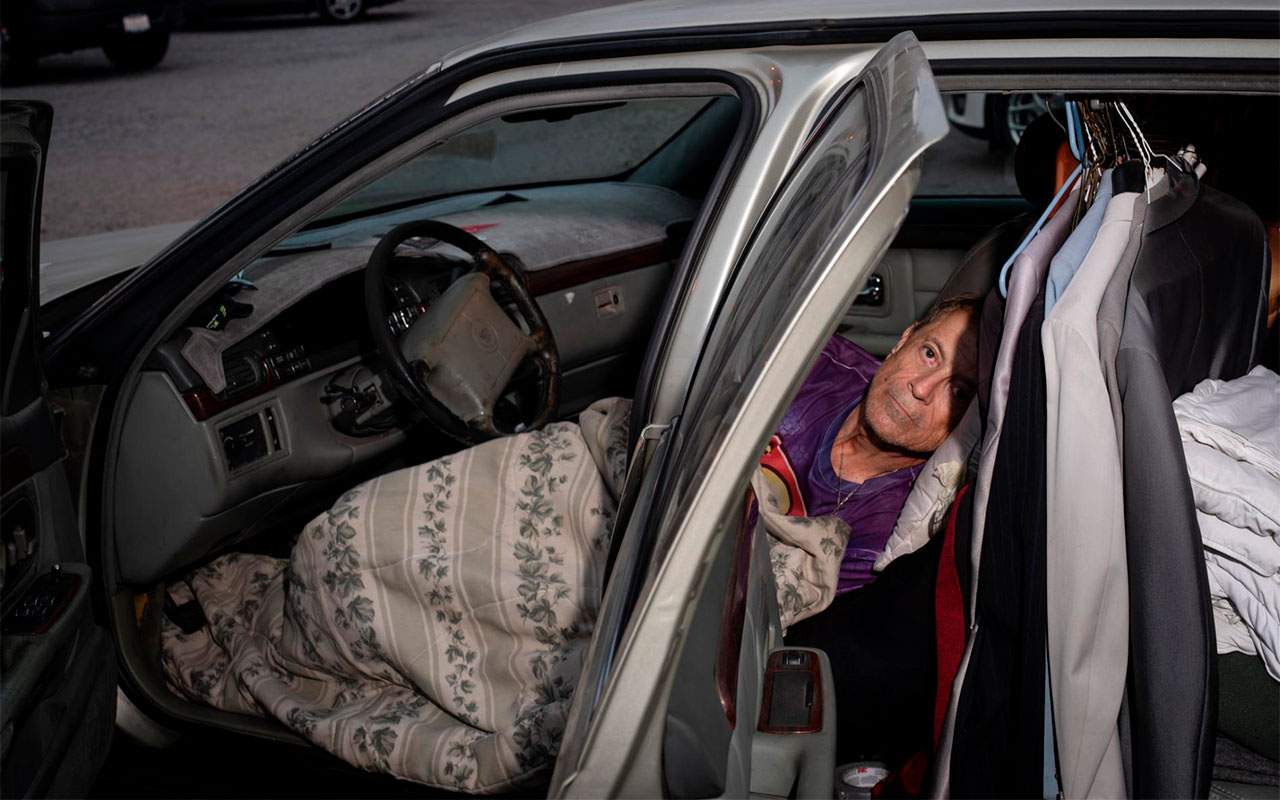 Ok here's a little maths problem. Let's see if you can do it. Jimmy is a middle-aged man who lives in Sydney. If, over a fortnight, he pays $450 rent, $200 food, $100 on petrol and his car, $50 for phone, $50 for electricity, internet and gas, $50 on smokes, $50 on incidentals like entertainment, or a parking fine, and he receives $501 per fortnight from the government as his unemployment benefit, how much does Jimmy have left?
The Answer is: Jimmy is living in his car. He's long-term unemployed and you can't live in Sydney, or many other places in this country, on $500 a fortnight. Shit you can't live on $500 a week. He smokes a little weed, but he grows it and sells a bit on the side to pay for petrol. What he makes still isn't enough to afford rent, which means he doesn't get rent assistance. He's homeless.
Consequently Jimmy also has an alcohol addiction – but wouldn't you too if you were living in your car? Jimmy is unskilled, and he's been largely itinerant for the last few years. He's estranged from his family, and his work-history is patchy. His literacy is low, but he's so ashamed by it, he's spent most of his life pretending to be literate – so he's never got the assistance he needs. There was a time when he was on a joist, when he used to pretend to read the paper so he had the appearance of literacy.
His years of employment have been mainly as a labourer on roads and building sites, but as he's got older and his circumstances have become more challenging, he's suffered from poor mental health, which means there are some days when he doesn't leave his car. He feels like a loser, like there's no way forward.
His car is running out of rego, and somehow he has to find the $1k plus dollars to keep it on the road. He lives with deep shame about his circumstances. He has no sense of a future – which is probably why his drinking has increased. The long days in the car are fuzzed out by cheap wine, and once a fortnight, on pay-day he goes to his local club, he has a roast, a few beers and he plays the pokies. He plays the pokies because one day he won $2k. That was how he got his car registered last year. He's hoping it will happen again, because it's the only plan he's got to keep his car – which is his home, and the only hope he's got of getting to a labouring job that starts at 4am, an hour's drive away.
I forgot to mention, among a number of reasons why he didn't do so well at school, was that one of the Brothers at the school he attended called him into the vestry one afternoon – and he went from being an altar boy, to being an altered boy – and he has lived with the deep emotional impact of that unaddressed trauma ever since.
He's one of many people in their late 50s who have hit the scrap heap. This is probably quite a familiar story for long-term welfare recipients – the people to whom the Morrison government wants to issue a cashless welfare card.
Indigenous communities in remote parts of Australia have already experienced that indignity – they've gone back to colonial times with their local store having an absolute monopoly over their agency. When you remove autonomy and self-determination, you remove a person's belief in their ability to manage their own life. You remove the opportunity for a person to develop the self-confidence they need to overcome their circumstances. Mind you, how do you overcome a circumstance that cannot be reasonably overcome anyway?
Instead of simply increasing Newstart, the government intends to issue a cashless debit card that will cost thousands per person to administer. Shouldn't those thousands be going to increasing Newstart? The cashless welfare card is a punitive measure that punishes the poor for being on welfare. Imagine the shame when, everywhere you go, shop assistants will know that you are part of the Morrison Government's underclass. There is no evidence to show that this system works to address any of the causes of long-term unemployment. However, there is overwhelming evidence that housing, support programs, counselling, health services, connection, community and a sense of purpose do work.
So why not save some $ on further isolating and impoverishing the vulnerable, and provide the support for pathways where they may rediscover their purpose and autonomy. Maybe instead of the Cashless Welfare Card we need to start using the Compassion Card.