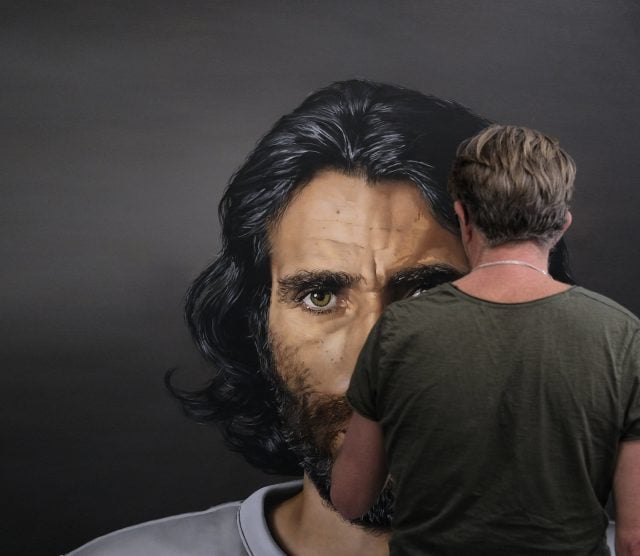 Lennox Head artist Angus McDonald has submitted his portrait of the author and activist Behrouz Boochani to the prestigious 2020 Archibald Prize at the Art Gallery of NSW.
Since 2009, Mr McDonald is a five-times finalist in the Archibald Prize, Australia's biggest art competition.
On Twitter (@angusmcz) he said, 'Thank you ALL for the huge response to the image I tweeted of Behrouz's painting. Blown away.
'Whatever happens, I was privileged to stay five days in NZ with this courageous, talented & beautiful man who embarrassed me with his hospitality & kindness. It's an honour to paint him.'
Behrouz Boochani is a Kurdish-Iranian journalist who was held in the Manus Island Detention centre in Papua New Guinea from 2013 until 2017, where he wrote his celebrated memoir No Friend But the Mountains and smuggled it out via text messages.
The book has since won multiple awards. Mr Boochani appeared from detention via Skype to promote the book at the last Byron Writers Festival.
Mr Boochani has recently been granted permanent asylum in New Zealand. 'I look at it as an end of a chapter of my life and I feel happy because I have certainty for my future,' he said last month.
'But on the other side it's extremely difficult because still this policy exists and still people are living in detention in Australia, in Port Moresby and Nauru and still the Australian Government continues with this policy of torturing people.'
About the artist
Angus McDonald studied painting at the Julian Ashton Art School in Sydney, and then at the Florence Academy of Art in Italy.
Since 1995 he's held more than 30 solo exhibitions in Australia and overseas.
Mr McDonald was most recently a finalist in the Archibalds with his portrait of inclusion and diversity campaigner Mariam Veiszadeh.
He has a keen interest in human rights issues, and his recent short film Manus won a number of prizes including Best Byron Film at the 2019 Byron Bay International Film Festival.
The 2020 Archibald finalists will be announced soon.