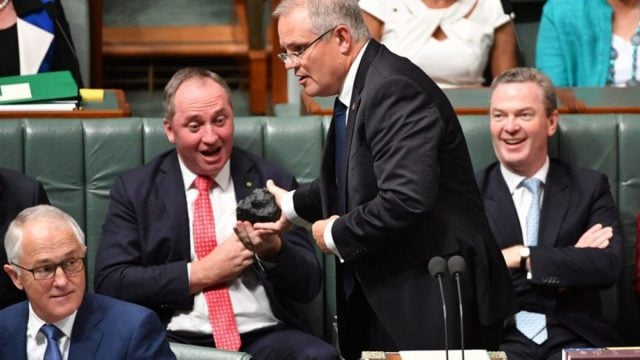 David Lovejoy, Echo co-founder
Conspiracy theories abound these days. Most of them are feeble balloons that can be popped with one or two sharp facts, but a few contain some truth.
As the saying goes, even a broken clock is right twice a day. My conspiracy theory is the Morrison government's commitment to fossil fuel.
The new chair of the Emissions Reduction Assurance Committee, which is responsible for ensuring the integrity of projects that get climate funding, is David Byers, whose resume includes the Minerals Council of Australia, BHP, and the Australian Petroleum Production and Exploration Association.
Joining him on the committee is Dr Brian Fisher, an economist whose wildly overestimated costs of alternative energy have been uncritically promoted by the Murdoch press.
These are not the only committee members from the fossil fuel industry, and it would appear that the government is preparing the ground for granting the industry more climate funding.
Public coal-fondling may be out of fashion, but Morrison remains committed to the interests of corporations whose activities are literally burning up our future.
This is because those corporations give substantial financial support to political parties.
The reason they do so is not rocket science. If your industry pollutes the environment by, say, poisoning aquifers and emitting carbon dioxide, it is likely to collide with regulations established to control such behaviour.
The regulations cost you money, but for a fraction of that lost profit you can buy a corrupt government and write your own industry-friendly regulations.
The dirtier and more dangerous your business is, the more you need to spend to get the political result you want.
Hence, it is executives from the very worst companies who become the dining companions and puppet masters of government ministers.
Journalist George Monbiot has dubbed this process the 'Pollution Paradox': if you let business fund politics, what you get is the very worst of business funding the very worst of politics.
It is not just fossil fuel companies that have the regulatory itch. Bankers don't like having their prey protected by red tape. Developers don't like planning laws. Employers could do without a workplace code.
Media barons have particular influence over the governments that are supposed to regulate them, not just in donations but in news manipulation.
And all of these funders of political parties hate paying tax and have persuaded most governments to agree with them.
But only in the most damaging of all industries, fossil fuel extraction, has the identification of corporations with government become so great that our National Covid Coordination Commission, designed to mend the economy, is stacked with shills from gas companies, and the committee to check that funds to reduce carbon emissions are properly spent is chaired by a fossil fuel careerist.
Outlawing business donations to political parties would be the single most effective way to reform our system of government.