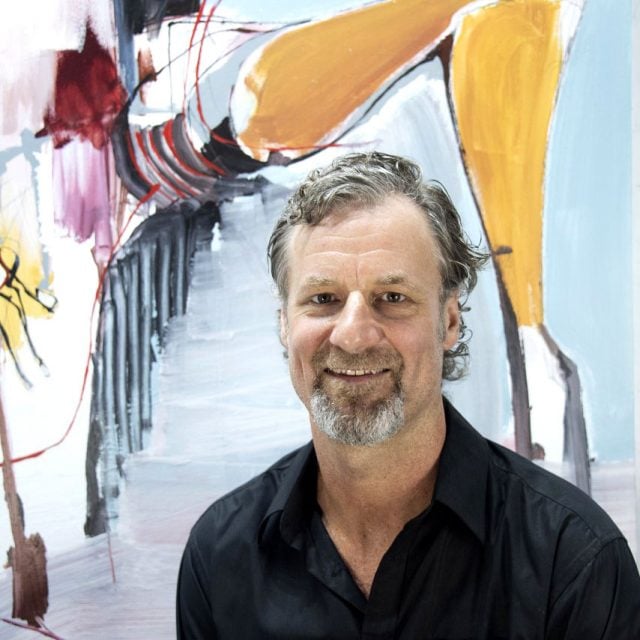 When I first met Mullumbimby-based artist, Brendan Kelly, he was trying his hand at stand up. Energetic, larger than life, with astute colourful depictions of everything from the mating behaviour of peacocks to the high drama of almost burning down his house, Brendan knew how to tell a story. Kelly had the charisma and the chops that could have seen him break through as a comedian, but he put down the microphone and picked up the paintbrush. Almost a decade later Brendan Kelly is a successful exhibiting artist, cutting his own creative path. His medium may have changed, but his mission hasn't. He is emerging as a master storyteller.
His flamboyant strokes have moved from the stage to the wall, magnetising viewer attention with even more command than his comedy. Brendan Kelly has found his voice through the brush, and weirdly, it's louder than he ever was through a PA.
Like many creatives, Kelly has used his art to make sense of his life.
'When I separated from my first wife I had this feeling like I wasn't being heard, that I didn't have a voice, which led quickly to the stand up. The stand up was basically the first time I felt I had a voice, although it was quite frustrated and angry' says Brendan.
When his close friend and mentor, stand up comedian Dave Grant, died of pancreatic cancer, Brendan got spooked. 'Dave said, it's the comedy that has done this to me. It's the nerves. Get out. You have everything you need'.
This was all the encouragement that Brendan needed, as he had been finding the down time of comedy frustrating. Full of energy and ideas, Kelly was never the bloke who slept until afternoon. Ironically Dave Grant's sage advice set him on the path to find his true creative niche.
'I started to draw cartoons – I had always drawn, since school days. When I left school I wanted to be a commercial artist, I drew cartoons for national magazines, so I was going alright, but then I dropped the comedy altogether and did the cartoons full time. This led to me doing drawing classes that led to larger scale works.'
It was the humour that still had Brendan hooked.
'Cartoons could be subversive – not in a ha ha type of way, but in more subtle ways. I loved the story telling – how you could tell a story in a minimal way with an image and a caption. You had to be concise. This story telling thing awoke in me. And once I went into painting and large-scale work it was all about storytelling. Except this time it wasn't so obvious, it was abstract and it was figurative.'
Brendan works best with music. He commits a full workday, every day to his studio. He plays Cohen, Dirty Three, Nick Cave, something loud and moody, and he lets it transport him to his darkest, most fluid and unmapped creative spaces.
'I am looking for direct, raw, mark making' says Brendan. 'What I would call a living line instead of a coerced illustrated line. These are visceral marks.'
He doesn't contrive his paintings. Instead, he says 'The paintings reveal themselves. I am not writing a story – I am not trying to illustrate. I am hunting, I am panning for it through mark making, and changing and evolving, and when it settles on a place that might reveal something poignant or confronting – I know that's it.'
Kelly's work leaps out at you. A deconstructed goats head appears in just a line. Its life force beckons to you from the canvas. Kelly knows how to deliver volatile imagery, but he also knows how to leave space. It was this quality that saw him scouted, from Instagram, by Sydney's Wellington Gallery, to their walls.
It's a story with dark folk tale echoes, where a man who has built his studio deep in the forest, then dug even deeper into his foundations to find his way home, is found by two men from the inner city who've never stepped foot in the forest.
Gallery owners Mark Smythe and Ray Saunderson were taken with his wildly fluid figurative abstraction. They sent him a message: 'We really love your work. And we are wondering if you are interested in exhibiting and being represented by a gallery in Sydney?'
Brendan was surprised and thought perhaps he'd be offered a spot in a group show – but instead was offered a full solo exhibition. In just over a month he transported 19 works from his bush studio to Sydney. His first solo exhibition, called Flight to Light was held at Wellington Gallery in Waterloo, in June 2020. He sold 80 per cent of his work. 
For an artist who painted and sent his work to private buyers a single piece at a time, Kelly had never seen his paintings hung as a body of work. 'It was like walking in and seeing someone else's show' says Brendan. 'To walk in and see them on enormous white walls with state-of-the-art lighting was when I realised I had a new stage and a new voice, but in a different way; it was a pictorial voice and that [was when] I realised that this is what I should be doing.'
By November last year Brendan had produced another 31 works to hang. Trouble in the Order is an abstracted, figurative, and dystopian depiction of the virus that arrived in 2020.
Brendan is currently working towards his third show. To do this he is leaving his idyllic bush studio to return to his former home, Sydney. 'The idea is to immerse myself in the city where I grew up but haven't lived for 30 years. I am going to go back and set up a studio right on Sydney Harbour, with new stimulation and inspiration.' Although Kelly has lived in Mullumbimby for three decades, he says 'I never have dreams of Mullumbimby, all my dreams are around Lane Cove and Bobbin Head.' 
So country mouse goes to the city. What does he see? How does the city stain the hands of a man who's used to the sanctuary of nature? 'I am going to throw a spanner in the works' laughs Brendan '… purposefully.' Now that's going to be one hell of a story.