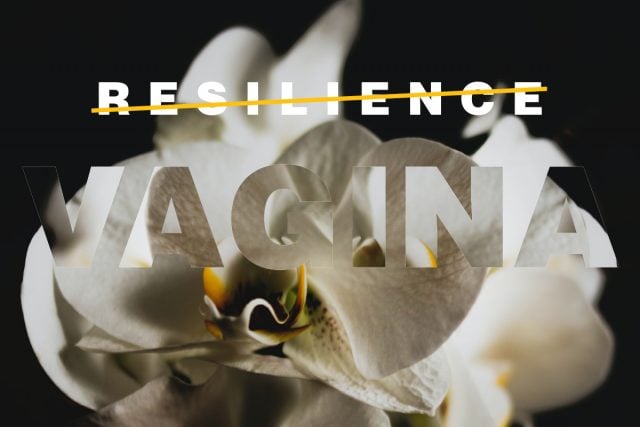 Resilience is dead. The word has been overused. Some may say the word is no longer resilient. We broke it. It's unfortunate because it was a really good word. I was really into building it. In fact it's about the only thing I've ever been able to build. Coming from domestic violence, growing up in housing commission with a single mum, I was bloody well breast fed on the stuff. I ate resilience for lunch. Resilience was what we called pass the parcel when we handed around a bunch of newspaper with nothing in the middle. Just disappointment. You didn't win a prize. No kid growing up in Shittown did. You won the ability to thrive on very little. Like a pot plant in a share house. 
Resilience has been eroded by our constant need to develop it in ourselves and others. Our call to action in marketing documents where we promise outcomes such as… resilience! Meaning you can cope when things don't go your way. That you don't drop to the floor on the supermarket and thrash like a spoilt bastard. 
A Facebook friend made the comment on one of my posts that there needs to be a new word and I felt a little hurt. Then I realised he wasn't talking to me, he was just making a comment, and it occurred to me that I probably wasn't very resilient either. Perhaps I need a new word too. It's probably the most enduringly handy personal attribute to develop. Better than perfect boobs or a genius IQ. But have we broken resilience?
What should we call it?
Flexibility? That just doesn't sound tough enough. It doesn't have the grunt of resilience. Sounds like someone who can be manipulated into anything. Someone who bends a little too easily. Flexibility is going to be hard to market. It's already out there, and while we like people who have lots of flex, sometimes they shit us because they're so bloody flexible they won't make a decision. They just adapt. Boring.
We could have a crack at durability. Although that just means you endure. That you exist in tough circumstances. You want condoms to be durable, not people. Durability can imply that you can weather any shitshow but you won't do anything about it. I just don't think durable has the balls, or the labia, of resilience.
You could rename resilience vagina. Because vaginas are pretty tough. There's a great quote attributed to Betty White: 'Why do people say grow some balls? If you wanna be tough, grow a vagina. Those things can take a pounding.' Anyone with a vag will attest that it's true. I pushed out an 11 pound baby in an hour and a half, and twenty minutes later I was making a cup of tea. 
I'm making it official: Vagina is the new resilience. And if there's any place in our country that needs some vagina at the moment it's Parliament House. All those big sooks feeling sorry for themselves for being called to account. Who've got into trouble for taking dirty photos or sexting hookers, or allegedly raping schoolgirls. Who're sulking about their lost careers. I suggest they all grow a vagina and maybe we might see some empathy AND some decent leadership. 
Now that's my kinda resilience. (Scotty, you might need to ask Jen how it's done.)