Frank Mills was a natural raconteur. So it was no surprise when his family found a folder labelled The Story of Frank Mills.  It contained this story (which his granddaughter has slightly edited) and two poems, with the instructions: 'Not to be read until I'm dead' and signed FL Mills, in his neat cursive – as if they wouldn't have known!
He had written his own eulogy.
So here we are.
Frank's Life (according to Frank)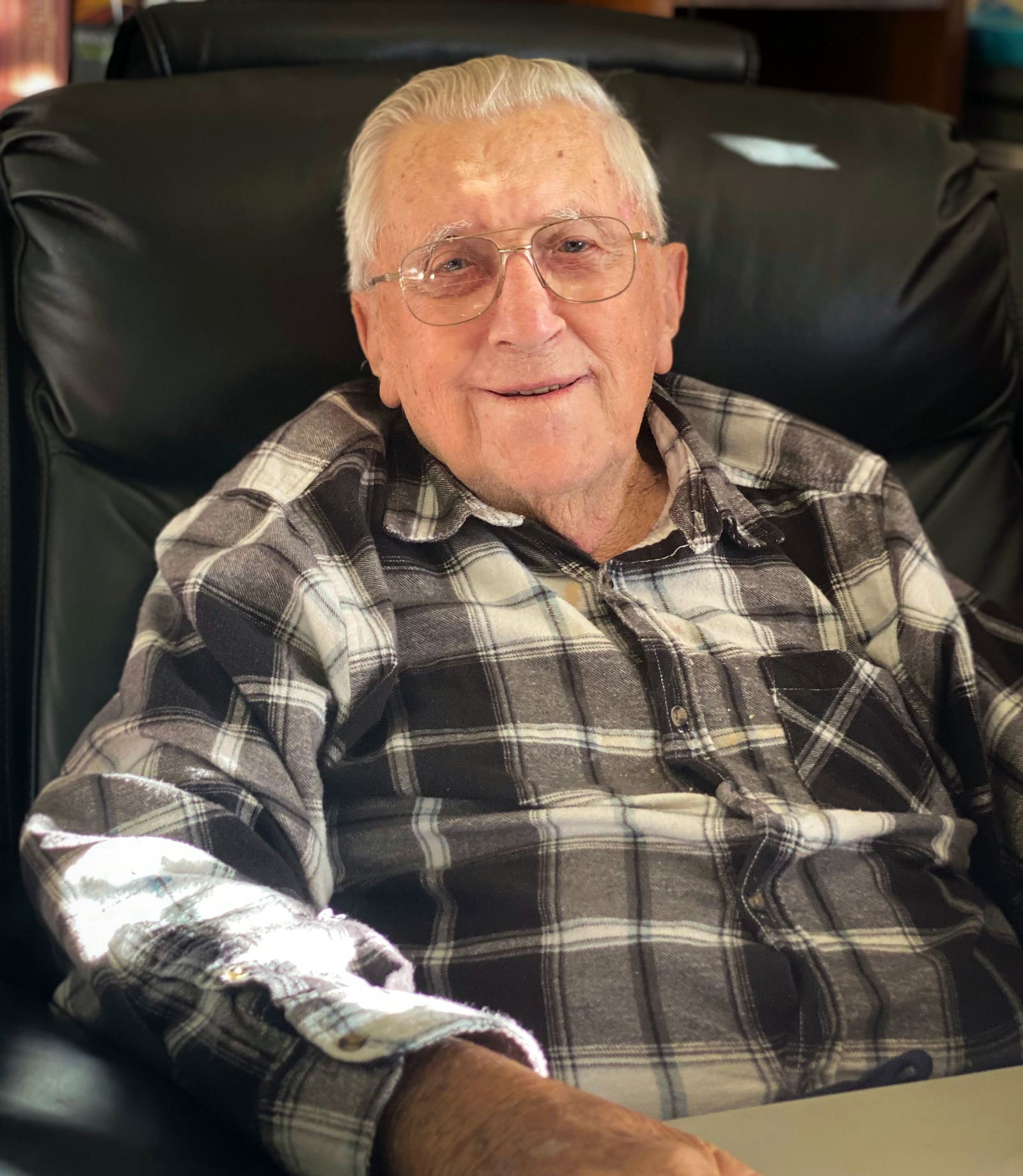 Francis Leo Mills, Franny, Dad, Pop, but best known as 'Frank'.  Was born on Saturday, May 26, 1928, in Murwillumbah.
He was the seventh of 13 children of William Leo Mills and Elizabeth Francis Rowan.
He lived in Upper Burringbah at Yoronga, his fathers Australian Illawarra Shorthorn Dairy Stud. This was part of his grandfather, John George Mills' first selection of a square mile in 1884. The family house still stands today down Ophir Glen Road. Back then John George lived down the road from Frank in the house across from Burringbar Native Nursery.
His dad had selected his Upper Main Arm farm in 1922 of over 200 acres when he was still living at Upper Burringbar and would ride his horse 'Comet' to work.
In 1935 the family moved to a home on Billinudgel Road, At that time Dad (William Leo Mills) was called Pop and lived with John, Lou, Ted, Kevin and Frank from 1939. While Monica, Nancy, Anne, Bill, Pat, Ron, Joan, Rene and Jimmy lived in Mullum with Mum. And while they all shared rooms, usually three kids to a bed, there were just too many of them, 15 in total, for one house. Frank always shared with Bill and Kevin, there were many fun escapades out bedroom windows in those days.
But, this all changed when Pop bought McFadden's farm at Main Arm in 1938. 'The Boys' went to school and helped with the dairy and banana farming. Frank left school at 3pm each day to bring in cattle.
Frank's education begins
Frank started his education at Burringbar Convent School in 1934, later attending He school here at St. John's. In 1939 when he started at Toolond Public School 'The School without a loo'. He loved his time at Toolond and finished with year 7 and 8 classes completed as correspondence courses on the school verandah. Frank left school in 1943 aged 15, just after the war started with Japan.
During Frank's teenage years he worked on the farm, on the banana plantations and as a timber and sleeper cutter. The McCormicks were a surrogate family for Frank, and Dan McCormick mentored Frank in many of these skills. He worked for his brother John, in Nullum State Forest and at the Hollingsworth Saw Mill, which is located where the council chambers stands today.
In 1940 Pop bought another farm at Main Arm and all the family living at Billinudgel Road shifted to the new farm, now 414 acres.
Frank joined the army in September 1948, aged 20 and served for three years. He was part of the Byron Scottish Regiment 41st battalion and was a sergeant in the Mortar Platoon. He joined at Mullumbimby and was the first local person to re-enlist after the battalion was reformed after WW2.
Starting a family
Frank met Agnes 'Jean' McCarthy of Coopers Lane when she was still going to school. They married here at St John's Mullumbimby in 1952 when Frank was 24. They lived at the soldier's settlement – Bill was born – then they moved to a house across the creek from Kohinur Hall on Pop's farm. Jean referred to this place in jest as 'frog hollow' being far more remote than Coopers lane.
Therese was born in 1955, and Lorraine in 1957. Jean and Frank were share farming for Pop and selling things like lemon seeds for money. Frank and Jean didn't have much in terms of possessions but they were happy – in Pop's words 'they thought they had it made' when they bought their first refrigerator.
Sadly, Jean died in July 1959 when Anthony was born and he was adopted by Frank's eldest sister Monica and her husband Jim Larkin. Everything had to change for Frank and the kids.
Frank bought out Pop's farm and dairy in entirety. He then leased Ernie Dommett's farm on the opposite side of the road giving a total of over 600 acres. This was worked by Frank, Billy, Therese and Lorraine (the cook). After Jean died the family lived with Pop and Mum for two years and then they moved back and lived in their own fibro house. Frank had housekeepers for the first year or so until the family decided they would be better off on their own, with Anthony visiting in the holidays.
Between 1971 and 1973, Frank sold the farm and farming rights in sections to Col Scattergood, Ron and Ray Mills and the Bartz family.
A man of many careers and two engagements
Frank was a Byron Shire Councilor for 11 years from 1967 to 1978. This entailed much travel within the state, and was a role that suited his diplomatic personality. He also was a bulldozer contractor for a time. He constructed the groin walls which resulted in the formation of what is now Torakina beach.
Frank was engaged to a lady from Bathurst, but the wedding was called off just two hours before it was to take place on the advice of Frank's brother Bill, who thought it was a poor match.
Maybe Frank was destined to marry Judy O'Riordan on January 25, 1972 – again at St John's church.
Frank had met Judy at the Catholic Club in Sydney two years before. Frank started working as a real estate agent for Boris Hellich. Boris was previously married to Judy, and they had had three children together Jenny, Ricki and Lindy. However, Frank quickly decided to open his own real estate office in Mullumbimby called Brunswick Valley Real Estate with H.P.Harmond with the O'Riordan's former chauffeur and family friend.
Business was booming. The office had a total of 13 salespeople. Frank had entered the Real Estate land development business in a big way by purchasing and developing land on the gold coast and in Brisbane, locally he developed River View Acres the area around Azalea St, and Pindari Park on left bank road.
A new baby and a new job and an OAM
In 1975 Paul was born to Frank and Judy and they built a large new home at Lot 25 Left Bank Road.
In February 1989 Frank sold his real estate office and resigned as a Councillor of Byron Shire – he had successfully applied for the joint permanent position of Fire Control Officer of Tweed and Byron Shires and though he had started with the Fire Department in 1978. He travelled with this job throughout NSW and Victoria. Frank was also president of the Bushfire Prevention Association of Northern NSW for 14 years. He later received an OAM for this service to the community.
He retired from this work aged 63 years.
The golden years were definitely golden
In retirement Frank was able to pursue his passion for local history, focusing on Brunswick Heads and the Brunswick Valley, his home.
He was a lifelong learner, mastering the art of PowerPoint in his 80s.
He spent much of his time volunteering with many community groups including the Historical Society, St Vincent De Paul, Rotary, the RSL, Old and Gold and countless others. He gave his time generously, sharing his knowledge with anyone willing to listen.
With history his focus was on the everyday lives of the people in the area, he particularly loved the often forgotten minority groups whose hard work helped build the communities where we live today. He was honoured to be invited to speak at the Embassy of the People's Republic of China about the history of the local Chinese communities.
He also became an expert on the Finnish, Macedonian, Papuan and South Sea Islander settlers of the Northern Rivers. He deeply respected our local first nations people, helping with their history with what he knew. Publishing their stories along with many others from his own youth.
His curiosity for the lives of the people he met continued until the last days of his life.
Everybody loved Frank
Frank loved a yarn. The length of this eulogy is proof enough of this! He would often turn his many stories into verse. He had an excellent memory for detail and would use this to spin humorous tales about the past, breaking into verse at any (possibly every!) opportunity.
Always a family man, he loved to get together with his children and their growing families. He was always ready to play with his grandchildren and great-grandchildren, with a special knack for making the babies giggle. He would show the kids places to explore, tell stories, help with school projects and even helped teach them to drive.
He published a book of children's poems, and encouraged his granddaughter Renee to illustrate it for him. She returned the favour by encouraging him to start drawing for pleasure in his 90s – he loved new challenges!
Friend Robin Wookey remembers that when he first came back to 'Kinabalu', Inner pocket, after 30 years in 2003, he first met Frank Mills as the repository of history of the area. 'Frank Mills, and his older brothers first farmed here at 'Kinabalu' in 1944. A little village of 'Phillipstown' or 'Wogtown' as it was affectionally known, existed at the end of a pretty little valley of Middle Pocket in Inner Pocket.
'As the local historian, many a tale was told, too many to write here, of this lovely little valley. Being a history nut also, I made many hours of interviews where he told me a tale of the valley and the local surrounds.
'My wife Jacqueline and I used to enjoy our many visits to Frank and as a result, we became very close. He is greatly missed!'
Marilyn Mills remembers that many years before her marriage to Frank's nephew Kevin Mills, her family knew Frank and his first wife Jean (née McCarthy) with her mother and father living in a cottage on the McCarthy farm at Coopers Lane, Main Arm.
'My mother often spoke fondly of Frank and Jean and was so saddened by Jean's passing at such a young age.
'I recently came across Frank and Jean's wedding invitation to Mum and Dad and was able to pass it on to Frank's daughter Lorraine, who presented it to Frank just before his passing – knowing Frank's love of history. He was very touched to see it after all this time.
'On one of his holidays to the Mills family farm at Main Arm, Frank taught Kevin to swim in the creek behind Kohinur Hall. He taught him how to milk a cow.
'Our family will miss his welcoming and jovial nature and his presence in our lives.'
Granddaughter Renee says she thinks Frank was so well-loved because he had a knack for making people feel good. 'He was a real gentleman with gentle ways. A natural peacemaker and diplomat. He never said anything bad about anyone (even if you wanted him to!). He enjoyed people, sharing a laugh often at his own expense – he was such fun to be around. He saw unity where others saw differences – an uncommon gift for his time.
'I guess this was his special magic.'
Frank was fortunate to live a long and full life and will be fondly remembered for his generosity of spirit, curiosity of mind, warmth of heart and stomach jiggling laugh.
Frank Died on Sunday October 3, 2021 at 5.09pm, at St Joseph's Nursing home Tweed Heads, surrounded by his family. A favourite at the nursing home, he was given a guard of honour when he left.
Frank was 93 years old.