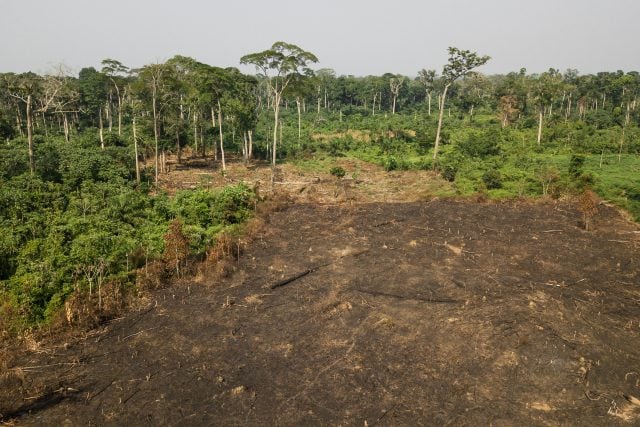 The news that Australia has signed the Glasgow Leaders' Declaration on Forest and Land Use, committing the nation to halting and reversing forest loss and land degradation by 2030 is cause for celebration. However, the fact that Australia has been declared one of the world's worst deforestation hotspots, along with Brazil and the Congo, is shameful.
'Eastern Australia has been identified by WWF as one of the world's worst deforestation hotspots,' Nature Conservation Council Chief Executive Chris Gambian said.
Signatory countries collectively account for more than 80 per cent of the globe's forests and woodlands and include deforestation hotspots Brazil, the Republic of Congo and Australia.
Just last week it was reported by the BBC that a study of forests that are protected as  Unesco World Heritage sites 'Ten of the world's most protected forests have become net emitters of carbon, as they are degraded by human activity and climate change.'
'It revealed 10  protected forests had emitted more carbon than they locked away over the past 20 years.'
Australia no better
In April 2020 it was reported by the Natural Resources Commission (NRC) that land clearing in NSW had jumped by a staggering 1,300 per cent under the new (weakened) biodiversity and conservation laws that were implemented in late 2017 by the NSW Liberal-National government.
'Latest land clearing data shows 150 hectares of wildlife habitat is bulldozed or logged every day in NSW, almost twice the average annual rate recorded before the Coalition overhauled nature laws in 2016,' said Mr Gambian.
'The annual Statewide Land and Tree Study (SLATS) data shows 54,500 hectares of forest were destroyed for farming, forestry and development in 2019.
'Deforestation is not only driving climate change, it is pushing species to the brink, including koalas, which are on track for extinction by 2050 without urgent action.'
Nineteen billion dollars has been committed as part of the Declaration, however, this is not enough said Federica Bietta, co-founder of the coalition for Rainforest Nation, this morning on the BBC World Service.
'Unfortunately, the past 15 years working on these issues we saw so many commitments and so many statements from leaders. But if it is not backed by tools, by implementation and real finance [it won't achieve its aims] – and were not talking about the $19b committed today,' she said.
'We have done analysis and to reduce and reverse global deforestation in the next ten years we really need $100m per year. So, we are talking about a trillion for the next decade. Unless we pay to keep these [trees] standing and we pay them more than the opportunity cost that is there, we are not going to reverse deforestation. So, we to go the soya bean, palm oil opportunity cost. That's where the price needs to go.'
End land clearing
The North East Forest Alliance (NEFA) has called on the NSW Government to immediately act on Tuesday's COP26 commitment to stop clearing NSW forests.
'The United Nations Environment Programme's Production Gap Report identifies that by 2030, governments' production plans and projections would lead to around 240 per cent more coal, 57 per cent more oil, and 71 per cent more gas than permitted to limit global warming to 1.5°C,' said NEFA spokesperson Dailan Pugh.
It also identifies that Australia is now the world's largest coal exporter and the second largest liquefied natural gas (LNG) exporter, and that from 2019 to 2030 the Australian government intends increases in coal, oil, and gas production of 4 per cent, 32 per cent, and 12 per cent, respectively.
'Given that forests take up 31 per cent of the world's annual global carbon emissions it is vital that we retain and enhance their vital contribution to reducing atmospheric carbon and mitigating climate heating,' Mr Pugh said.
'It is essential that as well as stopping clearing, we actively restore forests and enhance their ability to sequester carbon. Logging has more than halved forest's carbon storage, by stopping logging we avoid additional emissions and allow forests to sequester ever increasing volumes of carbon as they recover.
'This is a planetary emergency, as a developed state in a developed country NSW has no excuse to delay forest action.
'Last financial year 54,500 hectares of native vegetation was cleared in NSW; it is past time that this was stopped.
'We also need to follow the examples of Victoria and Western Australia and urgently phase out the logging of public forests by 2023.'