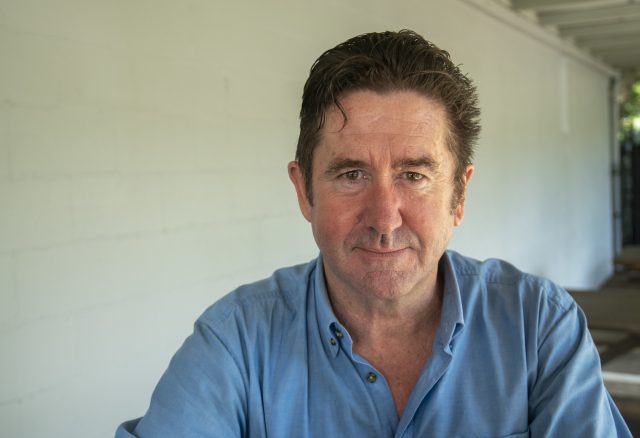 Byron Bay Wildlife Hospital has seen a steep rise in their intake of injured animals since the beginning of the Northern Rivers flood emergency.
Yesterday The Echo caught up with founder and CEO Dr Stephen Van Mil on a busy day at the Wildlife Hospital to find out what's been happening with the local wildlife and how everyone can help.
He said animals get affected by flooding just like humans do; some manage to get away, some cope with the water, and some get into trouble. Dr Van Mil explained that animals which burrow, such as echidnas, platypus and bandicoots, have a particularly difficult time.
'We've seen an unprecedented number of echidnas in the last two weeks, far more than we would ever normally see this time of year.
'At breeding season, they move around. They have the echidna trains and they're crossing roads, but at this time of year, they're usually out of sight.'
Wrong kind of water
'We're seeing animals that have been washed out through stormwater drains into the ocean, so a lot of freshwater turtles have been coming in. They can't survive in salt water.
'They're getting washed up on beaches, really suffering badly from salt water ingestion and other injuries,' he said.
'We had direct calls from people in Ballina with red bellied black snakes in their homes.
'Snakes don't like water and so they get flushed out of wherever they're normally hiding, and end up in high, dry places that could be in people's houses or anywhere really, becoming a threat to the humans there or getting injured themselves.'
What about wallabies and kangaroos, there are stories about many drowning in the floods, have any come into care? 'Yes, quite a few,' said Dr Van Mil.
'We also have seen a lot of waterlogged birds. They just get absolutely drenched and can't fly. That prevents the ability to feed normally. More worryingly, it makes them easy prey, when they're on the ground.'
Numerous species affected
With stories about mysteriously dead magpies and orphaned koalas coming in from across the region, the toll is mounting, although the exact numbers of wild flood casualties will never be known.
For the emergency wildlife vets, workloads are markedly increasing. 'We've been trying to get some measures on it for some of our partner organisations, and it looks like it's about 50% more than would be expected right now,' said Dr Van Mil.
'Our team is really under the pump. I walked in there at nine o'clock this morning, and Matilda [the mobile wildlife hospital] was empty. But here we are 10am and the place is filling up again.'
Animals coming into care that morning included a kookaburra, pink tongue skink, crested pigeon, a young brushtail possum, and three Eastern longneck turtles, as well as a lorikeet.
With the mobile hospital based at the Macadamia Castle in Knockrow, near Lennox Head, the emergency vets found themselves centrally placed to handle injured wild creatures coming from the north, south, east and west as floodwaters fell and roads began to re-open.
'Yes, I said to the team isn't it isn't weird that we built Matilda to be able to go anywhere in Australia during times of crisis like this, and here it is at our doorstep,' said Dr Van Mil.
'So we're fortunate that we're at this location because we are on high ground. The hospital has been fine and has been operating the whole way through. And we're getting animals from all around the region.
'Unfortunately a lot of people have been blocked off due to roads collapsing and high water, especially earlier in the crisis.'
Dr Van Mil explained that partners like Australian Seabird & Turtle Rescue in Balina have been affected by both floodwater and pollution from water contamination, with birds coming to the Wildlife Hospital and carer's homes and all the turtles in care being transferred to Seaworld after their tanks became temporarily unuseable.
He said The Animal Welfare League's large hospital truck was on its way from Goonellabah to Coraki and Broadwater to provide emergency veterinary care.
Wildlife flood appeal launched
Anyone wanting to assist the Byron Wildlife Hospital with its extra flood work is now able to with a new Chuffed appeal, just launched: Help Good Humans Save Wildlife – Australian Flood Emergency.
'The reality is we are seeing a hell of a lot more wildlife affected by the flooding. And while we are completely cognisant of the impact on humans, which is obviously a priority, and I'm personally directly involved with that too (Dr Van Mil's own family was caught up in the flooding), wildlife still need help. And so we've launched a campaign just to help underwrite the costs of this crisis.
'It is absolutely catastrophic. And we haven't seen the end of it yet. As the waters continue to recede, and people come across wildlife and can get to us, we're going to see a lot more cases,' said Dr Van Mil.
'All donations are 100% tax deductible, and go directly to saving wildlife.'
Is there anything else you want people to know?
Dr Stephen Van Mil said it was very important for people rescuing wildlife in flood situations not to compromise their own lives. 'If you're trying to rescue wildlife or any other animals make sure your own safety is a priority, not only from flooding but from the point of view of the animal you're dealing with, because they are going to be under stress.
'If you find a big kangaroo they can do a lot of damage when they're scared, as can snakes obviously, flying foxes and echidnas.
'There are a few animals that can harm us, not because they want to, but because they're scared and they're fighting for their lives.'
In big picture terms, can we expect more serious crises in the future, and what does that mean for wildlife?
'Well, just over two years ago we had the catastrophic bushfires that WWF estimate killed three billion native Australian animals,' said Dr Van Mil. 'The difference between that and floods is animals don't necessarily perish as dramatically in floods as they do in in bushfires.
'Therefore, we're seeing more because they they have a better chance of survival and getting to us or some other good veterinary care quickly. That means we can maximize the chance of that animal being saved and being able to be released back in the wild.
'But these events are going to continue, and it's only five years ago that Lismore had its last major flooding. And to think it's not going to happen again is folly. To think we're not going to have more catastrophic bushfires is madness.
'We have to brace ourselves for that and as humans we have to be smarter about the way we live.'
You can find out more about the Byron Wildlife Hospital, see their latest video, and support their flood campaign here. If you come across injured wildlife and need assistance, please ring the Wildlife Hospital on 1300 WILDLIFE.