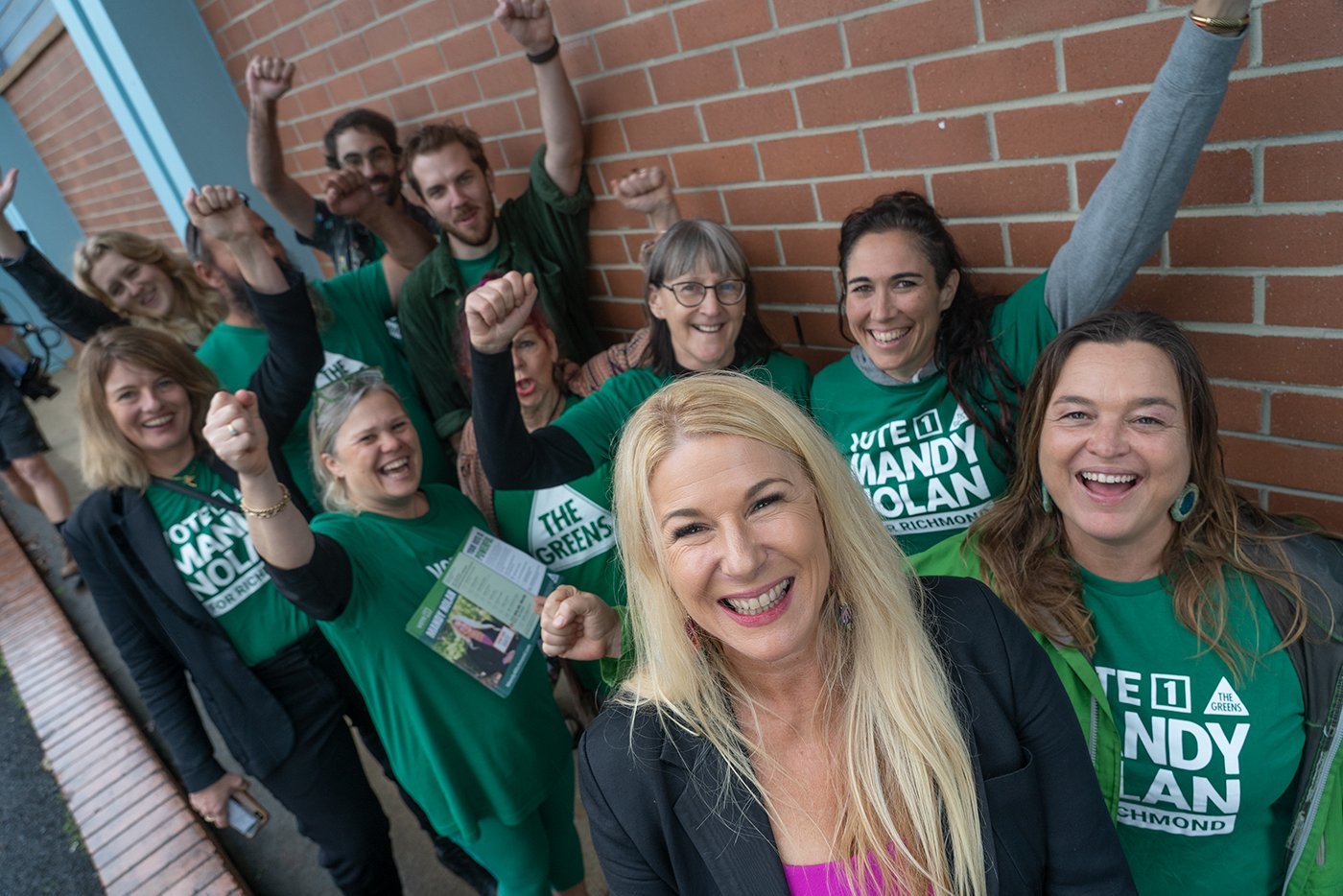 It's not surprising that Mandy Nolan got so many primary votes at Saturday's election for the seat of Richmond – her campaign has been relentless and her volunteers all stellar.
Nolan jumped out of the gates and led the tally throughout Saturday evening and most of Sunday, and it wasn't until late yesterday that incumbent and likely winner Justine Elliot overtook her in the race for the seat of Richmond.
At the time of our interview on Sunday afternoon, a blip in the system suggested the Greens might have a chance to win with preferences, but the blip flopped Labor's way an hour later. At the time of writing there were two booths left to count.
Breaking the wonk
The reaction from the tally counters on Saturday night said it all – no one had done the modelling on Nolan topping the primary vote. The ABC's super wonk was, disturbingly, lost for words. 'I spoke to my campaign manager and she said "we've broken Antony Green",' said Nolan.
Nolan said the pointy end of the election was all new to her. 'It is a science that mystifies me. When you're working within the parameters of predictions of what happened last time, about what you're targeting to happen – there's a lot of things that happened this time which were unaccounted for. We were pushing for up to a 7 per cent swing, maybe a 5 per cent – we thought that was ambitious. We didn't think we would win so many booths.'
Strong Green women
'I think people assumed my name recognition was solid obviously in the Byron Shire,' said Nolan. 'But what you can see in the campaign for the Green vote… Tamara Smith is the state member, Sue Higginson – she's a local living in the Northern Rivers who has come on as another Green woman in New South Wales parliament – I think it's really starting to shift people's relationship with what Green politics are, particularly at a federal level – what the values are, after you've been through a massive climate event.
'We also didn't predict the power of the independent vote, which was so much higher than anyone thought it was going to be.'
Starting the day early, Nolan went to booths at Bangalow, Lennox, Ballina, Mullum, Kingscliff and then Byron. 'There was something like 55 booths,' she said. 'If you're not careful you can end up spending the most time in the car, so I just chose some booths where I felt the vote was strongest.'
Nolan said one of the things she's proudest of is the quality of her campaign and of the vision it gave to our community. 'The campaign was gold star as were the volunteers – the integrity that we had, the sense of a people's movement, built on ideas and hope – it really reached out.'
She said now the hardest part was the not knowing. 'It's excruciating, not knowing and holding on to hope. Trying to get excited and not trying to be devastated. It's just what purgatory must feel like.'
Wonderful supporters
On Saturday once the booths closed, Mandy Nolan walked into the Bruns Bowlo to a standing ovation from about 400 well wishers. 'I nearly collapsed. It took my breath away. I almost burst into tears, I was so overwhelmed. It was really intense and beautiful and I had an amazing sense of connection of all those people, some people I have never even met who had given up so much time. It was beautiful.'
Nolan says who ever wins Richmond is going to have to work harder in the region.
'People voted how they felt,' she said. 'This was very emotional. A lot of people went to a huge effort to make a decision about where to send their vote, for whatever they believed. Every person I spoke to, on the phone or at their doors, people had been thinking about who they were voting for, they were asking questions. People were doing research.
'Some people would turn up and take all your how to votes, take them home, and go and look up your policies. When people do that you think "thank God". People are realizing it's not just a number in a box. This is what they have to live with.'
Nolan will run again in 2025
Nolan says whatever happens, she will run again next election. 'For me, I'm still hanging in there. I'll fight for this region and work hard no matter what the outcome. I'd just like to be able to do it with a bit more power and clout.'
She says she was up until after midnight and was spending Sunday resting. 'I've been in bed all day. It's been really full-on and I'm very emotional. So I need to just be kind to myself.'
And the highlight of the campaign and election for Nolan? 'To be able to say today "former Prime Minister Scott Morrison" and knowing the Greens have done so so well. It's kind of exciting. It feels like there's a real shift towards community and away from the big party system.
'No matter what happens here, what happened around the country fills me with enormous hope. Like – great, people get it.'