That was the question at the heart of an impassioned plea to Ballina Shire Council's last meeting from Ballina Environment Society's Claudia Caliari.
Ms Caliari said the BES urged council to support Cr Jeff Johnson's rescission motion, which would reinstate council's mandatory 0.05% margin favouring fossil-fuel-free investments over dirty alternatives. (The details of the previous debate in late March were reported by The Echo here.)
Ballina Environment Society's statement called for council to treat the climate emergency as an emergency, operate with targets and timelines in emission reduction, and start a communication campaign to reduce community emissions and clear misinformation spread.
Ms Caliaria asked, 'Are the independents in this council agreeing with the 97% of the climate scientists and 80% of the Ballina Shire population that is extremely or very concerned with climate change, or are you representing the interests of a minority lobbying for the FF industry?
'Next season will be bigger, and how are we preparing our community? By taking money out of the solution? I bet there are more appropriate buckets of money that we can use.
'Our community shakes every time they hear a thunderstorm, and our farmers can't cope with more destruction, but now they fear the next dry season.
'Thanks to our mayor's bold call to the governor-general, done after just three days of the floods, the federal government finally started to act faster in mitigating flood damage in our community. That is the leadership our community wants to see now to avoid our island from sinking. Where is the leadership in strategic climate investments?
'We need to advocate more for local, state and federal climate action, and setbacks in already weak targets clearly show that this council is not prioritising that. That seems to be a smokescreen to protect someone else's agenda.'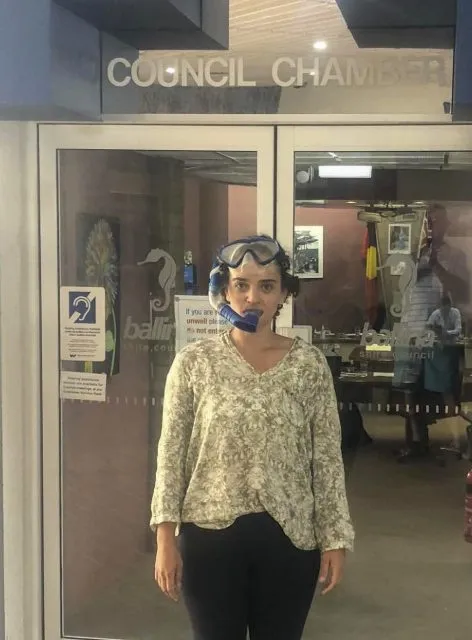 Climate progress?
'Today our Shire Climate Emergency Declaration is turning two years and five months,' said Ms Caliari.
'So far, we drafted a vague policy that doesn't have targets, milestones, and worse, only aiming at corporate emissions that encompass only around 2% of the total emissions. That last item is very concerning, but more concerning is how the Climate Emergency message is being sent to our community.
'65% of our community seems to lean on council's lead by example to act on climate, and community emission represents roughly around 98% of total emissions. Setbacks in climate policies like that send a clear message to our community and can have enormous consequences that seem to be unnoticed by those proposing it,' she said.
'There is a positive feedback loop by which regulators enact policies that make certain environmental, social, and governance (ESG) practices superior in terms of financial performance, and investors encourage ESG practices that anticipate future regulation.
'Whether Ballina Island will sink or not,' said Ms Caliari, 'it is ultimately a political decision and (in)action. Otherwise, I might see you guys underwater!'
Ultimately Claudia Caliari's plea fell on unreceptive ears, when Ballina Shire Council voted against the rescission motion. Crs Dicker, Johnson, Chate and Johnston were outnumbered by Crs Cadwallader, McCarthy, Buchanan, Meehan and Bruem. Cr Eva Ramsey was not present.
More stories about Ballina Shire Council: