It is the season of humpback whale migration up and down the east coast and inevitably last Thursday a humpback whale and her calf became entangled in shark nets off the coast of Surfers Paradise, the result of the practice of 'shark netting' beaches. 
'After over an hour of struggling in the net, the whales were, fortunately, able to free themselves,' said a spokesperson for Sea Shepherd.
Every year humpback whales migrate from feeding grounds in the Southern Ocean to the warm waters of the Coral Sea to breed and give birth to their young. Every year a number of them become entangled in some of Queensland's 27 shark nets. The nets are put in place to reduce the risk of swimmers being bitten by sharks. 
'Eighty-two whales have been entangled in these shark nets since 2001. In more fortunate instances where an entangled whale is able to be freed, there's no guarantee they will survive,' said a spokesperson for Humane Society International. 
Sea Shepherd Shark Defence Campaigner Jonathan Clark said, 'Every year thousands of eager people, locals and tourists alike, line the headlands and beaches hoping for a glimpse of these magnificent marine creatures. Again and again, they are being greeted by the horror of a whale fighting for life entangled in one of these nets. This is not what people want to see.'
Remove the shark nets
Sea Shepherd is urgently calling on the Queensland Agriculture and Fisheries (QDAF) Minister, Mark Furner, for the immediate removal of shark nets and drumlines in Queensland so whales can migrate safely. 
'In 2021, four humpback whales became entangled in shark nets in Queensland waters including one young whale that was released by rescuers after a gruelling two-day rescue effort with 'significant pieces' of the shark net attached. These pieces included a length of anchor chain and large shark net buoys that have been deflated by the rescue teams. It is believed this whale would not have survived,' said a Sea Shepherd spokesperson.
A trial replacement of shark nets with alternatives in Queensland waters for the duration of the whale migration was recommended to the Minister for Agriculture and Fisheries, Mark Furner, by the Shark Control Program's Scientific Working Group in September 2020. The Working Group is a panel of shark experts tasked with guiding the program and providing advice to the Minister's Office.
However, in 2021, Minister Furner stated publicly that removing the shark nets for the whale migration was off the table despite the scientific advice from his Working Group. 
'Today's entanglement (Thursday, 16 June, 2022) is just another awful example of what we all know is coming every winter. Whales migrate right through the very area where the Queensland Government insists on anchoring 186m long gillnets. There are better ways to reduce the risk of shark bite without endangering these whales and marine wildlife. Enough is enough,' said Humane Society International marine biologist Lawrence Chlebeck.
'QDAF's own Scientific Working Group suggested a removal of nets during whale migration season back in 2020. Since then drone surveillance has been successfully trialed and implemented, leaving no reason to continue with shark nets.'
Dr Leonardo Guida, shark scientist at Australian Marine Conservation Society said: 'It's incredibly frustrating seeing the same thing unfold each year when we have solutions that modernise beach safety standards and don't put wildlife at risk. The drones are proving their worth on south-east Queensland beaches, keep them up and get the nets out now.'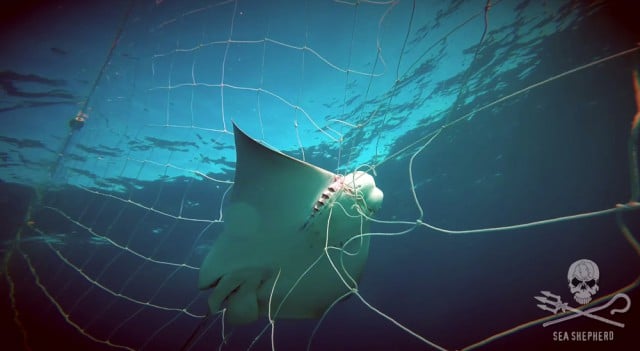 Shark nets are installed on beaches on the Gold Coast, Sunshine Coast, Rainbow Beach, and Mackay as a part of Queensland's Shark Control Program. Though meant to reduce the risk of shark bite, the nets catch huge numbers of non-target species and cannot keep sharks from shore, providing nothing more than a false sense of security.
Sea Shepherd says that, 'Shark nets and drumlines could easily be replaced by more modern swimmer protection technology such as drones. New South Wales already removes shark nets from their beaches for four months of the whale migration season.'
Sea Shepherd Australia's Threatened and Endangered Species Campaigner Lauren Sandeman said, 'Shark nets and drumlines have been demonstrated time and time again to be ineffective at providing any measure of safety for beachgoers – by science, by senate inquiry and in a court of law. Allowing their continued use in direct violation of everything we know negligently enables the decimation of our marine life, and goes against our values as a nation that cherishes our ocean and life within it.'