This Sunday, Ballina's Community Garden will be opening its gates to anyone curious to learn more about this tucked away piece of gardening paradise.
The Echo caught up with Community Garden President Margie Lippiatt in advance of the big day, to find out what people can expect. She said the garden has been going in Ballina for 11 years, with about 60 active members, including a 'big mix' of people.
'Last year, it was our tenth anniversary,' she remembered. 'That was the first open day we've had. And it was such a success that we thought we'll do it again this year, welcome the community. Heaps of people came in. It was a really fabulous day. Everybody loved it.
'Lots of people were saying "we had no idea this place even existed", and they'd lived in Ballina for 20 years!'
Activities
President Margie said there will be fence weaving and paling painting, a sausage sizzle, jams and pickles made from garden produce, the Doppio coffee van, as well as fresh crepes made from eggs produced by the garden's chooks.
'Unfortunately, no honey, because of the varroa mite issue. But people are welcome to come and walk around and learn about the garden and how it all works. See the beautiful produce growing, it's absolutely gorgeous at the moment.
'It's mainly just to showcase what the garden is and what we what we bring to the community,' she said.
'The other thing we're doing at the moment is wicking beds. If people are interested in making one of those, we'll have them on Sunday at four different stages. So they'll be able to see how you would make one at home.'
What's growing well at the moment? 'There's heaps of brassicas; cabbages, broccoli, silverbeet, leeks, lettuce. Some tomatoes. We have a big problem with birds!' said Ms Lippiatt.
'We have a whole massive bed of strawberries. Beautiful bananas. We grow the best pineapples you would ever eat. No joke. We have dragon fruit. I don't know what else we have. Nearly everything. Beautiful herbs of every variety. There's a lot of citrus. We have a big orchard.'
All welcome
Margie Lippiatt said recent newcomers to the area (and to gardening) were most welcome. She became involved with the garden herself after moving to Ballina and not having as much room for growing things at home as she was used to.
'Our next door neighbour said, "I'm in the community garden, you should come down, you'll really love it." So we did. And we stayed. It's a wonderful place.
'At the moment, there are so many new members who have actually come to Ballina recently, and they live in units or houses with problems like ours, not enough space. So they've come in and joined. There are a lot of new faces down there. It's really nice.
'We have two working bees a week, Wednesday mornings and Sunday mornings. Our dream is to get more community groups involved with the garden. It's been problematic, though, with COVID.'
At the same time, the pandemic renewed community interest in gardening. 'Absolutely, absolutely,' said Ms Lippiatt. 'We were very fortunate that we were still able to open after the initial period, because we're an outdoor space.
'People were sensible and we were able to socially distance, so it was really good. Locals who live in units, they were able to go down there to get some nice outdoor time; tending the plants rather than just going for a walk.'
Learning and growing
How much room have you got at the community garden? Is it expanding? 'It's quite a big area,' explained President Margie. 'We've got so many members now who want their own little plot, so that's a big thing for us, to build new plots. The garden itself is is very extensive.'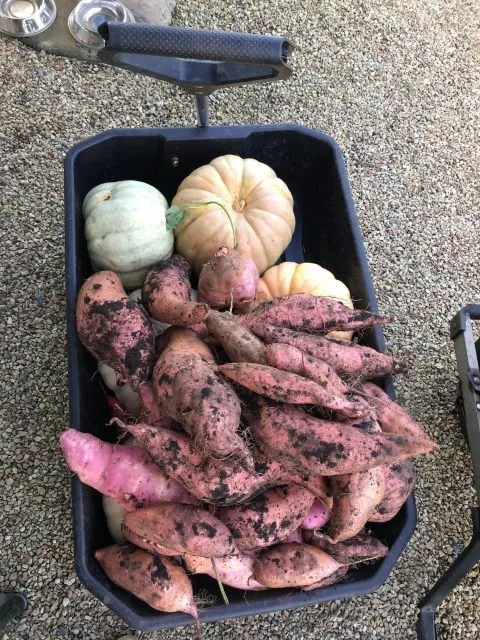 Although Lismore's community garden was severely damaged by floods earlier this year, Ballina's garden survived largely unscathed.
'Yes, we were very lucky that we didn't get flooded. The garden got very, very wet though, which is not ideal, for growing veggies. We got waterlogged garden beds. One part down the side near the TAFE, it gets like a swimming pool, but it drained away eventually.'
What's the soil like in Ballina? 'It's not too bad,' said Ms Lippiatt. 'We build it up. We make all our own compost. On Sunday we can show the whole composting process we use and we've got a big worm farm.
'We use all sorts of natural product. We're very organic. Sometimes, some things struggle but that's part of the fun of gardening, you know? Not everything always turns out perfectly. It's a big learning curve down there for everybody!
'Every time you go you learn something new. It's fabulous.'
Where to go
The Ballina Community Garden Open Day will be happening this Sunday 24 July, from 9.30am to 2pm. You can find the garden at the corner of Swift and Clarence Streets in Ballina (near the football fields, behind Ballina TAFE).
More information is on the Community Garden's Facebook page, or you can ring President Margie Lippiatt directly on 0418 157 717.