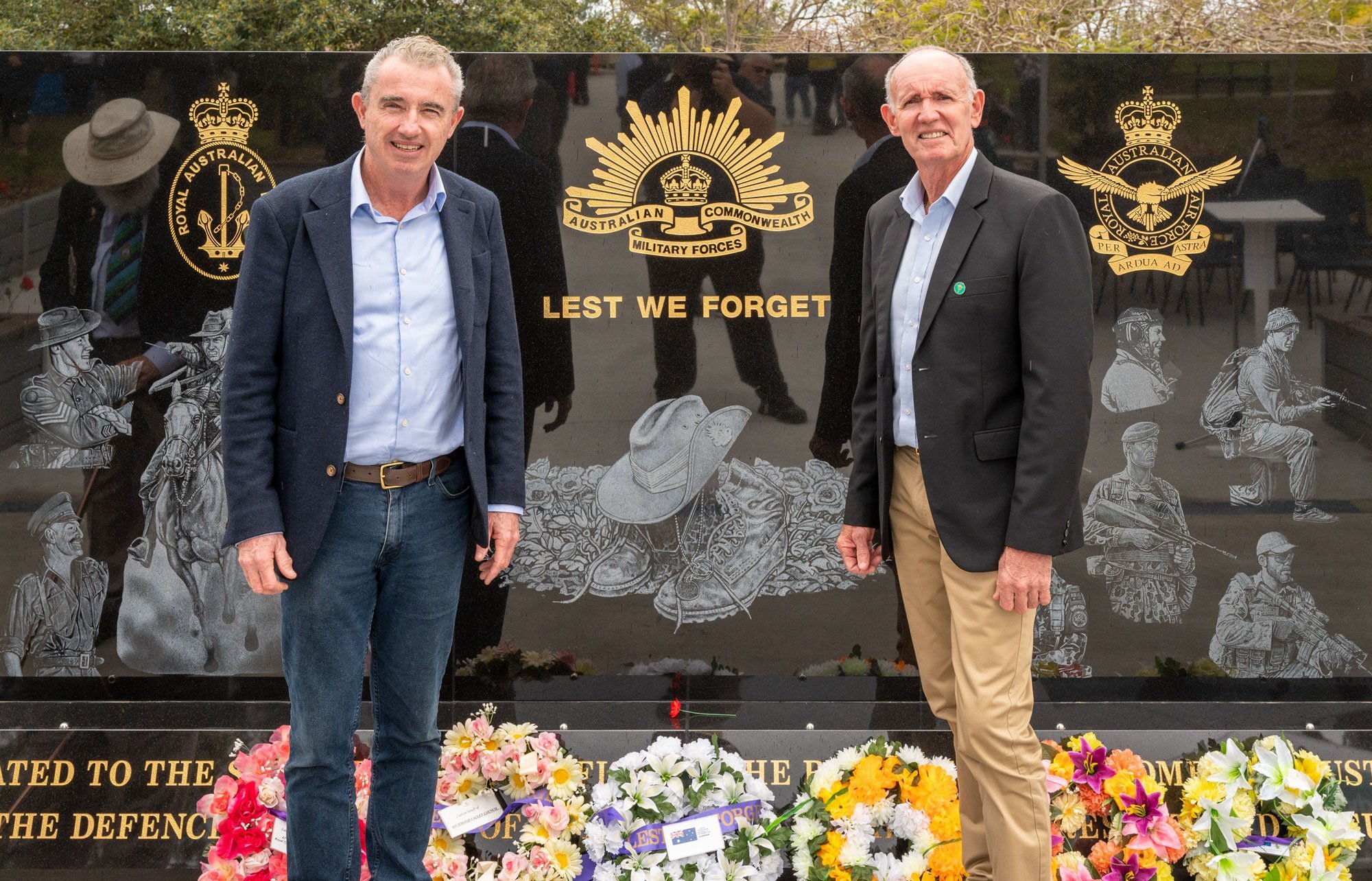 The Casino Drill Hall Precinct has been completed with the unveiling of the final project, a granite monument honouring Diggers as the centrepiece.
The final stage of the upgrade project was officially opened on Friday by Federal Member for Page Kevin Hogan.
The $5.4 million redevelopment was made possible by the Australian Government's Building Better Regions Fund and Local Roads and Community Infrastructure Fund, where Council was successful in obtaining $2.7 million for the first stage, followed by $885,000 to build a memorial walk and a further $405,000 for much-needed upgrades at Coronation Park.
The project also received $252,000 from the NSW Government's ClubGRANTS scheme, which helped fund the construction of the Casino Visitor Information Centre, and a $1.2 million contribution from Richmond Valley Council.
Opened in 2019, the first stage included the restoration and expansion of the Drill Hall proper, now home to the Visitor Information Centre and the Northern Rivers Military Museum, creating an important site for community events with the nearby amphitheatre, and added much-needed parking and landscaping.
A Memorial walk, reflection pool and granite monument
This final stage has completed the project by adding the memorial walk, reflection pool and beautiful granite monument, which will stand alone as a major feature of the site, while also integrating the Drill Hall with the newly completed Coronation Park.
The unique poppy-themed playground at Coronation Park is complemented by a shaded picnic and BBQ area, new landscaping, boardwalk and a viewing platform set above the banks of the Richmond River.
In developing a theme for the proposed playground, the master plan took into consideration the history and use of the surrounding site, hence the use of the poppy, which is a powerful symbol of war remembrance.
The poppy-themed playground is the first of its kind, having been designed especially for this site and its important links to our Anzac history.
Drill Hall's future in doubt
The 114-year-old Drill Hall's future was placed in doubt when the Department of Defence listed the site for auction in 2014, causing angst in the community.
Federal Member for Page Kevin Hogan said the renewed space was a boon for Casino and the Richmond Valley, providing both an attractive destination for passing travellers, and a unique hub for community events.
Richmond Valley Council Mayor Robert Mustow said it was a moment of great pride for him to be part of the official opening, saying the revitalised site was something the whole community could be proud of.
A once-in-a-lifetime opportunity
Cr Mustow said Council recognised it was a once-in-a-lifetime opportunity to create a lasting community asset a stone's throw from the beautiful Richmond River.
He said the community could be very proud of what had been achieved.
'We faced many challenges with this project over the past year because of the impacts of the COVID pandemic and persistent wet weather but it is wonderful to be here today to see the end result – a true community asset for residents and visitors to enjoy all year round.'