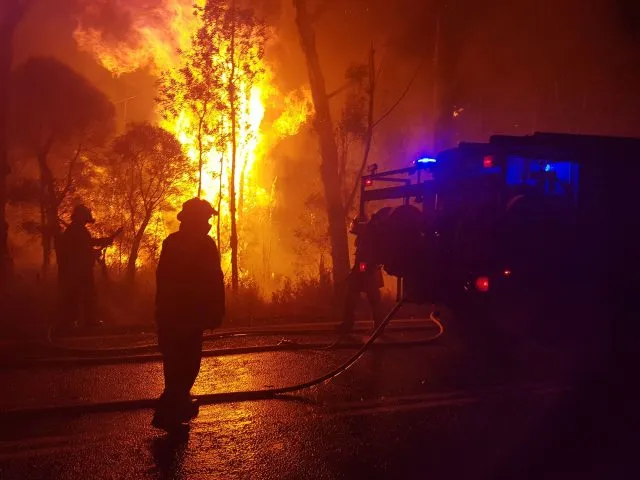 From the dangers of smoking cigarettes to digging up coal the impact of a concerted campaign to misinform the public is nothing new. So on the same day that the NSW Draft Climate Change Policy and Action Plan (CCPAP) was put forward it wasn't much of a surprise that the Sydney Morning Herald (SMH) broke the story that 'The car industry has launched a wide-ranging secret campaign that would delay Australia's transition to electric vehicles and hamper a key part of the nation's climate change plan.'
EPA responsibility
The NSW Draft CCPAP is a result of citizen action taken by Bushfire Survivors for Climate Action (BSCA) that resulted in the landmark win in the NSW Land and Environment Court (L&EC) that found that the Environment Protection Agency (EPA) has a duty to take serious action on greenhouse gas emissions and climate change.
In court, BSCA argued the EPA needed to acknowledge greenhouse gases were pollutants that it needed to regulate, because of the devastating impact climate change was having on communities across Australia said BSCA spokesperson Fiona Lee, who lost her home in the Black Summer fires almost three years ago.
'After the worst bushfire season on record in 2019/20, BSCA decided to use the law to ensure the authority tasked with protecting people and the environment does so effectively,' Ms Lee said. 
'Bushfire survivors like me have already endured the devastating effect of climate change on our lives, homes, jobs and security and we know that extreme weather events like these will only increase in intensity and frequency as global temperatures increase. We need drastic emissions reductions this decade to keep our communities safe from further climate dangers.'
NSW EPA Chief Executive Officer Tony Chappel has said that the CCPAP 'works with industry, experts and the community to reduce greenhouse gas emissions and support resilience'.
Floods
The Black Summer fires have now been compounded by the ongoing impact of the 'uprecedednted' floods of 2022 that have seen the Northern Rivers devastated as well as many other areas up and down the east coast of Australia. Mr Chappel recognised the impacts saying, 'Over the past few years we have seen first-hand just how destructive the impacts of climate change are becoming, not only for our environment, but for NSW communities too.
'The EPA has proposed a set of robust actions to achieve a 50 per cent reduction in carbon emissions by 2030 (from 2005 levels), ensure net zero emissions by 2050, and improve resilience to climate change impacts,' Mr Chappel said.
'NSW has ambitious targets that align with the world's best scientific advice and the Paris commitments, to limit global warming to an average of 1.5 degrees in order to avoid severe impacts on ecosystems.'
Public comment
The Draft CCPAP is open for public comment until 3 November and key elements of the plan include:
Supporting licensees to prepare, implement and report on climate change mitigation and adaptation plans; 

Establishing cost-effective emission reduction targets for key industry sectors; 

Providing industry best-practice guidelines to support them to reduce their greenhouse gas emissions;

Phasing in the introduction of greenhouse gas emission limits on environment protection licences for key industry sectors.
'As surprising as it may seem, this will be the first time an environmental watchdog in Australia has regulated CO2 as a pollutant,' Nature Conservation Council CEO Jacqui Mumford said.   
'This is an important step towards eliminating climate pollution across our whole economy.
'The people of NSW are already dealing with dangerous climate change, so we must act now,' Ms Mumford said.  
'It's crucial that companies in NSW and globally rapidly reduce climate pollution so floods and bushfires don't continue to intensify. 
'We must take these first steps as a state and then continue to ratchet up our efforts to meet the scale of this challenge. 
'Meeting the Paris Agreement goal of limiting warming to 1.5 degrees will require Australia to cut emissions by 75 per cent this decade, so we're calling on the NSW Government to ratchet up its ambition and track progress against science-based targets.
'Every tonne of emissions avoided literally saves lives and our beautiful environment. 
'Ultimately, we'll only know this policy is succeeding when damaging proposals like coal and gas mines are rejected and NSW companies are on a rapid path to zero emissions.'
The draft EPA Climate Change Policy and Action Plan is available at https://yoursay.epa.nsw.gov.au/ and comments are open until 3 November 2022.