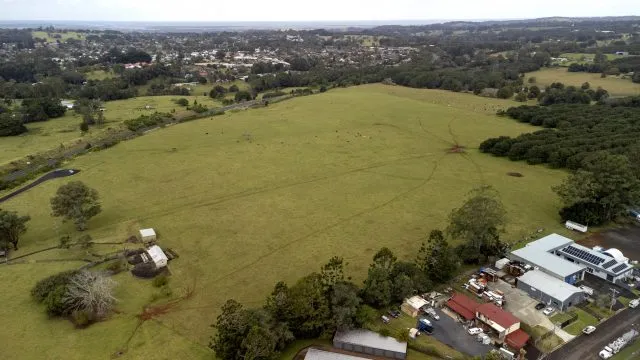 The Ballina Shire Council has voted to seek state government permission for state significant farmland near Alstonville to be considered for development.
Council staff added the parcel of land between the plateau villages of Alstonville and Wollongbar to an updated list of Strategic Urban Growth Areas [SUGAs] for council approval in August, but the vote was deferred until after a council briefing.
The vote was tabled for an extraordinary meeting in October.
Independent Councillor Jeff Johnson spoke out against the decision in favour of protecting the farmland status, while council staff received seven submissions against the proposal, including from the Wollongbar Progress Association.
'We've got some of the best soil in the country, the most regular rainfall, subtropical climate,' Cr Johnson said at the meeting.
'I think there'll be many other areas that will be much more suitable in the future, if we're looking for additional commercial or industrial land,' Cr Johnson said, 'as has been pointed out, we've got enough residential land zoned for the next twenty-plus years'.
'I think we should just rule it out at this point in time, and hopefully forever,' Cr Johnson said.
Village buffer threatened
Critics of the staff proposal wanted the remaining vegetation between the two villages left as a buffer to help preserve village character.
Heather Hawes spoke during public access as a farmer 'on the eastern edge of the buffer zone'.
Ms Hawes said she carried out 'high value cattle farming' and considered herself a custodian for the land in question.
'It is state significant farmland, it is drought-proof, flood-proof, fire-proof and providing a vital buffer preventing Wollongbar and Alstonville becoming one long fringe of development,' Ms Hawes said.
'With regards to the Russellton expansion, is it necessary and is that a quality decision?' Ms Hawes asked.
More than enough development land available, says Greens cr
But the two Greens councillors were the only ones to back Cr Johnson's move to remove Area 28, the Russellton Industrial Estate, from the list of SUGAs.
Independent Cr Stephen McCarthy was absent from the extraordinary meeting on the matter.
'Remember, if this goes through, there will only be 350 metres between Alstonville and Wollongbar,' Greens Cr Simon Chate said.
Cr Chate said there were eight hectares of zoned industrial land 'ready to go' on the western side of Russellton Estate that had 'been sitting there and waiting to be developed for some years'.
'I also understand there are six hectares of zoned land with subdivision approval under partial development in Ballina industrial estate as well,' Cr Chate said, 'surely we should be looking at this land before we start carving up the buffer zone'.
Cr Chate listed another 37 hectares at the Southern Cross* estate as part of its industrial area expansion and more than 50 hectares at two other sites, Ballina's Ross Lane and Coast Road.
'Council staff have stated we need 50 hectares of zoned light industrial land to take us to 2041,' Cr Chate said, 'there's 87 hectares right there with those previous two'.
The Greens councillor said the future consequences of removing 23 hectares of prime agricultural land were unknown.
'From our current viewpoint, we don't know how important those 23 hectares may be into the future,' Cr Chate said.
State Significant Farmland status greatest 'hurdle' to development, says Cr Meehan
Independent Cr Phillip Meehan moved in support of the staff recommendation, with Cr Rodney Bruem seconding.
'It is not physically between the two villages,' Cr Meehan said, explaining his view of the land being on the wrong side of the Bruxner Highway to act as a buffer.
Cr Meehan said he saw no doubt the area was going to need more 'light industrial land'.
The independent councillor said the shire was growing and developing with 'great benefits' for the community but that what had happened at Lismore and in South Lismore, particularly, was important to note.
'I think that we're going to see businesses who will wishing to operate, out of a flood prone zone, in that area,' Cr Meehan said, 'so I think the demand is probably going to go higher, rather than just even stay where it is'.
Cr Meehan said the fact the area was state significant farmland was 'critical' to the matter as it was 'the greatest hurdle to overcome, if you want it to move forward', referring to the possibility of future development.
'It's a very small area of land when you look at that, relatively,' Cr Meehan said, referring to 'the whole of the Austin field plateau'.
'When I take into account what it will provide for the community in terms of employment, service provision, production, etc., I think it's very important to Alstonville and Wollongbar's future development,' Cr Meehan said.
'I think we just need to make a decision about it now, to be honest.'
Mayor Sharon Cadwallader and fellow Crs Eva Ramsey and Nigel Buchanan also voted to add the farmland to the potential development list.
Cr Eoin Johnstone* voted against both motions, having earlier expressed support for a staff recommendation to defer the matter again.
Cr Chate later told The Echo with hindsight he would have preferred to defer the matter too.
The updated list of Ballina Shire SUGAs is to be sent to the state's planning department for assessment and approval before taking effect.
*This article has been updated around 18.30 the same day it was published to reflect two corrections:
1. Cr Chate referred to land at the Southern Cross estate in Ballina, not the Southern Cross University land in Lismore;
2. Cr Johnstone voted against, not for, inclusion of Item 28 as a SUGA (the article initially stated he voted for inclusion). As explained, Cr Johnstone ultimately voted against both motions, to include and to exclude the item, having expressed a preference for the matter to be deferred.