Contrary to mythological belief, the Shitbox Rally is not a race, but rather a challenge to achieve the unthinkable – to drive cars worth up to just $1,500 across Australia via some of its most formidable roads, all in the name of charity.
The Shitbox Rally 2023 Summer event starts today in Rocky and ends on Saturday week in Tassie – Hobart to be precise, via the Great Artesian Basin –  3,500 km crazy ks.
The Shitbox Rally website reminds drivers that you don't have to be a car person to drive a Shitbox with less than 1,500 bucks across Australia. You just need the desire to make a difference.
They say: 'Trust us – this is going to be great fun!'
Local drivers Russell Wilson and Ulf Steinvorth are entering the event in a very shit Shitbox, THE 1989 Red Roadrunner from Dunoon's Nut Capital City Limits. With Russell and Ulf at the wobbly and worn steering wheel they will be one of 250 teams who are attempting to drive their crap cars over the 3,500 ks on rough outback tracks.
Lucky for them Russell is a bona fide motor magician – even if he can't fix the air-con (cause there ain't one) – it's going to be hot, hot, hot!
The pair left Dunoon on Wednesday and are as we read on their way to Rockhampton.
A really good cause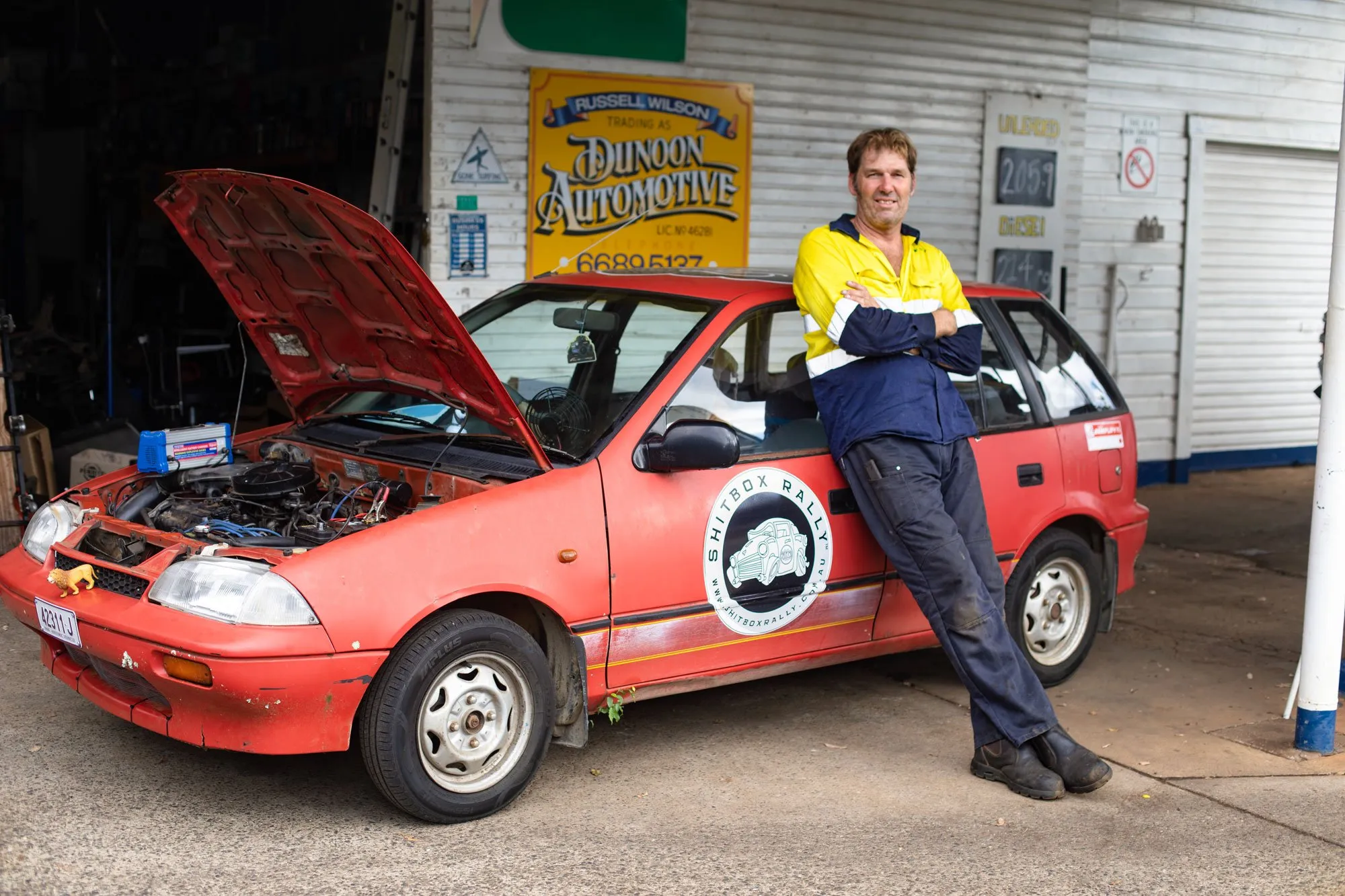 A man of few words, The Echo spoke to Russell on Monday as he was putting the finishing touches, new tyres, new wipers and a Jesus doll, into the Red Roadrunner.
The Echo: Are you excited to be going on such an awesome adventure?
Russell: Very excited.
The Echo: What do you think is going to be the highlight of your trip?
Russell: Getting to the start
The Echo: The Shitbox Rally event is to get some support for the Cancer Council – that's a great cause yes?
Russell: It's a perfect fundraiser I think.
On the road with Russell and Ulf
Today on the road Russell and Ulf were a bit more excited.
The Echo spoke to the team at smoko. 'We're travelling well,' said Ulf. 'A bit low in the arse – it bottoms out a bit. The brake fluid level lamp was coming on and off and glowing in between indicators. We need a little time to work on that.
'We're still 150km from our start Rockhampton. The briefing this arvo then a 628km drive to Tambo, 245km of that is on an unsealed road. The plant growing out of the car is still alive despite 34 degrees.'
The pair say they are hopeful of a great drive. 'We are filled with dreams of madness and adventure – thrills, spills and overcoming adversities.'
Sure, the Shitbox Rally is not for everyone.
Those who don't like to get their hands dirty or spend any time away from civilisation need not apply. For everyone else, it may just be what you've been looking for. This rally is for those who want to have an adventure, have fun, who crave something different, who want to make new lifelong friends, and take part in something memorable, but most importantly, it's for those who want to raise much-needed money for charity.
The Shitbox Rally is the largest community-led fundraiser for the Cancer Council in Australia and is now in its 13th year. All teams have to raise a minimum of $5,000 to participate, yet most teams manage to rustle up even more, let's see what we can achieve!
A little help from their friends
Russell and Ulf say they hope they can channel some of your hard-earned cash towards cancer research by thundering through the hot and rough Outback in their mean red machine.
Any donation you can give is greatly appreciated, yet it's taking part that counts.
The Shitbox Rally 2023 Autumn will be held May 12 to May 20 2023, travelling from Newcastle to Townsville via Betoota.
The Shitbox Rally 2023 Spring will be held October 13 to October 21 2023, travelling from Port Douglas to Adelaide.
To support Russell and Ulf or any of the Shitbox Rally teams, visit the Shitbox Rally website.