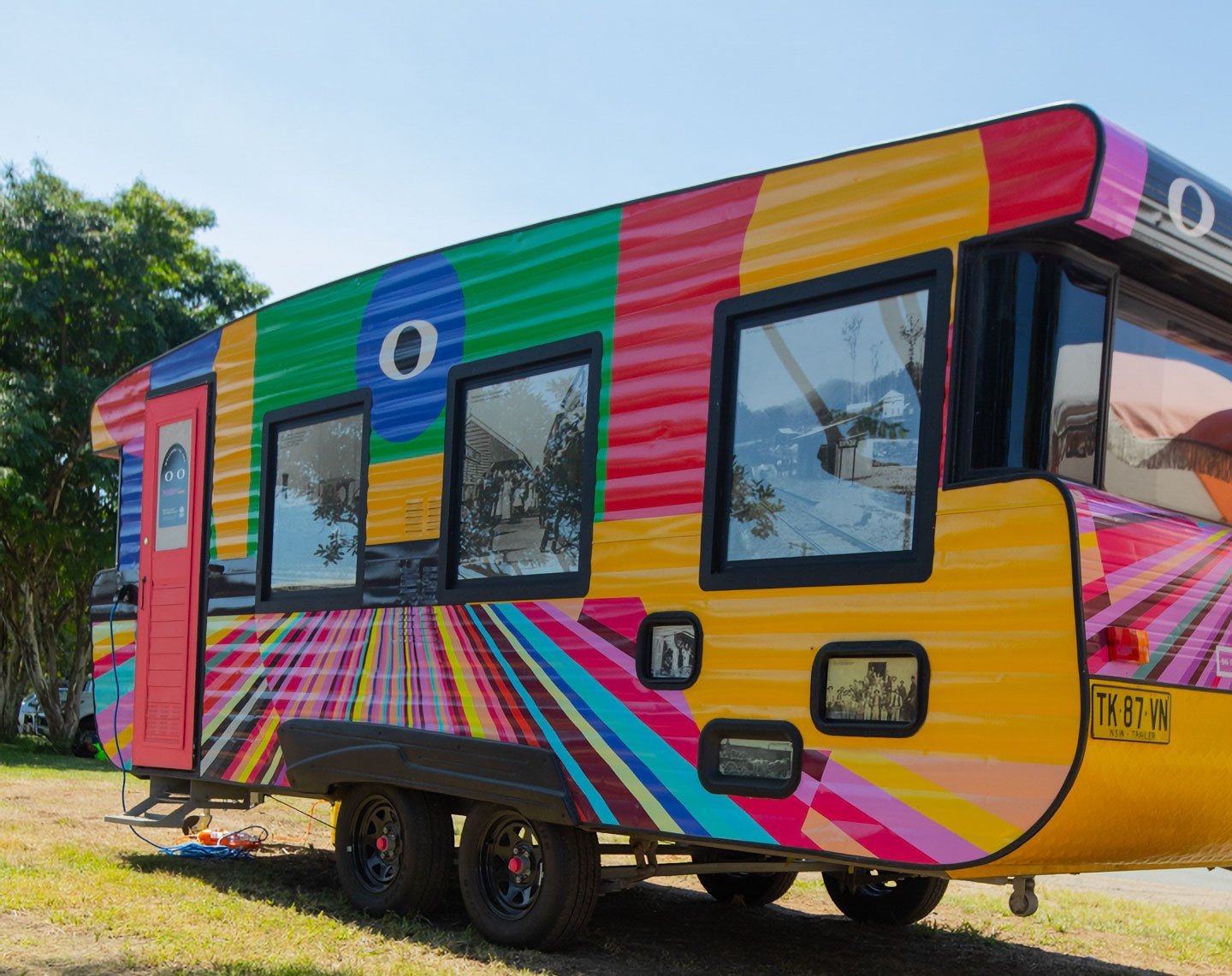 In what looks like a cross between the Partridge Family and an art gallery, the Tweed Regional Museum's colourful Museum on Wheels, aka the MoW, will be a star feature at the Flotsam Film & Photography Festival on the Goal Coast this weekend.
Visitors are invited to immerse themselves in the history of coastal culture born by dipping into a unique gallery of images – some taken by local photographer Mal Sutherland – that capture the essence of the coastline and the people who have called it home.
Jaw-dropping surfboard collection
The MoW will also display a jaw-dropping surfboard collection that showcases innovative surfboard design throughout the ages and for a range of renowned surf locations, thanks to Andrew McKinnon and the Gold Coast World Surfing Reserve.
McKinnon will be popping in on the day to talk about this incredible collection which will include the Caballito de Totora, a board made of reeds and ridden by the Chimu civilisation pre-Incas, some 5000 years ago at Huanchaco, Peru.
Also featured will be a 9ft wooden paulownia longboard Firewire – based on Balsa surfboards of the late 1950s – and a 1964 single-fin standard surfboard made by Ken Adler who was Queensland's first official State Surfing Champion.
A Turtletastic game for kids
There is plenty for the kids to enjoy with the Green Heroes team and play the Turtletastic game to learn about the very special and secret life of marine turtles from around the world.
There will also be a range of gnarly prizes to be won. Simply visit the MoW display and you will go in the draw to win a Tropical Fruit World Family Full Farm Tour Pass (2 adults +2 children) valued at $140, generously donated by Tropical Fruit World.
Flotsam Festival is a multi-site film and photography celebration inspired by surf, sun, and sea. This is the second annual Flotsam Festival, which will run from Monday 1 May to Sunday 14 May.
The Flotsam Festival is presented by Flotsam Arts Inc., a not-for-profit association formed to create pivotal events that showcase the Gold Coast's iconic surf culture through photo and film and to create opportunities for photographic artists to extend their practice.
Visit the MoW and explore the exhibition, Coastal Culture: Gold Coast to Byron on Saturday 13 May from 9 am – 3 pm at Queen Elizabeth Park next to Greenmount Surf Club in Coolangatta.
For more about this activation and the Museum on Wheels, visit Tweed Regional Museum.