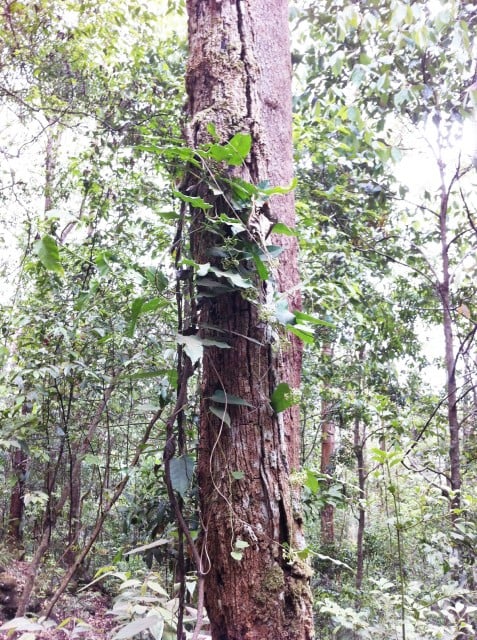 Melissa Hargraves
Areas of significant Aboriginal heritage were able to be easily identified at the logging site at Whian Whian over the weekend.
Echonetdaily was given permission to walk with an Aboriginal lawman who had been given permission by Uncle Cecil to show us its effects specifically on the Aboriginal heritage of the area.
A number of sacred trees were found directly next to the logging track on the property, which a title search revealed is owned by a 'Helle' family partnership.
The Aboriginal lawman said one of these trees was at least 400 years old. Echonetdaily was told that Aboriginal peoples would take their stillborns, miscarried and retarded babies to these trees.
It was strictly a women's area and that could be strongly felt. This particular tree had an insensitively built logging track within a metre of it. A large birthing stone was found close by and large rocky outcrops had been disrupted. Some of the rocks had clear carvings on them.
One major rock had been lifted from its place and rolled to the other side of the track. Echonetdaily was told that this rock needed to be returned to its original position because of its significance.
Another area along the logging track had such a strong force that the Aboriginal lawman ran from it.
Martin Novak, the owner of a neighbouring property, told Echonetdaily that he has seen large files at the historical society which indicate massacres and a historic Aboriginal association with the area.
'We have known for a long time that this area is culturally significant; artefacts have been found all along the ridgeline and we have always shown respect for it.'
The forest we saw was devastatingly destroyed, albeit in a few sections. The old canopies had gone and the dusty open soil will now wash down the ridges during the next heavy rainfall. Huge numbers of discarded logs and branches now lay on the ground adding a significant fuel load to the area and increasing the bushfire risk to the Whian Whian community. No koalas could be seen and the moisture had disappeared. The forest was grieving the death of itself, its inhabitants and a man.