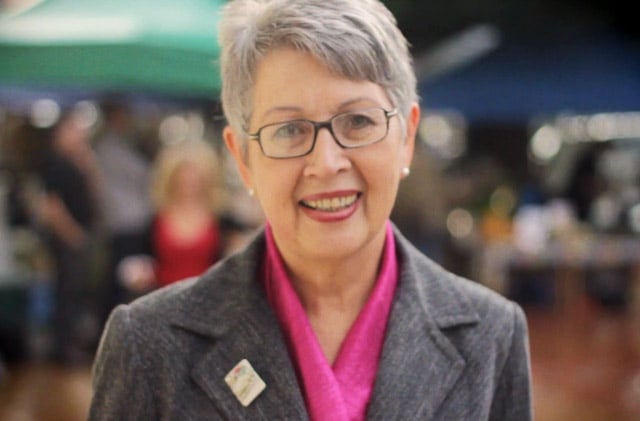 Melissa Hargraves
Lismore mayor Jenny Dowell has pulled the pin from communicating with some of her constituents on social media outlets which she says were being used to attack her over contentious issues such as fluoridation.
Cr Dowell told Echonetdaily she would take a break from using her Facebook or Twitter accounts after some comments she received were 'over the top'.
The mayor defended cutting off, or 'defriending', the Nimbin Environment Centre (NEC) on social media recently, saying she regretted doing so 'out of frustration' but would be 'looking to re-engage' with the centre via social media.
Cr Dowell said she used social media to inform the community about events and council matters and 'don't expect to be constantly attacked on there'.
Her comments follow NEC claims she 'defriended' the centre because she didn't like all the criticism over her vote on fluoride recently.
(Lismore City Council recently again voted to continue with the controversial plan to fluoridate the area's drinking water supply.)
NEC president Philippe Dupuy told Echonetdaily there had been no personal attacks made against the mayor by the centre.
'If personal attacks happened through our social media platform we would deal with that internally, we certainly do not accept that kind of behaviour,' Mr Dupuy said.
'Just because we oppose fluoridation of water supply, Lismore mayor Jenny Dowell has removed us from her Facebook account,' he said.
'Fluoridation of our water will impact on the environment and that is our voice; the mayor has no right shutting us down because we don't agree with her on this issue.'
Campaign success
Mr Dupuy said the NEC was successful in a social-media campaign to retain the bench seat out the front of their building.
He said the mayor was pushing for the bench to be removed so the street was more accessible for people with disabilities such as blindness.
'Through our social media campaign the mayor was able to hear the many voices of the people who used the bench seat, some who had disabilities that used the seat as a rest stop,' he said.
'Through our social media engagement the mayor was able to hear the voices and acted appropriately and we retained the seat.
'There has never been and never will be a personal attack on the mayor and we feel by her closing us down over fluoride she is not listening to her community,' Mr Dupuy said.
Cr Dowell said her life has been dominated by people using the social media platforms to contact her about council matters.
'The negative comments I received went over the top, and yes I do regret it (cutting off the NEC) but I have tried to find them again on Facebook but haven't been able to friend them again,' she said.
'I would also ask that people be a bit more moderate in their language which I think is reasonable to ask.
'NEC was the last straw, I use social media to inform the community about events and council matters. I don't expect to be constantly attacked on there.'
Concerns over impacts
Although Nimbin will not be fluoridated at this stage, Mr Dupuy said the impact on the surrounding environment is of concern.
'NEC opposes the process of mass medicating the population to reach a target audience that will not drink tap water anyway, they are drinking soft drinks,' he said.
'Most water will get flushed down the toilet and end up in the environment.
'We are seeing more studies that indicate impacts from fluoridation on species other than humans.
'Anyway, humans are the environment so we are also concerned about the impact on them.'
Mr Dupuy said NEC campaigned and invested many voluntary hours to protect the environment on the northern rivers.
'It is hypocritical that Council promote tourism in the northern rivers yet jeopardise that very environment by adding more pollution to our water,' he said.
'Our local environment is under constant pressure and is polluted daily so why would we be adding more pollution to it. It does not make sense.'
The NEC is a longstanding community organisation with its roots in successful battles in the past that saved Terania Creek and the Nightcap forest from old-growth logging.