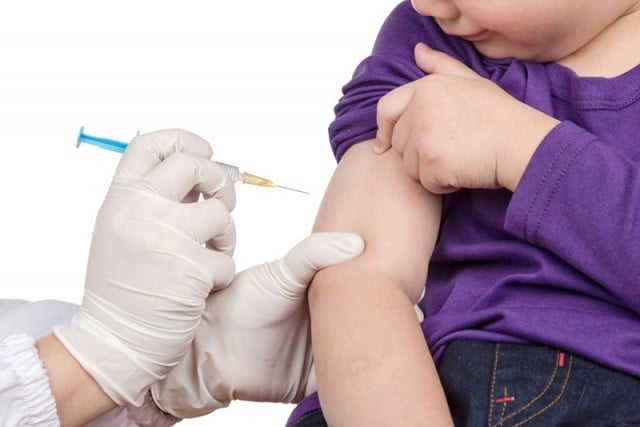 NSW health authorities hope new laws aimed at boosting immunisation rates for young children, which came into effect this week, may educate parents about the benefits of vaccination, especially on the north coast where vaccination rates are much lower than elsewhere.
Minister for the north coast and Ballina MP Don Page has welcomed the new requirements, which came into force on January 1, saying they could lift immunisation levels in the region.
Under the new laws, a child cannot be enrolled at a childcare facility unless the parent or guardian provides an official immunisation record proving the child is fully immunised or an approved exemption is provided.
Mr Page said preventable diseases such as whooping cough and measles continued to be seen in the north coast communities and he hoped the new laws would change that.
He told ABC North Coast that in order to prevent the diseases, 'you need a herd immunity of around 95 per cent of people immunised'.
'On north coast it's as low as 50 per cent and obviously that means all those children are potentially very vulnerable to a lot of these preventable diseases, so it's important that people vaccinate,' Mr Page said.
NSW health minister Jillian Skinner said the amendments to the Public Health Act 2010 'send a clear message to parents that the NSW government is serious about protecting the health of children and the wider community'.
'The NSW government is determined to protect our children from the devastating consequences of vaccine-preventable disease,' Mrs Skinner said.
'No longer will it be left to childcare operators to decide whether to enrol or refuse an unimmunised child.
'This new legislation makes it very clear what must happen and, while we expect a very high level of compliance from childcare operators, there will be provision for fines should operators not comply.
'This legislation puts the onus squarely on parents and guardians to either show proof of vaccination or provide an approved exemption, which can only be granted after counselling by a GP or nurse immuniser.
'This will capture the parents who simply forget to stay up to date with their child's immunisation schedule.
'We expect it will also educate those who are anti-vaccination.
'Forget the scaremongering; there is nothing to fear from vaccination,' Mrs Skinner said.
NSW chief health officer Dr Kerry Chant said the vast majority of children in NSW are fully immunised for their age.
'Vaccines used in Australia have gone through extensive testing to determine their safety and effectiveness,' Dr Chant said.
'Children in NSW have the advantage of a comprehensive immunisation program that protects them from potentially-fatal diseases such as measles, tetanus and diphtheria, and debilitating conditions such as polio and hepatitis B.
'Today is a timely reminder to parents to make sure their children are fully immunised before heading back to childcare in the new year,' Dr Chant said