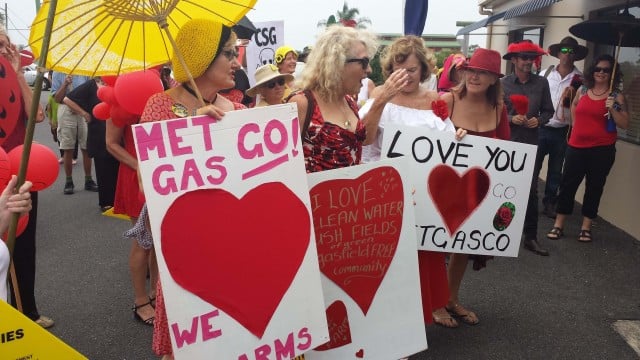 Story and photos Mel Hargraves
It was a case of unrequited love for protectors delivering Valentine's Day cards, balloons and chocolates to locked Metgasco offices in Casino on Friday.
Around 60 protectors stood on the highway outside the Metgasco offices adorning red clothing for Valentine's Day and yellow for the standard colour scheme.
The protectors stayed roadside for at least an hour with their placards attracting much support from traffic passing by.
Event organiser and director of the Rainforest Information Centre, Ruth Rosenhek, said the most surprising support came from the large trucks.
'The tooting has been very affirming,' she said, 'we had large trucks going by, freight trucks, plumbing and water trucks, trucks from all these different industries showing support for our action.'
The protectors then proceeded to the locked front door of the Metgasco offices to deliver the Valentine's Day messages.
'We are not saying we love you Metgasco,' said Ms Rosenhek, 'we are saying we love the earth, we love the water, we love the fertile soil, the landscapes and we love our community so don't break our hearts!'
The non-violent direct action almost turned violent when a ute driver drove straight through the congregation out the front of the offices.
Adam Guise, who has just been hired to job share the coordinator role of Gasfield Free Northern Rivers with Ian Gaillard, told Echonetdaily to look out for a very important visitor coming to our region.
'John Fenton is a farmer from Wyoming in the USA, he has 24 unconventional gas wells on his property because he was forced to,' Mr Guise said.
'He is coming to Australia to do an east coast tour starting in Brisbane and working his way down. He will be sharing his story about living in gas fields.
'When we hear from the horse's mouth, from those that are living in gas and industrialised communities, we realise that it is the most invasive, toxic industry that you will come across.
'You first realise the impacts to water which we depend upon, the social impacts from the invasion of workers into the area, impacts on house prices, violence in towns, all those social elements that come with this type of industry,' Mr Guise said.
Over 100 people attended the non-violent direct action training held by Aiden Ricketts last Monday.
'People are learning to capacitate and better self-organise at protests as there is no leader,' Ms Rosenhek said.
'Most of these people have never protested before so we are skilling up. There was talk of legalities but most of it was practical.'
The site watch will continue on red alert until works begin at Metgasco's Rosella E01 unconventional gas site at Bentley, west of Lismore.
To find out more about the John Fenton tour go to http://fentontour.com/