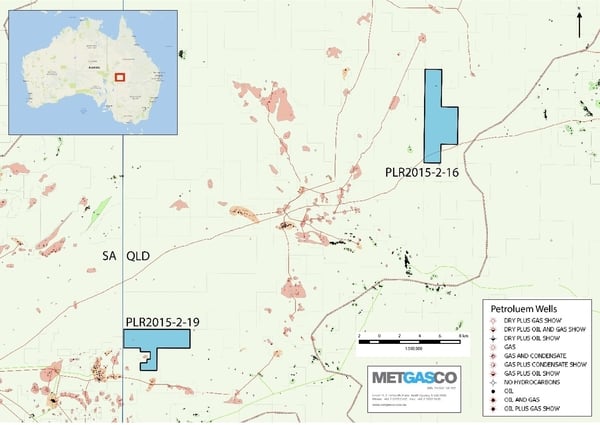 Chris Dobney
Junior gas explorer Metgasco, which quit its northern rivers CSG licence with a $25 million compensation package from the NSW Government in 2015, has picked up a new unconventional gas licence.
The company quietly revealed the news on its website just before Christmas and it has been largely overlooked until now.
But Metgasco faces new hurdles before it can drill a hole as the land is covered by a Native Title agreement.
The company's new prospecting areas are in the Cooper Basin, in far south-west Queensland near the SA border, about 65km from the town of Eromanga.
'Attractive plays'
The company said on its website that it has 'identified attractive plays primarily targeting the conventional Toolache Permian gas reservoir and Jurassic oil reservoirs. In addition, both blocks have the potential for unconventional gas plays in tight and reservoirs of variable quality such as the Patchawarra sands. '
'Tender area PLR 2015-5-19 covers an area of approximately 370km2 and is located in the southern Cooper Basin, adjacent to the South Australian (SA) border. Right across the state boundary there are numerous Permian gas fields, with both structural and stratigraphic traps. Drilling density on the Queensland side is much lower, although this prolific SA trend extends into tender area PLR 2015-5-19,' the company's announcement reads.
'Metgasco's move into the Cooper Basin secures high quality exploration opportunities proximal to delivery infrastructure in mature producing basins,' it says.
Native Title
The company anticipates drilling permits will be granted 'after Native Title agreements and other environmental approvals are finalised.'
Metgasco says it has engaged 'expert consultants' to assist it in 'timely and effective engagement with the Wongkumara community' as well as with its application for an Environmental Authority licence.
Byron Energy
Following close on the heels of the announcement came details of a new arrangement with Byron Energy Limited via an $8 million convertible note arrangement.
The Australian-based company has prospecting licenses in the Gulf of Mexico and at Bivouac Peak in Wyoming, USA.
Both announcements were signed off by Metgasco's executive chairman Alexander Lang.
Former CEO Peter Henderson left the company with a $300,000 golden handshake in May 2016.