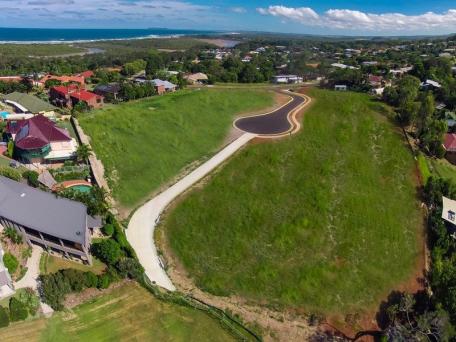 Chris Dobney
Byron Shire Council is offering some tasty treats to residents of Ocean Shores in its latest budget – more than a million dollars' worth of improvements to the town.
But there's a catch: the money will only flow when the sale of the controversial Roundhouse lots is complete.
In the coming financial year's budget, details of which were released yesterday, Council has earmarked $500,000 for stage one of much-needed roadworks on Kolora Way, Ocean Shores,  a further $300,000 for the Kolora Way Bridge upgrade and $250,000 for design development of the Shara Boulevard sportsfields.
But GM Ken Gainger has made it clear the works won't start until the sale of 11 Council-owned Roundhouse lots, some of which have spectacular ocean views, are sold and the money is in Council's coffers.
Sale of the sites has been in Council's too-hard basket for years but with the appointment of the new GM and the appearance of a financial black hole, Council took the tough decision last year to sell the sites to raise much-needed cash.
With just days to go before the planned sale in early March, the Ocean Shores Community Association (OSCA) took legal action  to prevent the sale, demanding the land be retained for community use.
The legal action is still pending, despite Council's subsequently announcing the purchase of new land for sportsfields in the town.
Enough is enough for Mr Gainger, who has drawn a line in the sand over the proposed works.
'If Council finds that it cannot progress the sale of the blocks of land at Roundhouse as planned owing to threatened legal action, these projects will not proceed until such time as funding can be allocated in future budgets,' he said.
He added, however, that despite the stoush with OSCA Council's legal expenses were down this financial year.
'[A] major contributor to the current budget is a reduction in the legal services budget of $200,000. This is owing to Council's being less litigious and making the most of mediation opportunities,' he said.
With a forecast $50,000 budget surplus and an accumulated surplus (working funds) sitting at $1,144,500, Mr Gainger said the budget's stronger bottom line was generally a result of a detailed review of Council's operations to achieve savings and efficiencies.
'Council's administration has been through stage one of an organisational restructure with further efficiencies still to be implemented. The restructure has enabled Council to reallocate resources to ensure that areas that have high need for resources, such as community infrastructure, can be beefed up,' he added.
Roads and parks
Mr Gainger said the new budget would see Byron Shire re-focus its efforts in improving roads and parks around the shire, with money set aside for improvements in all of the larger towns.
'A very positive outcome within the budget is that we have been able to allocate an additional $487,300 or 13 per cent increase in funding for road maintenance and renewal works, as well as an additional $163,800 or 4.6 per cent funding increase for open space and recreation maintenance expenditure, over the 2013/2014 budget,' Mr Gainger said.
Some of the key capital works and initiatives for the upcoming financial year include:
$100,000 improvement for the Lighthouse Road Captain Cook carpark
$500,000 on stage 1 of Kolora Way Ocean Shores roadworks
$300,000 for the Kolora Way Bridge upgrade (Ocean Shores)
$250,000 for design development of the Shara Boulevard sportsfields
$150,000 for Deacon Street, Bangalow, carparking
$175,000 for upgrading the Poinciana carpark, Mullumbimby
$100,000 for completing the Marine Parade footpath at Wategos
$470,000 road upgrade Broken Head Road (south of Clifford Street), Suffolk Park
$250,000 for additional lighting at the Byron Regional Sport and Cultural Complex.
The works will be funded from a range of increase in Council's rates and charges.
Water fixed charges and consumption charges are increased by 3.38 per cent and 4.98 per cent respectively.
Sewer fixed charges and consumption charges are increased by 2.97 per cent and 0.58 per cent respectively.
Domestic Waste and Non-Domestic Waste charges have increased by 10.18 per cent.
Myocum Waste Facility fees have increased between 3 per cent and 20 per cent depending upon the waste type; this ranges from $0.50 to $7.
Restructure of fees and charges at the Byron Regional Sport and Cultural Complex.
Section 68 approval fees have increased between 25 per cent and 47.37 per cent; this includes an extra $10 for the initial approval to operate a caravan park, an extra $90 for a pre-purchase onsite sewage management system inspection, and an extra $150 for the transport of waste over or under a public place.
Swimming pool entry fees are proposed to be increased by 80 cents for spectators, an additional 40 cents per child, and increases in all season passes up to an extra $130 for a family. The increased fees bring the pool fees into line with charges in neighbouring council areas.
Landing fees at Tyagarah airstrip of between $1 and $2 per landing, $5 per day for parking  for commercial operators and a new fee structure for non-commercial landing fees.
New fees associated with use of Council-owned or -controlled land for temporary activities such as weddings.
Childcare fees increased slightly higher than the Consumer Price Index (CPI) to recover the costs of providing childcare at Sandhills. The fee per day is proposed to be increased by $3.
Cemeteries fees are increasing between $1 and up to $384.00 (reserving a plot in the old parts of the cemeteries).
Byron Shire Council staff will be available at the farmers markets from the week beginning May 5 to talk to anyone who would like to know more about the draft delivery program, budget, and draft fees and charges schedule.