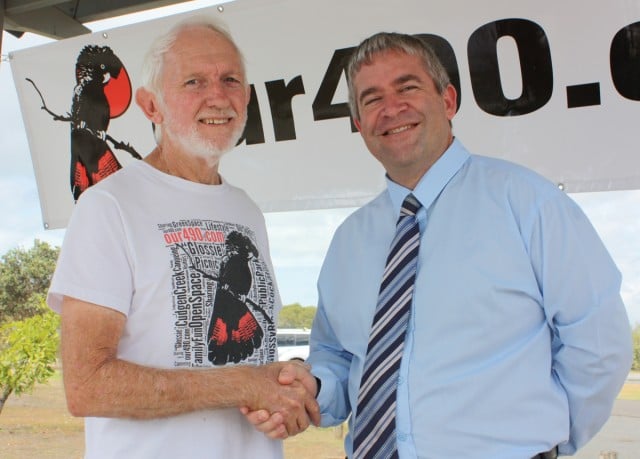 Chris Dobney
Kingscliff's last remaining strip of undeveloped coastal land could be Tweed MP Geoff Provest's Waterloo if Ron Cooper has anything to do with it.
Mr Cooper, of the Save Lot 490 group, has handed a batch of 14,000 petitions calling on the government to keep the valuable seafront property in community hands to Labor's candidate for Tweed, Ron Goodman, instead of to the sitting National Party member.
'[Mr Goodman] has accepted the petition on behalf of the ALP, and [upper house member and shadow north coast minister] Walt Secord will arrange for someone in lower house to present it,' Mr Cooper told Echonetdaily.
Last September, the Liberal/National state government transferred the area of Lot 490, between Casuarina Way and Kingscliff's South Beach, from Crown Land to 'Government Property' enabling it to offer the land for outright sale.
The land had previously been earmarked for an ecotourism venture by Leighton's Properties, under a lease arrangement, but the embattled property group pulled the pin on the plan earlier in the year.
The Save Lot 490 group wants to see the land returned to public ownership.
Three months ago Mr Cooper announced that the group would collect at least 13,000 signatures before next year's state election.
With the election still eight months away, that number has already been eclipsed.
Petition 'lost'
'We've had an unfortunate series of events,' Mr Cooper said of the group's relationship with Mr Provest.
'When we first saw Mr Provest and told him what we were doing and why we were doing it, we had 500 signatures,' he said.
'He suggested we send the petitions in 500 lots because they would appear many times in the parliament.
'But you don't get your issue debated unless you have at least 10,000 signatories.'
Mr Cooper stopped short of saying that Nats had deliberately sabotaged the campaign but was highly critical of what happened after he handed the petitions to Mr Provest.
'After we handed those petitions to him they disappeared for a short time. We started ringing to find out what was happening,' he said.
'When they did get presented they went to the wrong minister – at least twice. They should have gone to the minister for finance. That delayed any response.
'We decided we weren't going to risk any more of our petitions. We then decided to go with the ALP who jumped on the issue very quickly. With that many petitioners now anyone can make hay with it,' he said.
But Mr Cooper denied the group was in any way tied to the ALP candidate.
'We're requiring the ALP write it into their policy that Lot 490 will be kept in public hands before we will support them any further.'
He said the same offer was made to the National Party.
'We fear the issue might be delayed further if Geoff Provest isn't there [in parliament] to debate it. He's mouthed words of support but so far we haven't seen any action,' Mr Cooper said.
'From his point of view what we need is a letter from the finance minister saying he won't oppose a rezoning and that the land will be returned to [Tweed Shire] Council.
'We gave up very early on putting rational argument to the local member and decided that people power is the only thing that will work.
'What we're looking for is for him to say to the government that he will lose the seat if this goes ahead. And given the number of signatures we have, that's a possible outcome.
'We're going to be brutal about it,' Mr Cooper said.