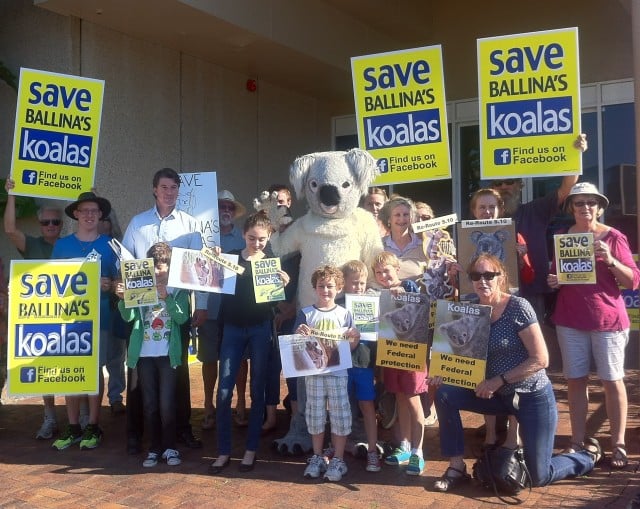 Save Ballina's Koalas campaigners will take their fight to Macquarie Street today by officially handing over a petition calling for the protection of the nationally significant koala population in the path of a section of the Woolgoolga to Ballina upgrade of the Pacific Highway.
Labor leader John Robertson, shadow environment minister, Luke Foley, and shadow north coast minister, Walt Secord will meet Friends of the Koala president, Lorraine Vass and the campaign's coordinator, Ballina shire Greens councillor Jeff Johnson, at Parliament House.
Mr Foley and Mr Secord have had previous meetings with the community and support their concerns that the highway's proposed deviation through the nationally significant koala population will result in a local extinction event.
The group believes a more direct upgrade option, which avoids the koala colony and important Aboriginal cultural sites, is being ignored.
'We simply do not understand why the NSW government is persisting with a route that was selected against community advice near enough to a decade ago,' said Mrs Vass.
'The koala is now protected by federal legislation and the Ngunya-Jargoon Indigenous Protected Area was gazetted in 2013. No matter how many underpasses or overpasses are built, nor miles of fencing erected, nothing will mitigate the fragmentation and isolation the preferred route will create.
Mr Johnson said the fact that the Leader of the Opposition was tabling the community's petition on the last sitting day of Parliament was 'significant' and showed 'a willingness to listen to the community's concerns and to investigate an alternative highway route that could be delivered sooner and with significant cost savings'.
'One has to question why the proposed upgrade deviates from the existing highway infrastructure, adding millions of dollars to the cost of the upgrade and increasing the length of highway by 2.8 km,' Mr Johnson added.
'It appears that the representations and self-interest of a prominent National Party member is the real reason why a route utilizing the existing highway corridor hasn't been investigated,' Mr Johnson said.
'Wasting public money, trashing sacred Aboriginal sites and the extinction of a nationally significant koala colony appear to be secondary considerations for the National Party.
'It's disappointing that Ballina MP Don Page continues to sit on his hands while the RMS and Minister Gay mislead the public about the merits of an alternative route,' Mr Johnson said.