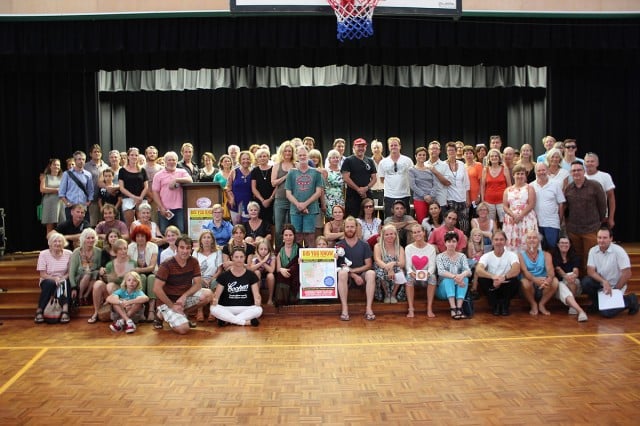 Ocean Shores Tower Action Group chair, Ray Musgrave, is calling on Byron Shire councillors and Telstra to 'listen to the growing avalanche of concern from the community and choose a safer site for the proposed phone tower at Ocean Shores.'
Councillors will vote on Thursday on whether to allow a proposed 31-metre Telstra tower on council land between Flinders Way and Player Parade, Ocean Shores, less than 500 metres from homes and schools.
Mr Musgrave made his plea at a public meeting at Ocean Shores Primary School last Thursday (January 29), attended by more than 130 concerned parents and residents.
Guest speakers highlighted some of the major risks posed by locating the tower in a residential area – including health risks, increased fire risk, the risk to school children, and erosion of land values.
'Now is the time for concerned residents and parents to urge our councillors to choose a safer site, away from homes and schools – and there are alternative sites available,' Mr Musgrave said.
He added that public support had been 'overwhelming' with more than 700 signatories to a petition objecting to the proposed site.
'It is clear that many residents and parents find the risks associated with a tower on this site are too great to ignore,' he said.
Ocean Shores Primary School principal Chris Hauritz highlighted the NSW Education Department's policy on the placement of phone towers near schools, which indicates a preference for a distance of at least 500 metres from the boundary of a school. The school is just 270 metres from the proposed site.
'I believe that if there is any risk for students, and there are other sites available, then it makes sense to put it elsewhere', Mr Hauritz said.
Ocean Shores Pre-school director Sharon Gray told the meeting that she has 'a mandatory obligation' to create and maintain a safe and healthy environment for children at the pre-school.
'I can't guarantee to meet my obligation, given that the pre-school is 370 metres from the proposed tower site', Ms Gray said.
Mullumbimby doctor, Oscar Serrallach, who has children at both the primary school and the pre-school, believes electromagnetic radiation has 'a significant negative effect on biological systems'.
'Just as we need to be aware of the quality and cleanliness of our water, air, food and soil, we are now having to be aware and consider the quality and cleanliness of our electricity and the 'airwaves',' he told the meeting.
The proposed location of the tower is in bushland classified as a 'flame zone', and is just 70 metres from the nearest hone. Local residents have expressed concern that tower rising above the tree line could potentially draw lightning strikes or develop electrical faults causing a fire that could quickly spread to houses.
Byron Shire Council will vote on whether to give owner's consent for the planned Telstra tower on the site on Thursday.
Mr Musgrave is encouraging residents to attend the meeting to demonstrate the level of community concern against it.
'By emailing councillors and coming along to the Council meeting by 9am on Thursday (February 5), you have a chance to raise your concerns directly,' Mr Musgrave said.
'We think Councillors have a responsibility to take all the risks into account when deciding on the Telstra proposal, and to err on the side of caution. No one has adequately assessed the risks of a tower on this site. Councillors should be putting the wellbeing of its citizens first.'