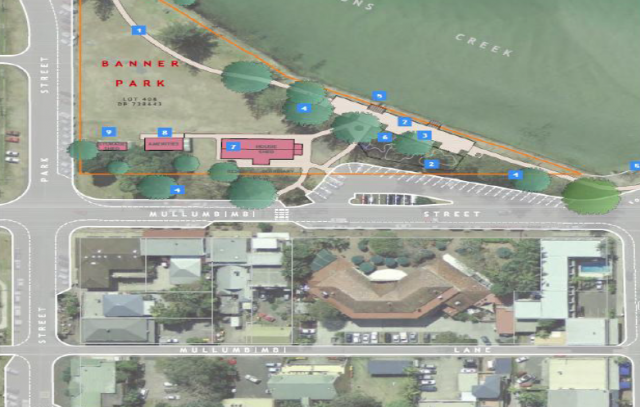 Luis Feliu
Plans to start work after Easter on a major and controversial makeover of popular foreshore parks at picturesque Brunswick Heads has sparked a rallying call by residents angered at not being properly consulted about the changes.
The state-government approved upgrades include reducing a swathe of green space at Torakina Reserve to make way for a new 18-space car park and an access road inside it, as well as building a foreshore walkway there.
At Banner Park opposite the local pub, a huge 400-square-metre raised timber deck including fencing and picnic tables will be built along the river foreshore, and the existing playground will be upgraded and enlarged.
Six of the historic Norfolk Island pines there will be incorporated into the deck, with river steps replaced, but an old gum tree which residents had fought to prevent being chopped down by park managers before is now doomed again and set to be cut down to make way for the bigger playground.
A new network of pathways and lighting is also planned for all the foreshore parklands, but the progress association says no details or specifications have been given of what type of path surface or style of lighting are to be used.
While some will welcome upgrades to amenities in the parklands, others fear Gold Coast style over-development will replace the natural charm of the seaside holiday village with its popular open green spaces famed for children's birthday parties and traditional, blanket-style picnics.
The Brunswick Heads Progress Association says consultation with residents over the plans has been lacking and has called for a public meeting to debate the changes for 7pm Monday, 2 March, at the Memorial Hall in Fingal Street, Brunswick Heads.
NSW Crown Holiday Parks Trust (NCHPT) members and the wider community have been invited to attend the meeting to learn about the plans and voice their opinions.
Echonetdaily asked the Trust for comment yesterday on the plans and public meeting, but it has yet to respond.
The progress association has also developed an online resident questionnaire for locals to provide the trust with feedback on the changes.
One of those questions ask if residents are 'outraged that a carpark is proposed for INSIDE (emphasised) a natural favourite park in Brunswick Heads' and whether they would support parking OUTSIDE (emphasised) the parklands such as 'designated parking at South Beach Road or near the surf club'.
Other questions ask if residents 'do not support the large boardwalk, deck and fencing'along the foreshore at at Banner Park or a bigger playground there or whether the area is 'already too congested' for it.
Residents are also asked whether they want to retain the old gum tree there and whether they'd support 'a report from an independent arborist on the health of the large old Norfolk pines' in the riverside park.
Work will also begin after Easter on a dedicated public walkway connecting the boat harbour to the foreshore and other minor upgrades at the trust managed parks at Massey-Greene nearby and Ferry Reserve further up the river.
The trust this week mailed out a leaflet to locals titled 'Brunswick Heads Update' for February which briefly mentioned (in two sentences) the proposed major works under a small headline 'Improved Foreshore', giving more space promoting recent awards the parks received.
Full details of the plans of management for the reserves can be found at www.lpma.nsw.gov.au
For a questionnaire email brunswick [email protected] (use 'resident questionnaire' for subject). For older people or those with no access to the internet can call 0410 024272 for a delivery/pickup within Brunswick Heads.