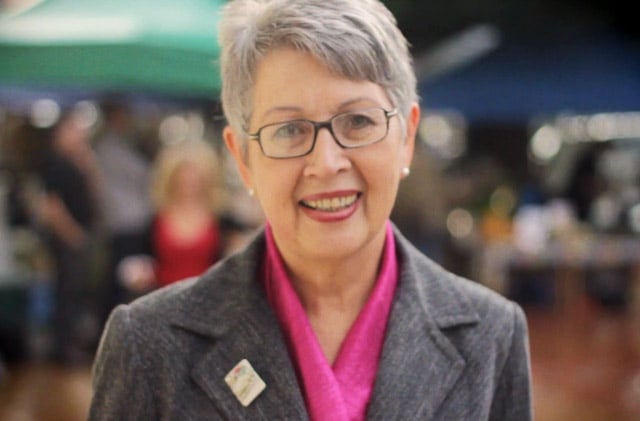 A 44-year-old woman will appear in court in August charged with  assaulting Lismore's mayor Jenny Dowell just prior to the Lantern Parade on Saturday.
The alleged assault took place around 3pm on the corner of Molesworth Street and Magellan Streets.
Cr Dowell said she had been listening to the woman's concerns about the fluoridation of Lismore's water supply.
'I sat with her but for the first minute she just accused me of not listening (I was silent),' Cr Dowell posted on Facebook.
'I stood up and said I was going – she then followed me and harangued me up the street to my car then slammed the door against my head as I got into it. She shouted that I am a 'f…ing bitch', gave me the finger and left- I now have a sore ear and cheek- and I'm shaken.'
Cr Dowell reported the incident to police who arrested the 44-year-old woman a short time later in Carrington Street.
The Lismore mayor told ABC she had thought hard before approaching police.
'I thought what would I advise someone else in this situation to do, so I did go to the police.' She added it was 'a pretty distressing incident.'
The woman was charged with common assault and will appear in the Lismore Local Court on 3 August
Meanwhile, the construction of four fluoride plants in the region is expected to be completed this month.
Fluoridated water will be supplied to most town water customers in the Ballina, Lismore and Richmond Valley Council areas.
The Ballina Shire Council has constructed a fluoride plant at Marom Creek Water Treatment Plant to supply fluoridated water to Wardell. The Richmond Valley Council township of Casino is already supplied with fluoridated water.
Fluoridated water will not be supplied to Byron Shires town water customers nor town water customers in Nimbin.