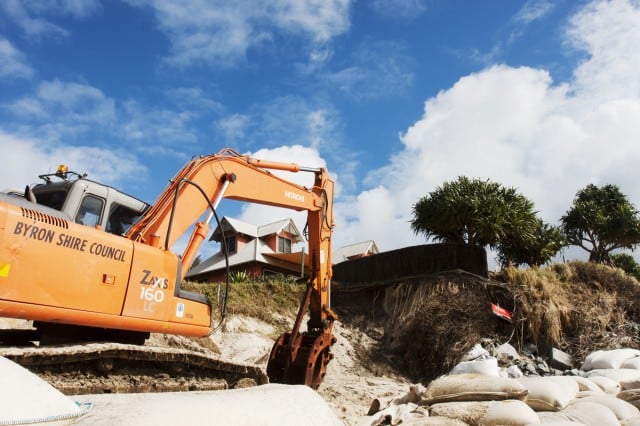 Chris Dobney and Hans Lovejoy
Byron Shire Council announced this week that construction contracts for the Belongil interim access stabilisation rock works have been signed.
Meanwhile the Byron Residents Group claims that lawyers acting for an unnamed group of residents have demanded they retract material criticising the construction or potentially face legal action.
BRG's spokesperson said the letter, sent to them from international law firm King and Wood Mallesons, is an attempt to silence their views on the rock wall construction.
Cate Coorey said the firm was acting for 'a number of residents along Belongil Beach but did not name their clients'.
'The letter made a number of counterclaims to assertions in our pamphlet and implied that we could be subject to legal action. It asked that we no longer distribute the leaflet; that we take it down from our website and that we include information that their clients believe should have been included,' Ms Coorey said.
'The residents of Belongil also have the right to publish their views and they should do that rather than try to suppress our publication.
'We encourage an open debate rather than the closed process that has occurred,' Ms Coorey added.
Starting 'within weeks'
Byron Shire Council's infrastructure services director, Phil Holloway, said the contractor could start the works within the next four weeks.
The construction of the 103-metre wall is the culmination of years of debate within council and the community, with many residents opposed to its construction, fearing it will worsen erosion further up the coast.
It will replace the ageing geobag structure, which currently connects two stretches of rock wall built by residents against council's wishes in the 1990s.
Council says the geobags were only intended as an interim short-term measure, but have been in place for over 10 years.
'As a result, the geobags are ageing and currently have high maintenance requirements following failure during storm events,' Mr Holloway said.
'The new interim stabilisation works at Manfred Street will be lower in cost to maintain and had been designed with regard to local coastal processes.  They can also be removed and or modified if required.
'Built at a height of six metres, the structure will reduce the risk of waves overtopping but will not eliminate entirely the risk associated with storm events or coastal processes,' Mr Holloway said.
CZMP overdue
Controversially, the new construction also comes ahead of the overdue Coastal Zone Management Plan (CZMP) for Byron Bay Embayment.
Mr Holloway said the indicative submission date for the long-delayed draft CZMP is now March 2016.
The so-called 'interim' wall could potentially face forced removal if it does not meet the objectives of that plan.
But conservative councillors voted to push ahead with the plan following the defection of former Greens councillor Rose Wanchap to their ranks earlier this year.
Council says the draft CZMP will be placed on public exhibition for community feedback prior to being finalised and submitted to the NSW Government for certification.
Limited access
Mr Holloway said the program for stage one will include the main wall construction, adding the Manfred Street beach access will be closed during this time.
'A limited pedestrian access from Manfred Street to the nearby houses would be available, but nearby residents could not access the beach during the construction phase,' Mr Holloway said.
'Stage two, will see construction of a beach access walkway and revegetation of the area.'
The design for the interim rock wall works has been undertaken by independent coastal engineering company, Water Research Laboratory (WRL).
'WRL is based within the University of New South Wales and was formed in 1959. Their depth of experience and research is supported by the largest coastal hydraulics laboratory in Australia and their expertise includes coastal zone management, design of structures, process understanding and coastal imaging,' Mr Holloway said.