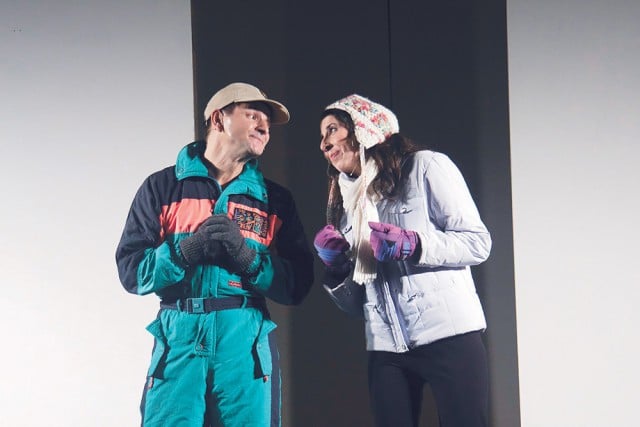 When love comes to town
Supa North Theatre Company present their latest production Love off the Shelf at the Ballina RSL, telling the story of two hopelessly hopeful writers; he, a biography writer with dreams of literary glory and she, his assistant with dreams of her own, realise their current project just isn't paying the bills. In an act of fiscal desperation both, unknown to the other, reach for the never-fail money spinner – pulp romance writing.
Armed with their guides to romance writing, their stories take shape, their characters burst off the page and onto the stage and take you on a musical journey through every single cliché of the genre! Tickets are $22/25.
With shows running Friday to Sunday for two weekends starting from 7 August. Enquiries to the club.
Full Points to Melbourne Ballet
Ballet Company consists of a team of 10 highly experienced classical dancers. These dancers have developed their skills at some of the most renowned companies and schools in the world, including The Australian Ballet, Sydney Dance Company, Australian Ballet School, Cedar Lake Contemporary Ballet New York and the Royal Ballet. The program is carefully crafted with a wide demographic of audience in mind: it consists of four quite dramatic and uplifting classically based contemporary dance works. The choreography is highly sensitive to the music so that performances endeavour to empower dancers to soar through many shades of emotion, to communicate the energy and push the physical limits of their team of internationally regarded dancers.
Thursday and Sunday at the Byron Community Centre at 7.30pm. $47 adult, concession and senior $35, and child (under 15) $29.
Bend it like Bennett
The Big Gig comedy club presents Gold Coast-based comedian Mike Bennett. Bennett began his standup comedy career at age 36, but being young at heart and never really wanting to grow up he has crafted an animated style of his own and has been honing his craft on the Australian comedy circuit to rave revues. Michael has perfected his onstage craft and captivates both club and corporate crowds alike with his vivid imagery and wide-eyed persona, and regularly works as the featured comedian on cruise ships across the South Pacific along with his tours to Australasian comedy hot spots. He is joined by the vivacious and totally outrageous Anne Howe and MC Mandy Nolan.
Thursday at the Ballina RSL at 8pm. Free.
Luna loving shines on Bangalow.
It's been ten years since born-and-bred local boy Luke Butler left town, but he is packing his bags for a short visit home, and he's bringing an adventure along with him in a suitcase. Now calling Brisbane home, Luke has spent the last few years studying and producing theatre and live performance throughout Sydney, western New South Wales and Queensland. Now with his own production company, The Basics Project, he is returning to his home town of Bangalow to share his latest work Me, Maria And The Moon. An original work written and performed by Luke, Me, Maria And The Moon is a classic piece of storytelling based on the original work by Italo Calvino. Best described as a not-so-classic ove tale, this is an adventure of the heart that will take you to the moon and back – literally!
Tickets are limited. Barebones Art Space in Bangalow. Two performances have been set for Friday and Saturday.  Book tickets instore at Barebones Art Space, or call 6687 1393.
Breast in show
The bosom has been the place where many take comfort, or refuge from the world. Women comedians know first hand how important it is to rely on your sisters, and this Saturday six funny girls come together for a very special fundraiser to help their friends in need. Hosted by Mandy Nolan, the comedy gala is a fundraiser for two women recovering from breast cancer. The fundraiser draws attention to how significantly the illness affects individual women and their lives, impacting significantly on not just their physical, but also their financial wellbeing. 'Imagine what would happen if you suddenly has a serious illness – how would you pay the mortgage? Make car payments? Get food on the table?' says Nolan, reflecting on the dilemma that faces many women diagnosed with cancer. 'Of course we can't help everyone, but I think it's always good to do as much as you can! Better to give $2,000 to two people than $2 to 2,000. The more individuals practise directed altruism the more changes we can affect in people's lives!' Melbourne-based Bev Killick was up for it on the spot, as was Brisbane's Jenny Wynter, Ting Lim, June Horden, and Mullumbimby comedian Ellen Briggs. For some of the crackingest material from Australia's funniest chicks on the talking stick, be at the Mullumbimby Ex-Services on Saturday. Book ahead to avoid disappointment. The Ex-Services – doors from 6pm. Show at 7pm, $20/25. Bookings on 6619 0529 or tix at the club or on the door on the night if not sold out.
Art at T-Bone
The northern rivers' funkiest new gallery, T-Bone Art Space, opens its doors this Friday showcasing two exciting local artists, Ray-o-lite and Pete Rich.
The enigmatic artist Ray-o-lite (www.ray-o-lite.com) defies definition. A printmaking graduate from Rhode Island School of Design, who has exhibited in New York, Philadelphia, Italy, Sydney and the Gold Coast, Ray-o-lite incorporates acrylic and other media on board, paper and canvas, creating images from stream of consciousness, observation of urban cityscapes and popular culture as well as word and image association.
Ray-o-lite is joined by Sydney-born artist Peter Charles Rich, who has earned the right to call the northern rivers home after living here for 10 years. Drawing inspiration from our stunning natural surroundings and bird life, Pete uses mixed media, oils and acrylics to create his distinct and beautiful works.
T-Bone Art Space is in Wilfred St, Billinudgel (next door to the pub).
Entry to opening night is free. 6pm.
French afternoon tea
Friends of the Libraries, Byron Shire, in conjunction with Byron Bay Writers Festival and the Bangalow CWA present afternoon tea with Jackie French on Thursday 6 August. Jackie is currently Senior Australian of the Year, Australian Children's Laureate for 2014/15 and author of numerous books, ranging from chooks and organic gardening through to recipes for natural living, stories from Australian history to picture books about wombats, sheep, dogs and dinosaurs! 2pm for a 2.30pm start at the Moller Pavilion at the Bangalow Showgrounds.
Bookings and RSVP essential: Tickets $10 from Bangalow Newsagency/Bookworms and Papermites 6687 1396.
Charmaine is the one
World-renowned Australian medium Charmaine Wilson has been consistently recognised for her skill and compassion since awakening to her gift in 1999. She was the winner of Channel Seven's inaugural season of The One, and was also honoured as Queensland Psychic of the Year in 2008 and Australian Psychic of the Year for 2005.
She has lived through a lot of heartache in her life, including the death of her brother and her four-year-old daughter, both to tragic accidents. Her mother died in late 2006. These deaths have made her a most compassionate and understanding reader, especially in relating to how her clients may be feeling. Charmaine has been dedicated to giving accurate information about the spirit world to her clients since she began her work in 2002. She has toured extensively around Australia and works on radio stations throughout regional Australia. She continues to tour Australia with her show Spirit Whispers.
Thursday 6 August 8pm at the Ballina RSL.
Tix at the venue. $40.
16+ must be accompanied by a parent at all times. 16–18 years at adult prices.
A little from Jimmy
Direct from the world premiere in Brisbane, Queensland Theatre Company bring their award-winning new show Country Song to NORPA at Lismore City Hall, 13–15 August.
Country Song is a beautiful, musical, witty and warming journey that celebrates the healing power of music. It will take you on a heartfelt journey with toe-tapping tunes and larger-than-life characters. From the director of the original stage play The Sapphires  (Wesley Enoch) and co-writer of Bran Nue Dae (Reg Cribb), Country Song is their new work based on the life of Indigenous singing superstar Jimmy Little.
The premise of Country Song is this: Jimmy Little is waiting backstage. He's been asked to perform the national anthem in front of an audience that loves him and his music. He is an Australian icon; an entertainer first and foremost. But what does it mean to sing this song now? Does it matter? Who is he really singing for?
NORPA at Lismore City Hall. Thursday 13, Friday 14, Saturday 15 August (7.30pm plus 1.30pm matinee on Saturday). Bookings: 1300 066 772 or www.norpa.org.au.
Jokes for the Road
Following from the success of the 2014 tour, the Sydney Comedy Festival Showcase will return to Byron to deliver another killer showcase. Boasting a lineup of the best local and international comics and showcasing some of the funniest and freshest emerging talents including the sketch comedy wondergirl Susie Youseff, the unique rising star of comedy Corey White, the surreal and insanely energetic John Conway, the refreshingly unique Mike Goldstein, the hilarious musical stylings of The Stevenson Experience, and the superbly sarcastic Cameron Duggan. MC for the night is Bart Freebairn, whose bizarre style of humour and explosive performance is guaranteed to keep the laughs rolling. Two sittings at Byron Bay Community Centre on Saturday at 5pm and 8pm.