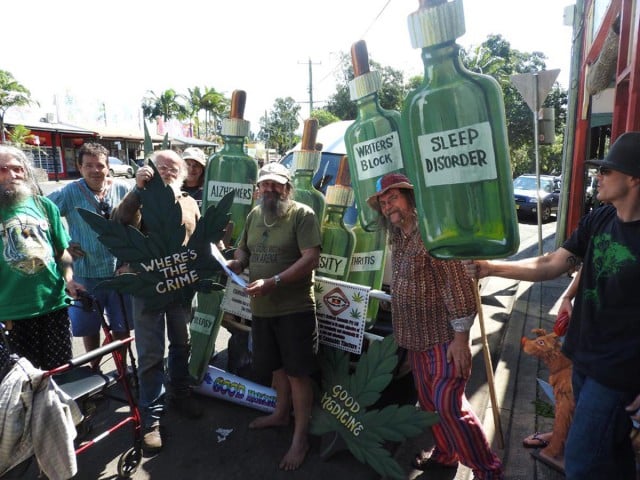 A medical cannabis workshop to be held in Nimbin's town hall this Saturday is expected to be packed out, as lobbying for the alternative pain relief medication intensifies around the country and the world.
Recent workshops put on by Nimbin's HEMP Embassy drew big audiences and organisers say such information sessions are growing in popularity and quickly spreading around the country.
Just this month medical-cannabis workshops were held in Wollongong and Brisbane and both were also packed out.
The Nimbin workshop will be held on Saturday, August 29, from 11am-4.20pm.
HEMP Party secretary Andrew Kavasilas will talk about his recent trip to Canada where dispensaries are flourishing, while Sydney based Dr Andrew Katelaris will talk about the latest thinking and understanding of cannabinoids and how the cannabis plant is best used for various conditions.
Other speakers include cannabinoid experts, local healers and medical cannabis consumers with terminal illness or chronic health disorders talking about their experience using the drug to alleviate pain
Nimbin HEMP Embassy president Michael Balderstone said that 'in Nimbin we have been flooded with inquiries and held several Medican Workshops with growers, healers and users sharing their knowledge'.
'They have proved very popular and we urge others to do the same, like Woolongong this month, and Brisbane also.
'We were surprised at how many people came out of the woodwork to the workshops, especially older retired people,' he said.
More information on the workship is available at https://www.facebook.com/events/105444389803945
Mr Balderstone said medical cannabis 'has finally made it on to the agenda in Canberra and not before time'.
'The horse has well and truly bolted on medical cannabis now and we are all fingers crossed that the Regulatory Bill gets through (the Senate) and common sense prevails soon,' he said.
'The public, the courts and the police are all a step ahead of the lagging politicians and its time they caught up.
'No doubt Big Pharma (pharmaceutical corporations) is freaking out it might be losing its super profitable monopoly on pain relief and they will pull out every trick in the health rules book, which I think they wrote, to keep control.
'I just hope the everyday million or two Aussie cannabis users will not be left as criminals for the next five years while they continue doing trials.
'Trials is a separate issue to law reform and the former has swept the latter under the carpet.' Mr Balderstone said.
Queensland lobbying
Meanwhile, the Queensland Council for Civil Liberties (QCCL) has called on the Queensland government to immediately legalise medicinal cannabis in the wake of the final report of the Senate committee reviewing the Regulator of Medicinal Cannabis Bill 2014.
QCCL president Michael Cope said the senate committee's endorsement of the regulator concept was very welcome, but there still remained an urgent need to legalise cannabis for several medical conditions, including terminal illness, cancer, intractable childhood seizures and chronic pain.
'Even assuming Abbott government support—so far the Prime Minister has only said he supports clinical trials—it will probably take 1-2 years for the new Regulator to commence operations', Mr Cope said.
'In the meantime state governments need to deal urgently and realistically with the current mess around medical uses of cannabis, as thoroughly documented in the senate committee's submissions and report.'
Mr Cope said the 'war on drugs' ideology was apparent in many of the submissions to the committee, reflecting the two deeply entrenched divisions in Australian drugs policy between 'legal' and 'illegal' drugs, and 'medical' and 'non-medical' drug use.
'The QCCL president said other submissions included heart-breaking testimonies from parents, expert submissions from academics and manufacturers, and submissions such as that by QCCL, urging immediate legalisation of all forms of medicinal cannabis.
He said a recurrent theme was anxiety about police prosecution reported by all those who had considered resorting to the plant.

Mr Cope noted the renewed push for legalisation of medicinal cannabis had been inspired by a handful of 'brave souls' who had chosen to go public with their medical use of cannabis for symptoms unrelieved by legal drugs.
'At the state government level this push has stopped with the quasi-legalisation of plant cannabis for terminal illness sufferers, formalised in the NSW TICs scheme but left to the discretion of the police everywhere else", Mr Cope said.
'Together with clinical trials of imported "pharmaceutical" cannabis this was as far as the states were prepared to go, he said.
Mr Cope said well designed and conducted trials could always add to the body of research on medicinal cannabis.
Newcastle trial welcomed
'The recent announcement by the NSW government that a Newcastle university group has been chosen to conduct an initial clinical trial is welcome', the QCCL president said.
'The announcement by Health Minister Cameron Dick that Queensland will be a party in this trial is also welcome', he added.
'However, there is a problem, Australian clinical trials are not a reasonable justification for delaying immediate legalisation, especially when the vast majority of over 100 published research trials have already demonstrated the efficacy of medicinal cannabis for a variety of medical conditions.
'The NSW trial will only involve 30 participants and is to be followed by a much larger trial that will take several years.
'Thousands of Queenslanders who could benefit from medicinal uses of cannabis can't wait years for clinical trials to be completed and turned into legislation', Mr Cope said.
'There is also a real danger that clinical trials will be used as an excuse by politicians to once again kick the issue into the grass' the QCCL president warned.
Mr Cope said it was very concerning that in 2013-2014 police made a record 66,684 cannabis arrests across Australia, the highest in a decade.
'There is no doubt these arrests include an unknown but nevertheless significant number of people who are using cannabis for medicinal purposes", Mr Cope continued.
'The extraordinarily poor takeup of the NSW TICs scheme shows that people don't trust quasi-legal solutions that rely on police discretion, which places both police and medicinal cannabis users in a twilight zone of legal uncertainty,' the QCCL president said.
'All parties need the clarity afforded by legislation', Mr Cope said.
 'Without it thousands of Australians will continue to suffer needlessly.
'
The strong anecdotal evidence that hemp oil was an effective treatment for intractable epilepsy made action even more imperative, he added.
R
'
To those parties who demanded that the government should wait for approval from the Therapeutic Goods Administration before legalising medicinal cannabis, Mr Cope offered two rebuttals.
Vioxx killed many
'The pain relief drug Vioxx, which went through a standard TGA/FDA government approval process in Australia and the US, was kept on the market for five years despite credible reports it was killing tens of thousands of patients', Mr Cope said.
'"The only approval process that plant cannabis has gone through is the wisdom of the street.
'Unlike Vioxx, cannabis has never killed anyone.'
Mr Cope noted the other usual objection to immediate legalisation was that the potency and safety of plant cannabis was unknown, variable and unregulated.
'
Because of its immediate effects smoked or vapourised cannabis is easily titrated for the desired relief of symptoms', the QCCL president said.
'Reliable suppliers of quality plant material are quickly identified by trial and error in the street market.
'Hemp oil drops ingested by mouth take longer to act but the community of hemp oil users has already generated ultra-cautious protocols that manage the dose issue successfully,'he continued.
'Everybody knows there is a decades-old illegal cannabis market operating in Australia, but everybody may not know this market has generated useful protocols for the medicinal uses of cannabis.
'Baby boomers who tried cannabis in their long-ago youth will turn to the plant as a first option if they are unfortunate enough to be diagnosed with cancer, and orthodox medicines fail to alleviate symptoms.'
Mr Cope said the really heartbreaking fact was that many thousands of Queenslanders who could benefit from medical uses of cannabis were denied this option, or, if they chose to access it from the illegal market, were forced to live in constant fear of police prosecution.
'Legalisation of medicinal cannabis is a no-brainer', the QCCL president concluded.
To watch a recent medical cannabis campaign video from the US visit: https://www.youtube.com/watch?v=zdcvhUgeDRg#t=106