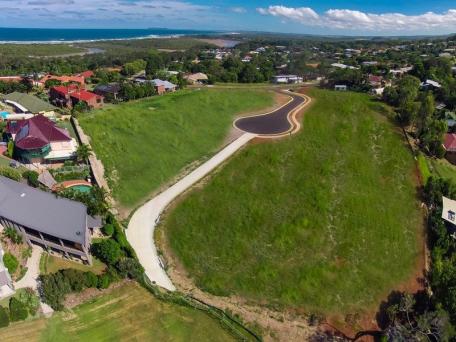 Fancy a large 1,576m2 block with views in the best spot in Ocean Shores for $330,000?
Sorry, but it sold the same morning it went on sale, like the rest of the eleven Roundhouse lots.
While that block was one of the lower prices offered to Byron Shire Council, it did spark calls from residents to The Echo that the prices offered were too low.
It ends a long and protracted battle between Ocean Shores residents wanting to retain the site for community use and councillors who believe the money will go toward infrastructure in the suburb.
Realtor at Brunswick Professionals, Suzanne Eatwell, was commissioned to sell the property and told The Echo that Byron Shire Council independently evaluated the Roundhouse blocks.
'Regarding pricing, it was council's call, and they made a decision based on this valuation.
'We had a client fly up from Sydney who arrived over 24 hours before the blocks went on sale.
'We also had local residents coming into the office during the day taking a place in the queue.
'One of our staff members stayed overnight to ensure that if a person came to the office during the night that they did not queue jump.
'The blocks went on sale at 8.30am, and all of the blocks were sold by 11am.
'Due to the build up between when they went to market in late 2013 and now, this has led to keen and committed buyers being ready for the day.'
Byron Shire Council's general manager Ken Gainger said advice was received from the appointed real estate agent on the best way to market and sell the blocks of land, and council followed this advice.
'Council was very fortunate in that interest in the blocks was strong. It's a good result with all of the blocks achieving their maximum valuation totalling $4.405 million.
'The net proceeds of the sales will now primarily be invested back into community infrastructure,' he said.