You got the fever
Boogie Fever is coming to The Bangalow Bowlo this Saturday for the annual Bay FM Christmas Discotheque. Doors and dancefloor open from 6pm till midnight for six hours of pure disco and funk hits. Six of the Byron Shire's finest retro DJs will be spinning the wheels of steel to take you higher. Yeah Baby!
A paparazzi photo booth will be available to capture your 'retro flare fashion statement'. This event is to celebrate community and Christmas on the dance floor. Magic Bus and Green Frog shuttles are transporting you from the north and south of the Shire letting you arrive with a smile!
Pre-sale tickets available now at www.bayfm.org or at the station during office hours.
Blowing the Bullhorn
There's an old saying, popularised by The Breakfast Club: 'You mess with the bull, you get the horns'.
What does it mean? Not much really. Mostly that if you do something dangerous, you might get hurt.
One dangerous thing you could do would be to miss the crazy, brass-based, MC-led explosion that is Bullhorn and Jesse Witney. Formed in 2011, these party animals combine virtuosic musicianship, crazy arrangements, catchy grooves and upbeat rhythms to whip the audience into a veritable frenzy. As adept at creating original tunes as they are at re-imagining the likes of Bonobo and Easy Star All Stars, this nine-piece behemoth is hell-bent on good times. Byron Bay Brewery on Friday. 7.30pm. Free entry.
Afro-Brazilian dance!
The Afro-Brazilian dance party is on. The mob that rocked the corroboree, Vadoum international, is a high-energy dance band directed by Gahnain master dancer/drummer Gabriel Otu, who is joined by local all-stars in a symphonic tonic of groovy high-life afro beats.
The evening will be warmed up by the Brazilian group Djurumin Fulô, an emerging feminine percussion project for social and environmental consciousness. Also joined by Eshua Bolton's new band Future Elders and DJ Manie shika.
An evening for all ages to come and dance, alcohol free and under-16 free. Mullum Civic Hall, 7pm Saturday.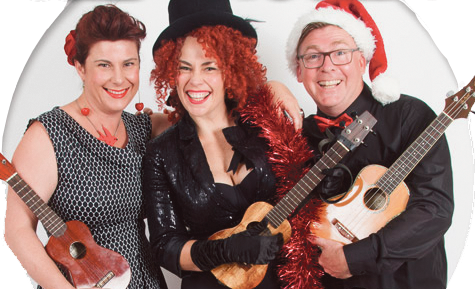 Xmas uke
Come and celebrate the yule cheer with Miss Amber and Stukulele and our own local provocateur Mae Wilde for the fifth annual Christmas Uke-Tacular – a bawdy, swinging and rockin' Yule. Adults $10, kids under 16 $2.50 – at Club Mullum in the Mullum Ex-Services, Thursday from 6.30pm. Rock hard around that Xmas tree!
Swimming in the swamp
Swamphound is a parallel of MC Nicky Swamp and producer Sleuthound. This cerebral something is entirely composed, recorded, engineered and produced by the duo. Sleuthound's sound is unmistakeable; the way he manipulates time and space is comparable to none.
Nicky Swamp graces the microphone with a mouthful of soul and half-lung of god-knows-what. His unmistakable accent is wholeheartedly un-Australian to say the least. He claims to have escaped the deep valleys of southwest England on a bullet snake before boarding a rocket bus and spending 'the worst 4 days of my life' in a dingy hotel room in KL waiting for his final countdown.
Saturday at the Byron Brewery, 7.30pm.
Getting to the Churchill on time
Ex-busker Churchill took that booming voice and that charisma to the stage and hasn't looked back. Having completed international dates as the hand-picked support act on Billy Bragg's epic Tooth and Nail tour, and headlined his own show at London's Borderline, the Australian musical nomad Kim Churchill continues to win fans. For lyrical artistry with fierce vocals, there is no-one better than this sonic architect.
At the Hotel Brunswick on Friday – gold-coin donation fundraiser.
Carols for Christmas
Want to know the true meaning of Christmas and get away from those trite shopping-centre carols? St Andrew's Church and St Carthage's Cathedral choirs, Lismore, have been rehearsing a program of lessons and carols for your enjoyment and to fill listeners with the true meaning of Christmas. Christmas poetry, prose, and prayers round out a service of traditional carols and Christmas songs. Members of the local community and churches read the traditional 'lessons' derived from the biblical Christmas story. This is all under the direction of Warren Whitney, organist, and with Lisa Pirlo at the piano. The program is similar to that held in many churches and cathedrals throughout the world at this time of year.
Friday at St Mary's Anglican Church, Ballina 7.30pm
St Mary's Chapel at St Carthage's Cathedral in Lismore on Sunday at 7.30pm and on Tuesday at 7pm at St Martin's Anglican Church in Mullumbimby with Spiritsong. Free.
A Paiss to Satsong
Amir Paiss launches his new album Satsong, at the the Byron Theatre.
Satsong is a play of words, unifying song with Satsang, the Sanskrit term for being together in truth. Satsong is a rosary of original songs of love, truth and freedom. The album is a fusion of folk and world music to Amir's poetry in the English language, and was co-produced with Avishai Barnatan over the past year, featuring many of Amir's songs that have already been travelling the world through sacred singing circles and interfaith gatherings.
This extraordinary evening of music, soul and spirit will feature a live performance with special guests as well as the launch of Amir's new poetry book 50 Gates of Binah. Amir Paiss made the Byron Shire his family home after touring Australia with his internationally acclaimed Hebrew-Arab music ensemble Sheva. Thursday at 7pm.
Tickets available online at www.byroncentre.com.au/whats-on/ or from the Byron Theatre box office: 6685 6807.
Trawling for Rawlings
Dave Rawlings fans are in for a tree when he brings his band Dave Rawlings Machine to Bangalow on 13 February next year. Dave Rawlings Machine play in support of the recently released and critically acclaimed album Nashville Obsolete, which features seven original compositions written by Gillian Welch and Dave Rawlings.
The Machine live band will feature Dave and Gillian, as well as Willie Watson, Punch Brother Paul Kowert and incredible fiddler Brittany Haas.
Tickets through redsquaremusic.com.au and at Barebones in Bangalow, Just Funkin' Music in Ballina, and Valiant Music in Brunswick Heads.
The music of Reilly
In the beautiful surrounds of Byron Bay, Reilly Fitzalan has been independently developing himself as a singer/songwriter, captivating his audiences with a rare power that bleeds instinctively through his alternative rock and folk music.
His latest single We Don't Need Ya sees his unique writing style and emotive prowess fuse together elements of 70s rock 'n' roll and 90s grunge.
Rielly launches his new EP at the Hotel Great Northern on Friday.