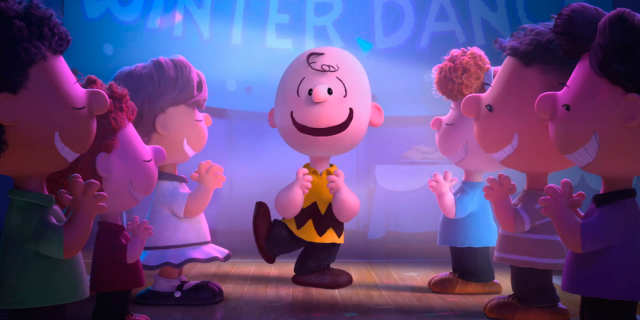 The art of the newspaper cartoonist is sadly unappreciated. To capture the world every day in four frames and not many more words is a rare talent and over the years those gifted with it have provided insight and humour – solace, even – for countless readers in all languages. Characters such as Dagwood, Bristow and Hagar the Horrible developed binding relationships with their followers, but perhaps the most famous of them all is Charlie 'good grief' Brown.
Created by Charles M Schultz in 1950, the trials and tribulations of self-doubting but indefatigable Charlie still resonate, so Steve Martino's adaptation of them to the big screen was (by this punter, at least) keenly anticipated. Schultz's drawings were minimalist in style and Martino has stuck true to those simple lines, but his team of animators has gone to great lengths to create, with wonderfully vivid colours, Charlie's Saturday Evening Post town and environs – the kids playing ice-hockey is one of many visual treats. The gang come to life off the page – Linus, Lucy with her pavement stall dispensing psychiatric help, Pig-Pen, Patti, Schroeder playing Beethoven on his tiny grand piano and, of course, Charlie's dog Snoopy. They are all voiced by youngsters (Charlie's Noah Schnapp is eleven years old), which contributes immensely to the movie's authenticity, but Martino is somewhat let down by a messy screenplay that is not quite able to merge the two threads of his story. Charlie is smitten by a cute new girl at school and, in his hesitant way, he will try anything to gain her attention. Snoopy, as in the strip, spends much of the time sitting atop his kennel beavering away at his typewriter, writing the great novel about his duels with the WWI flying ace, the Red Baron (I so hoped that the Royal Guardsmen's earworm hit from the 60s would be included in the soundtrack).
I would have preferred to spend more time with Everyman Charlie, but that's only a minor criticism. A life-affirming, humanist movie, forgiving and quietly funny.